With the London 2012 Olympic Games around the corner, athletes from across the country are putting in every last effort to train and prepare.
Recently I had the chance to meet Synchro Canada's senior national team members: Jo-Annie Fortin, Tracy Little, Karine Thomas and Erin Willson.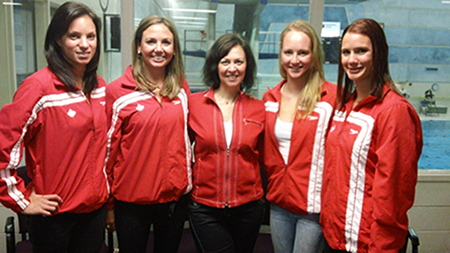 Left to right: Jo-Annie Fortin, Tracy Little, Shannon Skinner, Karine Thomas and Erin Willson
I caught up with these young women at the Etobicoke Olympium Pool, where they were attending the 2012 Ontario Open Age Synchronized Swimming Championships. I was instantly taken with their energy -- each vibrant and full of life, buzzing with excitement about the upcoming London 2012 Olympics.
As high performance athletes -- able to achieve incredible stunts in the water -- this is a great time in their lives, with the Olympic Games fulfilling many of their dreams. The training is grueling -- putting in hours each day, 365 days a year -- but all I could see were smiles as I spoke with the girls. They simply love what they do, pushing their bodies beyond the norm and achieving what they do best.
As you can see in the picture (that is me in the centre), I blend in with their team uniform, which was unplanned. The girls joked with me that I looked like I could be part of their team.
These young women inspired me and made my heart smile. Check out what they have to say about how they push past fear, their keys to success, their dreams, hopes and the upcoming Olympic Games in this Shannon Skinner Special Report, which is part of an ongoing series of on-location interviews for Extraordinary Women TV with Shannon Skinner:
Cross-posted at ShannonSkinner.com and ExtraordinaryWomenTV.com
copyright © Shannon Skinner 2012