Rajasthan, the "land of the Maharaja," is an exotic desert state in western India. Its capital, Jaipur, is a historic walled city famous for enchanting "pink" fortresses and palaces, and royal dynasties. Here in the "Pink City," I got a taste of the opulent lifestyle of the Maharaja, the once powerful rulers of Rajasthan, by staying in a royal family home.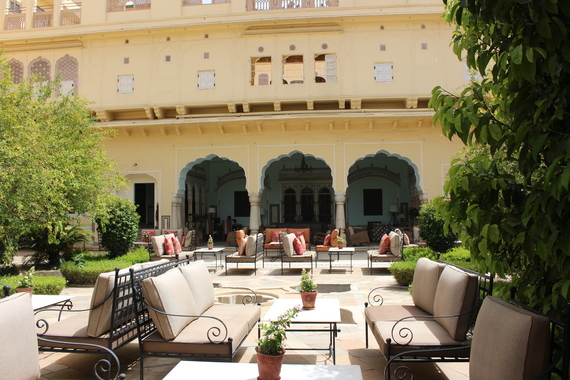 "Rajasthan has many small boutique hotels that were the residences of noble families," says Vikas Abbott, managing director, Vasco Travel, India's largest family-run, inbound travel company. "Now they've converted them into nice heritage hotels. It's really a different experience and these hotels give you that character of India."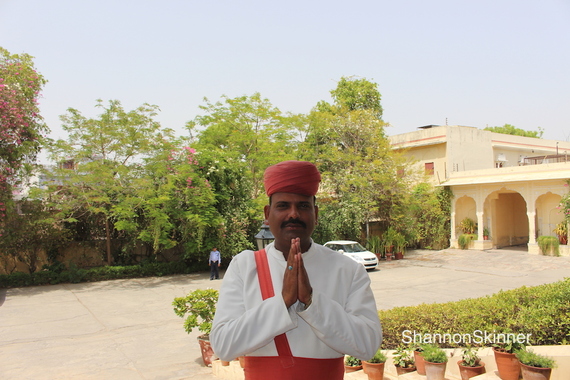 This May, I travelled to Jaipur after speaking at the Women's Economic Forum in Delhi, for creative inspiration. In the midst of the desert, despite a heat wave (47C), I found an urban oasis: the Samode Haveli ("palace"), a heritage luxury hotel built nearly two centuries ago as the residence for the rulers of Samode, Rajasthan. Today, it is owned by Mr. Raghvendra Singh and his brother, descendants of the rulers, who inherited the royal residence.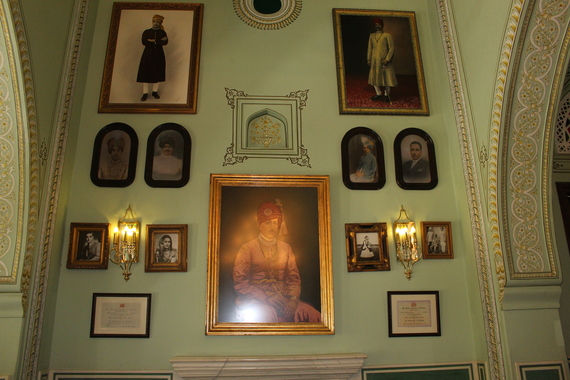 Faced with the challenges that come with inheriting a royal residence, such as finances and maintenance, in the 80s, the Singhs decided to convert their property into a luxury boutique hotel. "I had a vision and it turned out to be good for us," says Mr. Singh, a distinguished and modern businessman. The Singhs were ahead of their time, when many other families who inherited royal residences also faced similar challenges.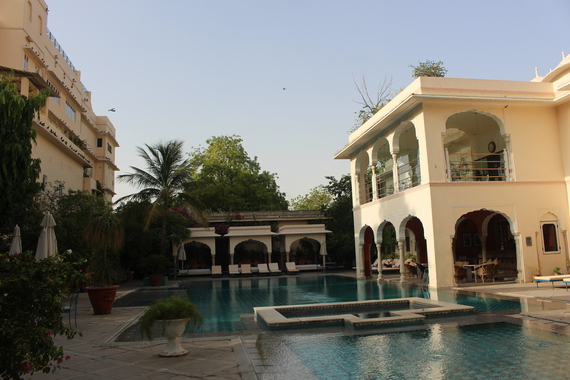 The royal apartments were turned into deluxe rooms and suites, and each has a unique and distinctive character, while maintaining contemporary amenities to meet the needs of the modern-day traveller. The rooms are situated around courtyards, gardens and a stunning swimming pool. There is a modern spa and fitness area. Meals are served in opulent rooms with chandeliers and paintings of the family's Maharaja ancestors.
The Singh family (Raghvendra, his wife and two children) resides in a private residence in the complex; and expansion plans are underway for 50 more rooms.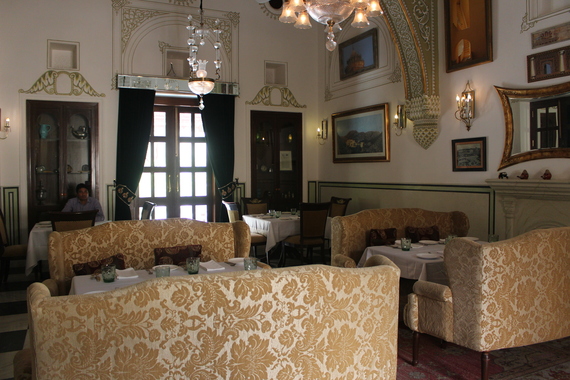 In addition to staying in a royal home, there are many sites in Jaipur to visit to get a taste of the life of the Maharaja:
1. Amber Fort: a UNESCO World Heritage Site that is a 16th century architectural marvel made of red sandstone and marble, located 12 km north of Jaipur in the town of Amer. Its Palace of Mirrors has beautiful mirrored ceilings; and there are several courtyards and apartments for the royal women, and a lovely garden and temple. A popular attraction is to ride an elephant to the gate.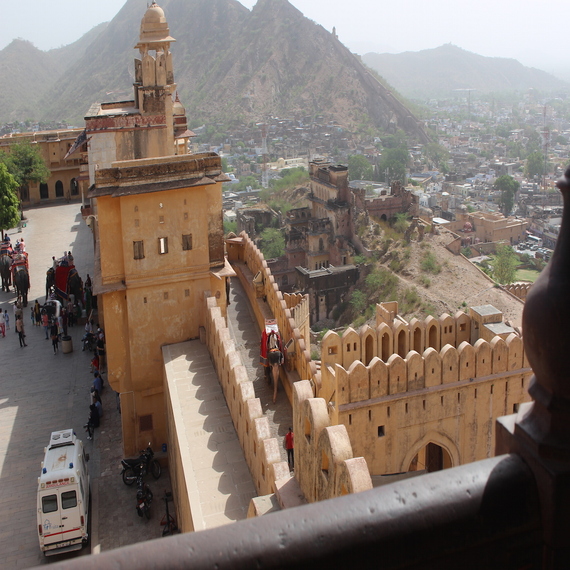 Underground tunnels connect to nearby Jaigarh Fort, part of the same complex, that was built as a military fort to protect Amber Fort and palace. Renowned for the world's largest cannon on wheels and an intriguing story of hidden treasure.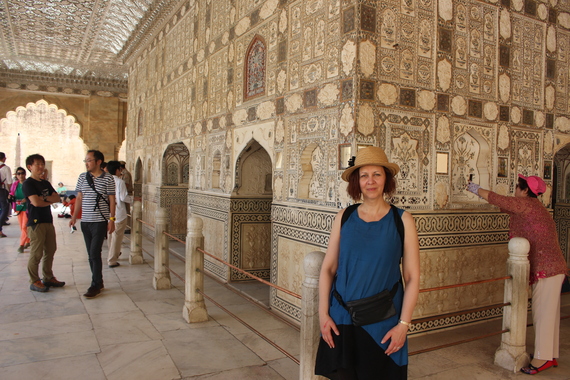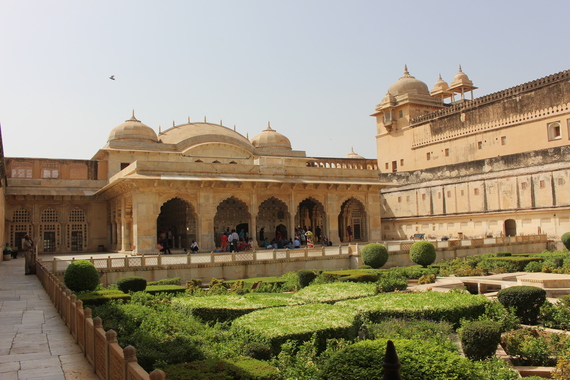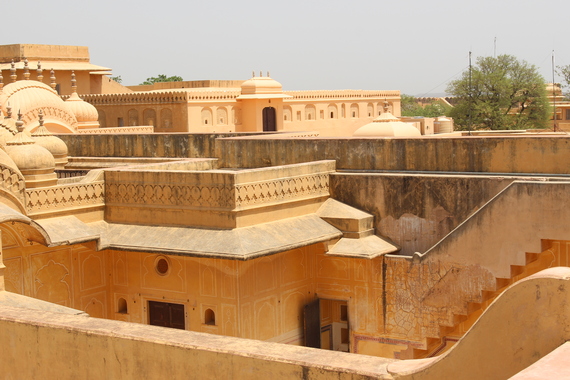 2. Naharghar Fort: the "abode of the tigers" was built at the edge of the Aravalli Hills, and offers a must-see view overlooking the Pink City.
3. Hawa Mahal "Palace of Winds:" a 5-storey façade built for royal women to watch processions below through windows covered with lattice (the women had to be hidden from sight).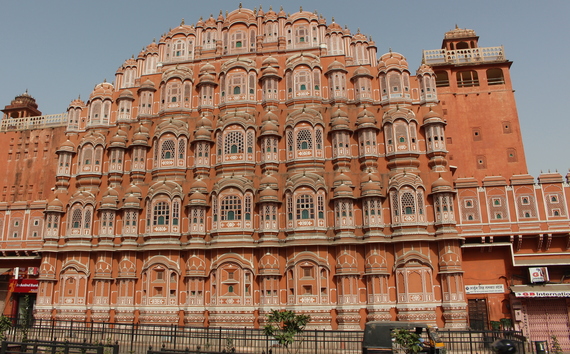 4. City Palace: a former royal residence that is now part museum with a small portion used by Jaipur's current royal family. There are a variety of weapons, textiles, and clothing of past kings.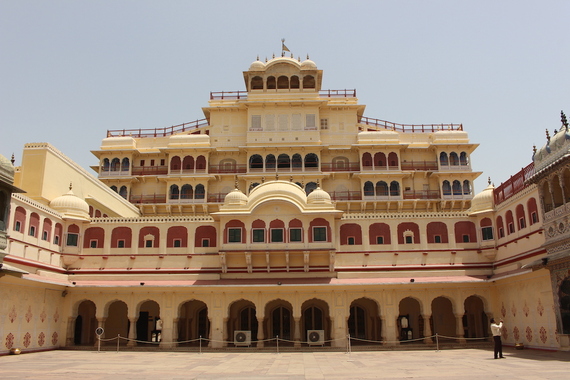 5. Jantar Mantar astronomical observatory: this UNESCO world heritage site is one of the largest stone and marble-crafted astronomical observatories in the world, built in the early 18th century.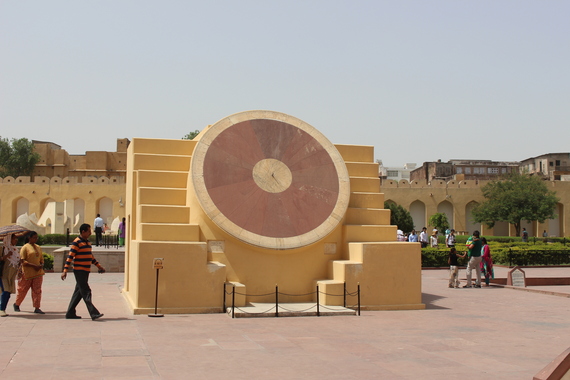 6. Galta Monkey Temple: honours the Hindu Monkey God. Many monkeys dwell here and the locals come to swim in the water that flows from the mountains.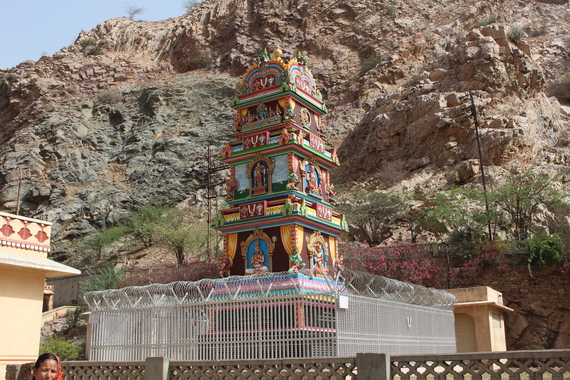 7. Samode Palace: located an hour's driver from Jaipur and also owned by the same family as Samode Haveli, this high-end property offers an option for accommodations for the discerning traveller.
Accommodations provided courtesy of Samode Haveli; arrangements for land transportation and guide provided by Vasco Travel. Resources: India Tourism.
Shannon Skinner is a television and radio host, inspirational speaker and author, and occasionally writes travel articles.
Follow HuffPost Canada Blogs on Facebook