Shannon Skinner
India's northeastern state of Meghalaya ("Abode of the Clouds") is breathtaking with its tropical forests, lush green mountains and fluffy, white clouds. Unique to this wet and remote area are spectacular living root bridges.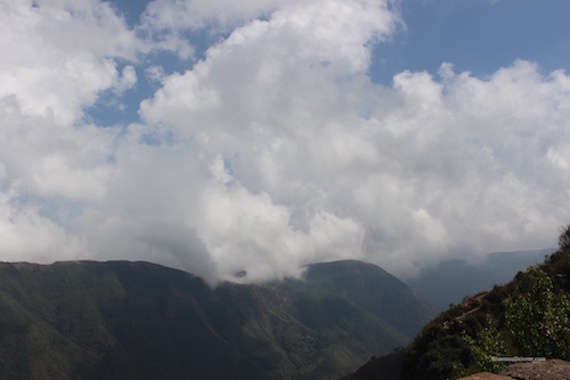 Abode of the Clouds
Invented by the indigenous Khasi tribe, who live deep in the forest, these "bioengineered" suspension bridges are made by shaping the living roots of rubber trees that are native to India's northeast -- a process that takes many years. Unlike modern concrete, metal or wooden bridges, these living root bridges are alive and continue to grow and get stronger over time. They can be as long as 100 feet and their roots are extraordinarily sturdy. Not one nail is used. It takes about two decades for the bridges to be useable and they can hold up to 50 people.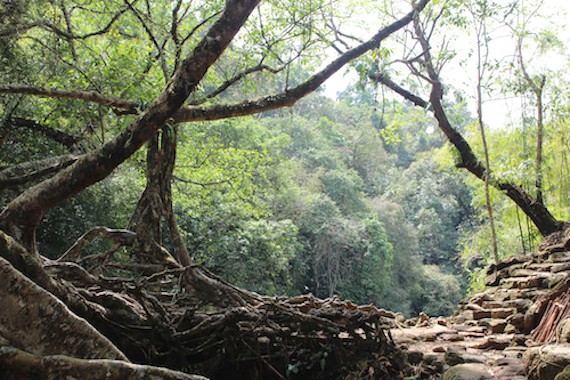 Living root bridge at Mawlynnong village
The bridges are necessary for the villagers because the remote region is filled with rivers and streams, and heavy monsoon rains tend to destroy bridges made of bamboo.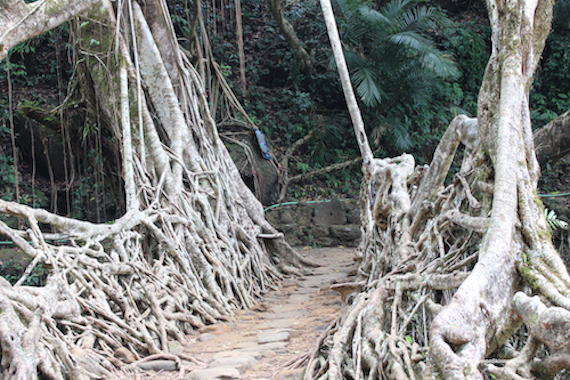 Same bridge, different view
Most of Meghalaya's many living root bridges are located near Cherrapunjee (also known as Sohra), a small town located on the edge of the East Khasi Hills, about 60 kms from the capital, Shillong, and is regarded as the rainiest place on earth. It is a destination for waterfalls, cave exploring, hiking and treks to the living root bridges.
The most famous of all bridges is a two-level "double decker," estimated to be two centuries old. It was discovered by Denis Rayen, a former banker who, along with his wife, Carmela, founded the Cherrapunjee Holiday Resort, and who I had the pleasure of having a cup of tea with after touring a living root bridge. Rayen is passionate about the Cherrapunjee area and is credited with putting the living root bridges on the map as tourist sights, which have been the subject of BBC and Japanese TV documentaries.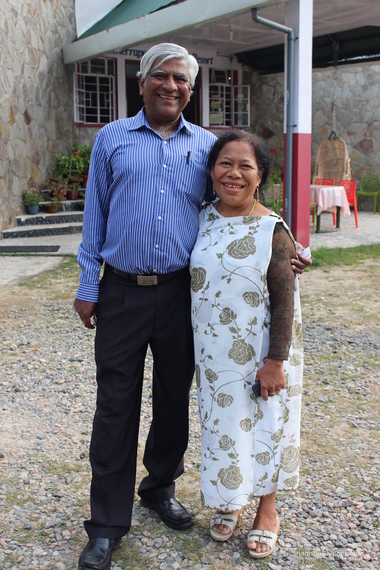 Denis Rayen and Carmela at Cherrapunjee Holiday Resort
Rayen explains to me that these durable bridges can last several centuries and have been made for the benefit of the tribe's future generations. "It's not done for your lifetime, it's done for future generations," says Rayen. "Once made, they have a lifetime of about 400 to 600 years, so that's quite a few generations that can use it."
The living root bridge that I got to see is one of the most accessible, located near Mawlynnong village, 90 km from Cherrapunjee (and 100 km from Shillong). Mawlynnong is dubbed as the "cleanest village in Asia," known for its paved walkways, beautiful flowerbeds, waterfalls and its beautiful trek to the living root bridge.
And what a sight to behold!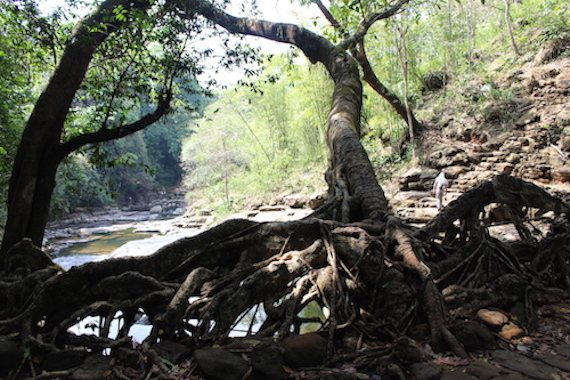 After about a 10 mins walk down steps leading down to the valley's lower reaches to a stream, standing before me was a messy tangle of roots of the living root bridge. It looked like something out of a sci-fi movie.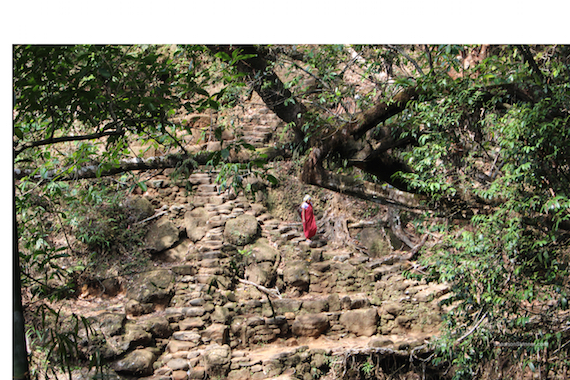 Local woman walking down the steps to the bridge
Any hesitation on my part was put to rest when a group of local Khasi school children skipped down the steps in flip-flops without hesitation because, of course, it is second nature to them. The boys climbed the bridge's tree trunk and then stripped down and swam in the stream. The girls, all immaculately dressed in school uniforms, sat on rocks as they chatted and ate packed lunches.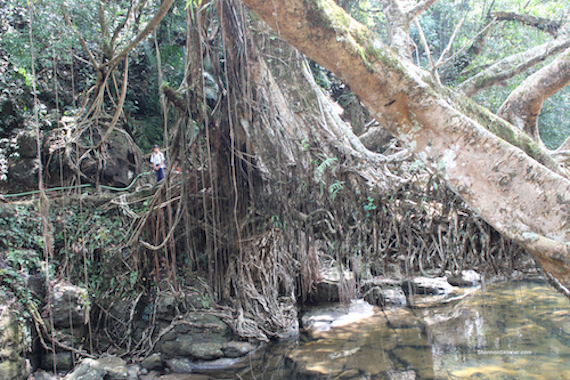 Local boy contemplates going for a swim - he does
I sat on rocks from a distance, in peace and tranquility, observing the children enjoying themselves in their daily lives. As the stream glistened against the backdrop of the living root bridge and lush greenery, I had gratitude not only for a once-in-a-lifetime "National Geographic" moment, but also for the awe-inspired, human-made natural wonder before my eyes.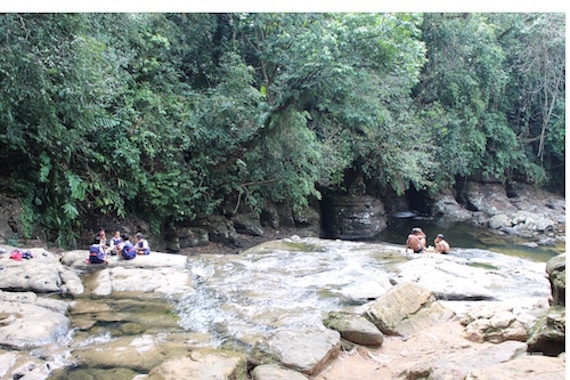 Local children enjoying their lunch
To get there: my route once in India was Delhi-Guwahati, Assam by air (via Air India); and then by car to Shillong, Meghalaya, which we used as a base for day-trips to Cherrapunjee and Mawlynnong. Best way to see the region is by car.
Resources: India Tourism, Meghalaya Tourism and Vasco Travel, industry leaders in in-bound travel to India, based in Delhi.
Shannon Skinner is a television host, inspirational speaker, author, traveler and writer. You can read about her journeys at Shannon's Travel Bag.
This article originally appeared at ShannonSkinner.com