Shannon Skinner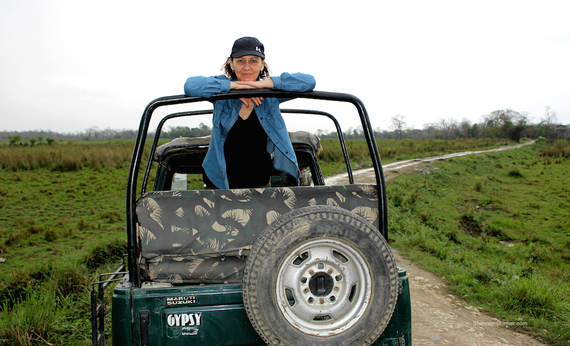 I am bouncing in the back seat of an open Jeep as it meanders through India's Kaziranga National Park, a wildlife sanctuary and UNESCO World Heritage site located in the northeastern state of Assam. Despite the spitting rain, I am grateful to experience my first-ever safari. It's April and the monsoon season is approaching. Just not yet.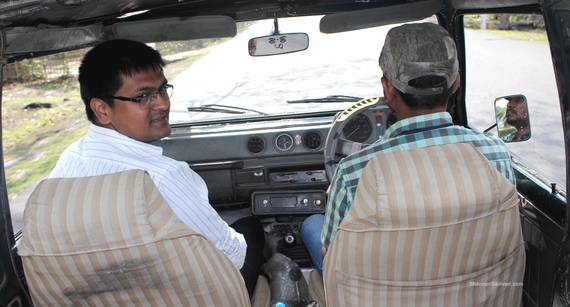 Guide and ranger at wheel
My guide, Dipankar Borkakati, has accompanied me since landing in Guwahati, Assam's capital where I attended a cultural festival, Rongali. Even after a hair-raising five-hour drive together through the state's fertile land, villages and tea plantations to reach Kaziranga, we are thankfully still friendly. Driving our Jeep is an experienced and friendly ranger. I hope he has a gun, you know, in case we get chased by crazed pelicans. There's none in sight.
Safari arrangements including my guides, transportation and accommodations have been provided by Vasco Travel, whose team in Delhi took good care of me, even checking-in with me daily by phone. Considering they are the experts in travel to India, I know I'm in good hands.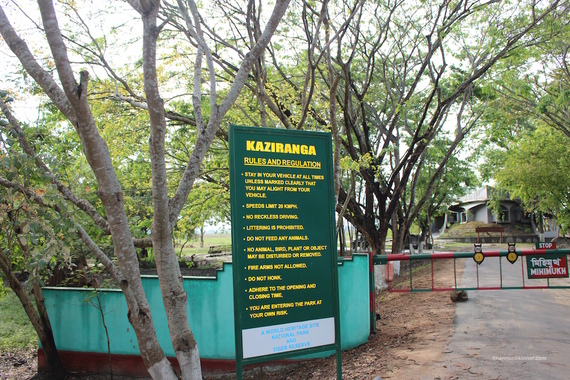 Park rules
Living amongst Kaziranga's grasslands, tropical forests, lakes and swamps that surround us are several species of mammals, including the once endangered one-horned Indian rhinoceros, elephants, water buffalo, swamp and barking deer, pelicans, Ganges dolphins, leopards, fishing cats and the Royal Bengal Tiger, and more. Many are endangered.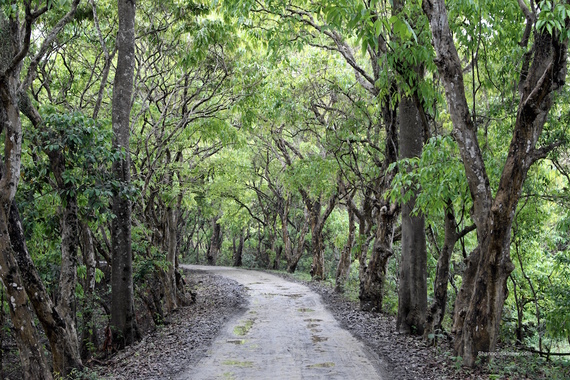 Park road

Kaziranga lies in the flood plains of the Brahmaputra. Most of the area gets flooded from the river during the Monsoon, forcing the elephants and other animals to migrate to higher ground.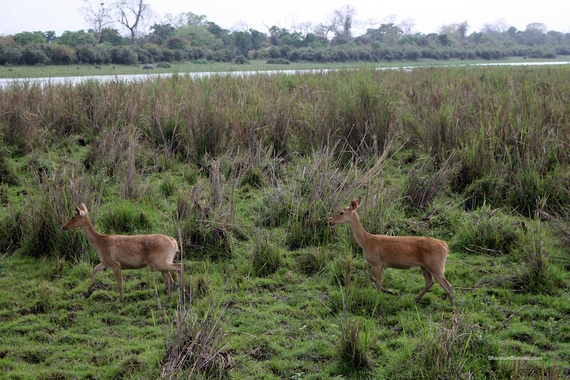 Deer with rhinos in the distance
My guide points to something in the distance. Tiger? In the grasslands ahead is a lone elephant with a man riding -- actually, standing -- on its back as they saunter across the plains. I am amazed at the man's balance riding this massive, awkward creature.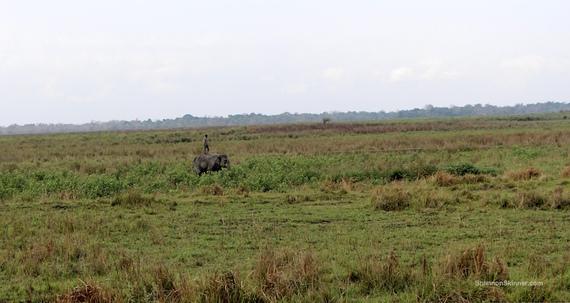 Man riding elephant
We continue. Bumpity-bump. I am glad I went to the washroom before leaving my villa at Infinity Resort. It is late afternoon, the sun will soon set and we must leave shortly. The silence is deafening, save the occasional jeep of tourists travelling the same road.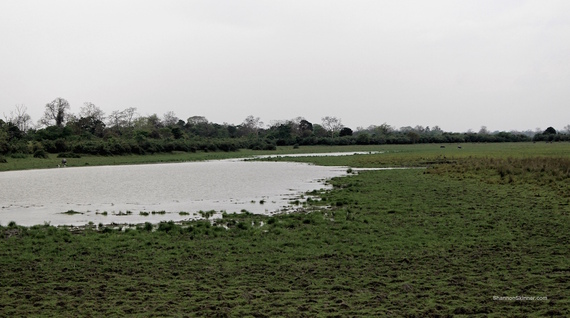 Rhinos at water's edge

My guide points again. Tiger? Poking though the tall grass and not more than a few meters from us appears one of India's most prized possessions: the one-horned rhinoceros. Given rhinos are known to run fast, really fast, my heart skips. My guide whistles to get its attention. It sees us. It most definitely sees us. I grab my camera, it turns around and it...
...snap...
...drops a load.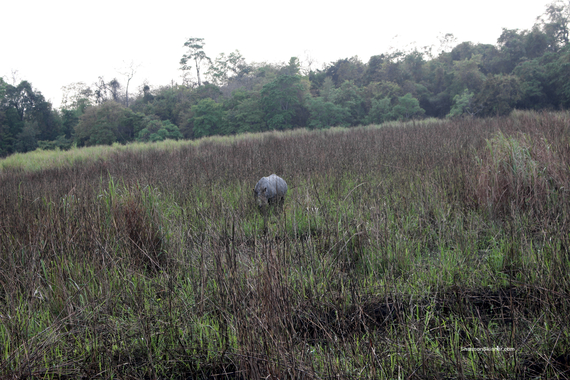 A dignified view of the rhino
Behind it, in the distance, are more rhinos, elephants, water buffalo and deer.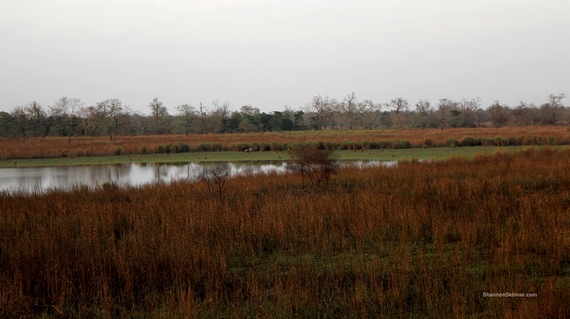 But no Royal Bengal Tiger. Yet. Tigers are often seen here. The ranger says the population is more than 100 and they are "very shy." Part of me wants to see one, and part of me doesn't because it means if I see it, the likelihood is it would see me, too. I think of Yann Martel's Life of Pi.

Another jeep of tourists stop to inform us they just spotted the legs of a tiger in the foliage alongside our road, but got scared off by a truck. I am fully wide-awake.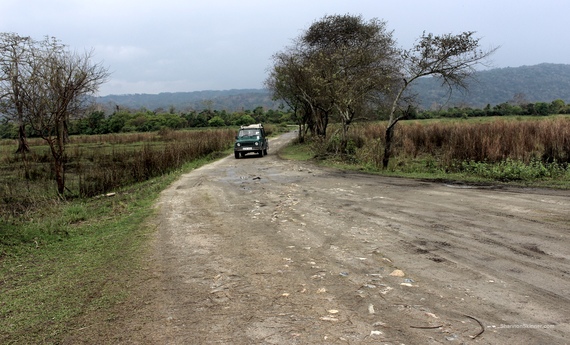 Ahead, I hear deer barking. I'm told they bark as a warning to the rest of the herd that a tiger is near.
A tiger is near.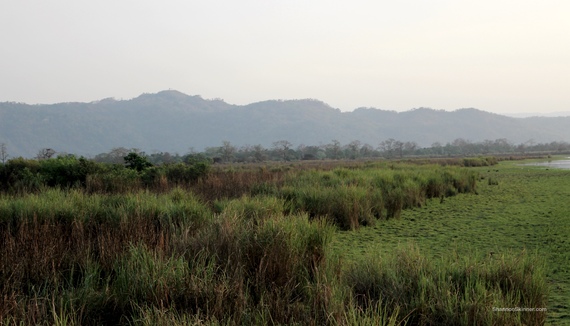 Grasslands and hills in background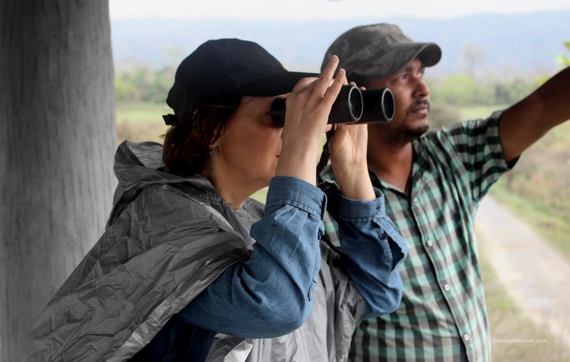 Ranger Nekib explains park life. Where's the tiger?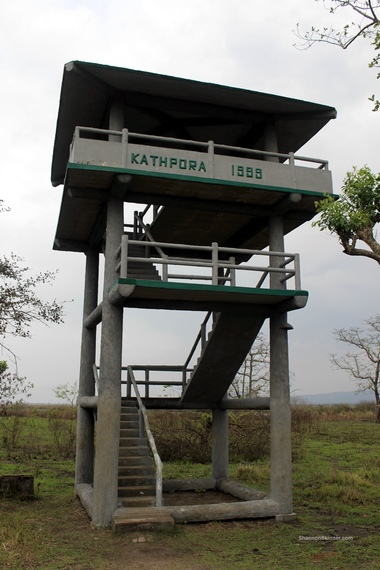 We climb a watchtower and with binoculars scan the grasslands and lake below. Pelicans are resting. The sun is rapidly falling, washing the plains with "Bengal Tiger" orange.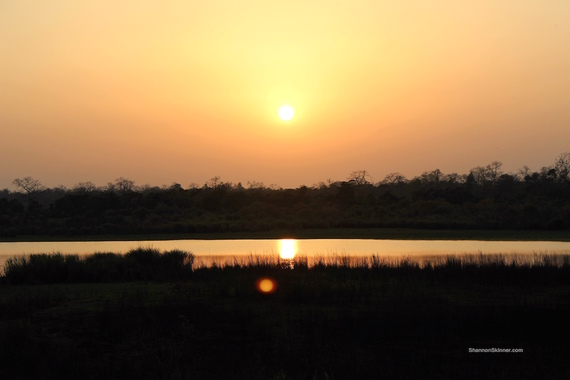 Sunset in Kaziranga National Park

I take one last scan for the shy tiger. But, alas...

After a 90-minute adventure, it is time for us to leave or trouble awaits. As we ramble out of the park, my guide, Dipankar, leans back and says: "You have to return to Kaziranga. The tiger is calling you back."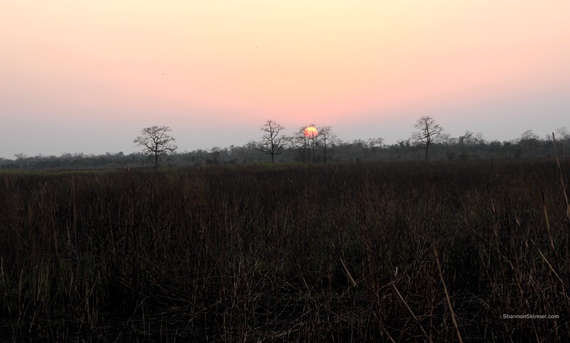 A few minutes later
Shannon Skinner is a television host, speaker and writer. Read more of her travel stories at Shannon's Travel Bag.
This article originally appeared at ShannonSkinner.com.
ALSO ON HUFFPOST:
15 Gorgeous Trekking Trails Across India You Must Make It To At Least Once