Shannon Skinner
Geneva is small city with a big heart. With a population of only 200,000, it is the world's capital of peace. While many visitors come to Switzerland's second largest city for business, there is plenty to offer travellers seeking a vacation. This year, Geneva was voted Europe's leading city break destination.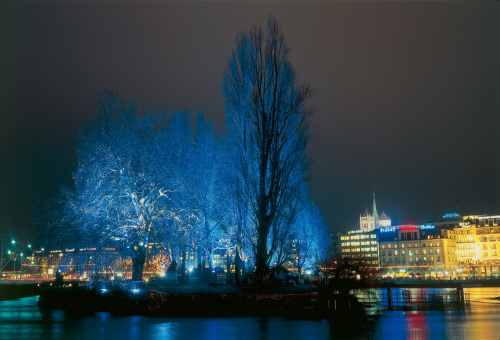 (Photo: Switzerland Tourism)
More than 20 years ago, I visited Geneva as a backpacker. So when I recently returned, I saw it through grown-up eyes. Geneva is small enough to walk around and see the sights, yet packed with shops, museums, galleries and other attractions. The transit is efficient and clean, it is easy to get from the airport to city centre by rail (it's free!), and is a jumping-off point for adventures in the mountains. In fact, there are many reasons to visit Geneva.
Here are some of my favourite Geneva Gems:
1. Cuisine
When you think of Swiss cuisine, fondue and raclette probably comes to mind. Due to its international community, Geneva is renowned for its international cuisine, from traditional French to Italian to Indian. For a gastronomic adventure, some acclaimed restaurants with notable chefs to try include: Le Flacon (1-star Michelin), modern cuisine and chic décor (located in Carouge district); Rasoi by Vineet ( 1-star Michelin), modern Indian cuisine (Mandarin Oriental, Geneva, centrally located); and La Cigogne, refined cuisine "dictated by the market, inspired by the seasons,"and staff who know everything about Swiss cheese and the 350 wines they list (centrally located in the Old Town).
2. Palais des Nations
The Palais des Nations, formerly the headquarters of the League of Nations, is a magnificent property that houses the United Nations European office, and is situated on a sprawling park with a magnificent view overlooking Lake Geneva and, in the distance, the Alps. Much peace-making and humanitarian history has been made here.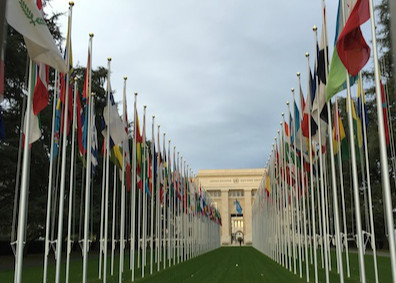 (United Nations, Palais des Nations)
3. Wine
A small industry, it is said Swiss love their wine so much they keep it to themselves. If you wish to try Swiss wine, you must go to Switzerland! Wines from Lake Geneva Region, in particular, are excellent. While I tend to like reds, I prefer the whites from this region.
4. Bains des Pâquis
A unique city beach located on Lake Geneva, this is a favourite spot for locals from all walks of life, from bankers to students, to unwind. Open all year round, you can have a massage, sauna or hammam -- and enjoy the lake view. During the winter months, enjoy a fondue at the restaurant. During the summer, swim or sunbathe at the beach. Regardless of your budget, there is something for everyone.
5. Chocolate Workshops
There is nothing like Swiss chocolate! After all, the Swiss invented milk and white chocolate. Try a chocolate-making workshop. I had the opportunity at Stettler Chocolates, a boutique laboratory, where I made a "chocolate pot" (marmite), special for Geneva's Escalade festival.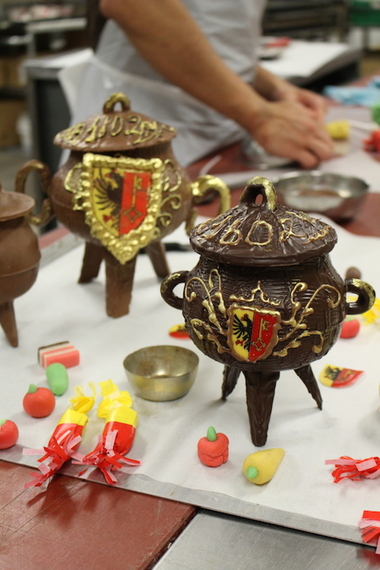 (I made this small chocolate pot!)
6. International Red Cross & Red Crescent Museum
Breaking away from traditional museums, this one offers a unique interactive experience focused on humanitarian history and efforts. Geneva is the birthplace of the Red Cross movement, so this is an important museum for the city. Located across from the UN.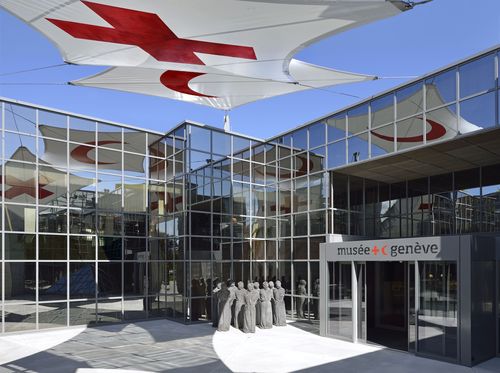 (photo: Alain Germond)
7. CERN
Geneva has had many firsts and the birth of the World Wide Web at CERN (European Organization for Nuclear Research) is one of them. Located partly in Switzerland and France, CERN is also where the God particle was recently discovered. CERN gives special tours for the public, but they are in high-demand so you have to book months in advance. Or, just check out its Globe of Science and Innovation.
(Collider 100m underground)
8. Carouge
Bohemian district of Geneva, once part of the Kingdom of Sardina and, as such, you can still experience the Italian influence in the architecture and food. The annual Christmas Market is a must!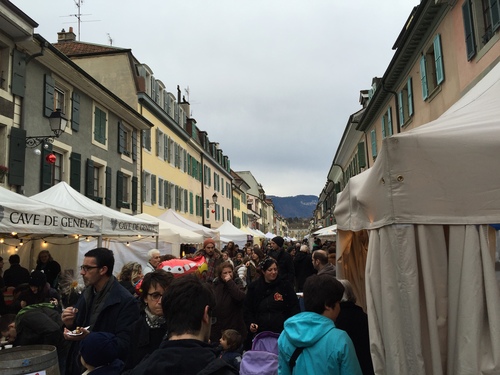 (Christmas Market, Carouge)
9. Escalade
An annual celebration of Geneva's victory over the Savoyard soldiers on the night of December 11, 1602. There is a torch-bearing procession of locals dressed in period costumes through the streets of the old town. Many restaurants have special menus for the occasion and families get-together to celebrate over food and the famous "chocolate pots."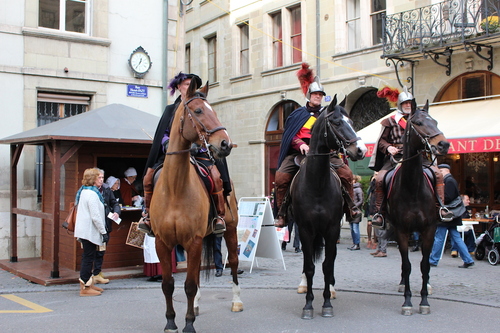 (Escalade)
10. People
The locals, who are mostly French-speaking, were pleasant and helpful, especially as I fumbled with my French. I felt welcomed. And, well, the best travel experiences are often about the people.
I took a piece of Geneva home in my heart.
Resources: Geneva Tourism and Switzerland Tourism
This article was originally posted at ShannonSkinner.com
ALSO ON HUFFPOST: