My husband and I used to flip properties back in the day before his work as an actor led to his latest television series being on air for what is now their 11th season. We flipped houses for two reasons: 1. because he is a naturally gifted handyman who has an incredible eye for detail, combined with impeccable taste; and 2. because it was how we made money in between his acting gigs.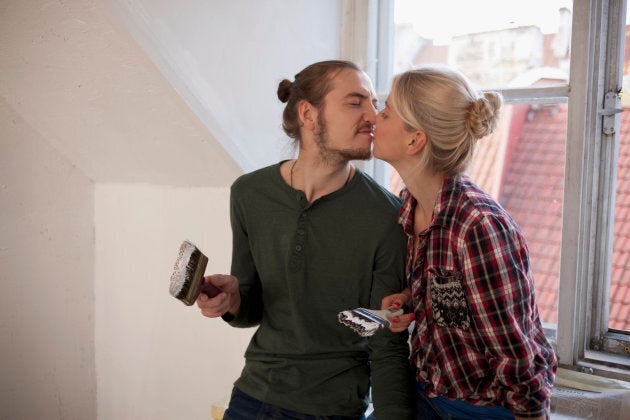 In our almost 30 years of being together, we've moved more than 20 times. Most of these moves were into rentals. We've purchased and flipped four houses, three of which were total gut jobs. If you've ever renovated with your partner, even just one room in your home, you can appreciate how difficult it is to do that without losing your cool.
It has been more than four years since we've stood side by side renovating. The last project was when we built our main property in Toronto from 2012-2013. We had some minor renovations on our home in California three years ago, but for the most part I handled that project on my own because of my husband's filming schedule.
The result? We managed to avoid many of the normal renovation arguments that come with two people, each with their own opinions and visions, at the helm. It was probably the most enjoyable renovation I've ever lived through, and although it went smoothly, I still swore that I wouldn't do another one. I'd hit my max.
You and your partner are not likely to agree on every single detail, and that is OK.
Because, let me tell you: every single house of the 20-plus, rented or owned, that we've lived in needed some sort of TLC from us. And frankly, I'm over it. I'm 48 and I want to head into this next chapter of my life not discussing how many bedrooms I think are the right amount for a solid return on investment, or whether or not people will be able to tell the difference between man-made stone tile and marble.
Even though this was my commitment and conviction, I've somehow found myself as the brand-new owner of an uninhabitable shack in the woods on a lake in Northern Ontario. Which has landed me squarely back into reno-land, a land I swore I would never return to. So, now what? How do I manage to get through this renovation — something I didn't see myself doing ever again, on a property I never envisioned owning — with my marriage intact?
Never say never again
Well, I need to dig into my relationship archives for this one. First thing's first: when embarking on a renovation, whether it's one you're excited about or dreading, it is important to get your heart right. What I find myself struggling with at the moment is letting go of the promise I made myself to "never do this again." Life is a funny thing: When you think you know the direction you're headed in, it will always throw you a curve ball to check your "flexibility." So here I am, slowly getting my heart and mind behind this new cottage project.
Get on the same page financially
You and your partner need to sit down and set a realistic, firm budget for your renovation, and then add 25 per cent to that (for the inevitable overages). If you're willing to spend time researching finishing items, such as kitchen cabinets, appliances, etc. yourself instead of having a contractor source everything for you, you can save lots of money. Remember, everything your contractor does for you costs you money. Everything you can source yourself saves you money.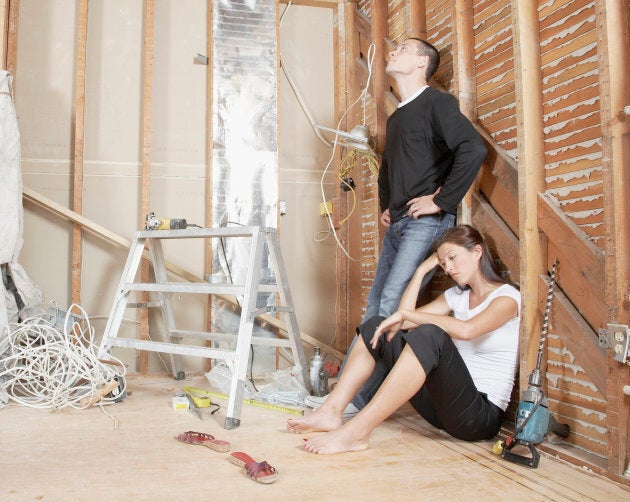 Don't take the renovation personally
Meaning, you and your partner are not likely to agree on every single detail, and that is OK. Them not liking the fact that you might think that a lime-green kitchen would be "bright and cheerful" doesn't translate into them thinking that you have terrible taste. Everybody is entitled to their opinion, and just because yours might not be lining up on every aspect of the renovation doesn't mean your partner doesn't love you, or doesn't think that you've got good taste... most of the time, ha!
Hear each other out
Whether it be about design ideas or budget concerns, it is important during a renovation for both parties to feel like their suggestions, fears or worries are being heard and respected.
Be grateful
It really is a fantastic blessing to have the means and the opportunity in life to be able to purchase and own property. Then, if you also have the ability to turn that property into your oasis, your own personal slice of heaven, it's the proverbial icing on the cake. Do don't forget to be grateful and express it often to your partner. If you focus on these few suggestions, take it from somebody who has "been there, done that" many times, it will help you not only survive your renovation, but thrive through them.
Follow HuffPost Canada Blogs on Facebook