I come from a family of three siblings and I'm the middle child, between two boys. The eldest and I are only 13 months apart, so one would assume that we would naturally be the closest, and yet we aren't. Not at all. I've always been much closer to my younger brother, who is five years younger than me, and we talk via text almost daily. I'm even incredibly close with his wife.
For one reason or another, this is not at all the case with my eldest brother. Currently we're "getting along" since we're all working together to ensure our dad, who was recently diagnosed with vascular dementia, is getting the best care he can. The rift between my eldest brother and I is not so much being repaired as it is being forgotten.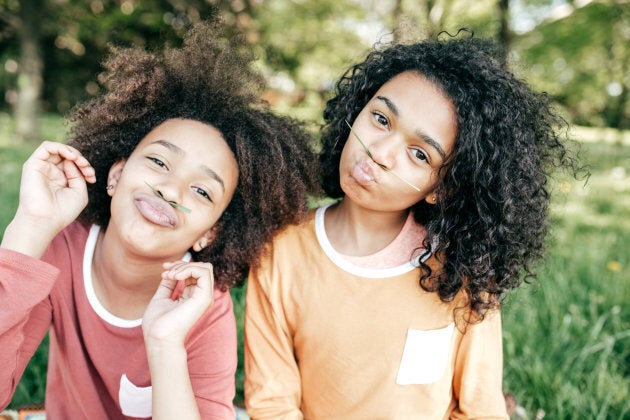 I always wondered why my mother didn't "force" us to get along better. I had this strange notion that she could have done something to bring us closer and repair the damage we had done to our sibling relationship from when we were younger. I actually believed this wholeheartedly until my three daughters became adults and I witnessed the same closeness that I share with my baby brother happen between our middle girl and our baby. Even though our eldest and middle girl are only 23 months apart, the middle and baby are thick as thieves. They finish one another's jokes and talk daily via FaceTime when their life circumstances take them thousands of miles away from one another.
Naturally, these two are just closer. They have more in common with one another. They have the same interests in television, films, books and music. They simply relate to one another better. It's that, cut and dry. It's not that they don't love, respect or care for their eldest sister. It's just that they bonded with one another more, many years ago.
I now know that there is really nothing a parent can do to "force" relationships between their children.
As a parent, I often find this painful to watch. I had the romantic notion that eventually, when the three of them were all adults, they would completely come together and be the Three Musketeers. In my mind, I always romanticized that the closeness would come as they moved into the more significant life changes, like marriage, babies and full-swing adulthood. Yet with our eldest daughter's wedding coming up this October, I'm sad to say that the huge shift in unifying them still hasn't happened. Standing up as bridesmaids for their sister is still not the life moment that seems to be putting all three of them on equal footing.
As a mother who has not only experienced complicated sibling relationships firsthand, but has also watched my girls with one another, I now know that there is really nothing a parent can do to "force" relationships between their children. I can and do find comfort knowing, without a doubt, that my three girls have one another's backs in any and all situations. There is nobody from the outside who would be able to break their hearts, or disrespect them, or treat them unfairly, without a sibling jumping to their defence. They are a tribe when it comes to things like this. I know it because I've witnessed them come to one another's defence during times of bullying or crisis. And that's important.
At the end of the day, the sibling relationship is as any other on the planet. The very simple fact is that each and every one of us will be drawn to have a close relationship with one person, and perhaps not another, regardless of if there is blood shared between the people or not. What I'm coming to terms with is that it isn't the perceived closeness that we should aspire to; rather, it is the deep, true love and bond of family that is important. Siblings may not end up being the best of friends, but I for one am incredibly thankful that my girls have found a supportive unit with one another.
Follow HuffPost Canada Blogs on Facebook