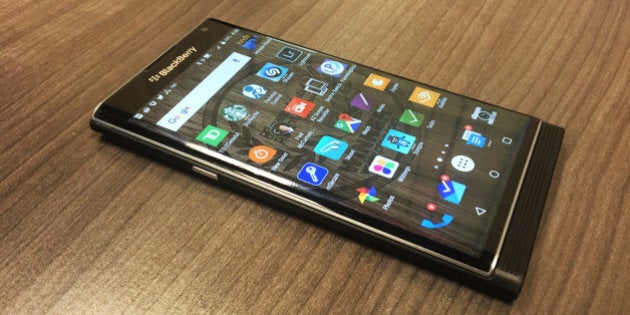 Just when all hope was lost. The ghost of a hardware keyboard nothing but a distant memory. The days of thumb-typing without errors seemed to be something out of a historical novel. Then the Blackberry Priv arrived at my door, courtesy of Telus and Blackberry.
Some might wonder why Blackberry would even consider launching a new device when their overall share of the market has dwindled down to less than one per cent for the past year where it was once over 40 per cent of the market.
Well, Blackberry has been laying the groundwork for this device for the last two years. Unlike its previous platforms like Blackberry 10 that lacked the apps that consumers wanted and needed, this device is Android-based. Blackberry makes it clear that they are staying true to the Android platform by not pre-loading the devices with all kinds of apps just for the purposes of making it sound more appealing. Instead, they personalized it with features like the Hub and DTEK, and left the rest up to the user.
For all of you naysayers out there who think it's too late for Blackberry and that they missed their opportunity, I'm here to tell you that the Priv might make you change your mind. Blackberry CEO John Chen has set a sales goal of five million units in the next year, and hitting that goal may keep Blackberry in the handheld market.
Outside of it being a beautiful device with an ultra-thin profile that, at 9.4-millimetres thick, makes you wonder where they are hiding that physical keyboard, it is feature-rich. Blackberry now runs Android OS, meaning that it no longer has many of the limitations of previous devices. In fact, Blackberry has taken the opportunity to add features that you wouldn't expect from an Android device and make it uniquely Blackberry.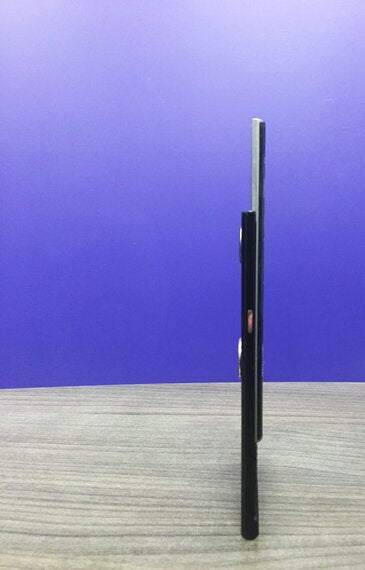 If you are a previous Blackberry user, you won't be surprised to find the Blackberry Hub inbox. This inbox alleviates the problem of switching from app to app to read your notifications by putting all messages, missed calls, texts, etc. in one convenient spot. Once you become used to the Hub, you will have a hard time remembering how you ever had the patience to go to each individual app to see the latest notifications. To make the Hub even more productive, you can colour-code the accounts so the ones that are most important (like work emails) are highlighted with a bold colour, while your third cousin, twice removed who tweets you regularly might be presented in a muted grey.
The presence of a physical keyboard is what truly makes it a Blackberry. The keyboard slides out from behind the Gorilla Glass display and is touch-sensitive. You can scroll through a web page by simply sliding your finger down the keyboard and delete by sliding your finger back over a word. Of course, for previous Blackberry users, you will appreciate that there are still shortcuts on the keyboard that can be used to start or reply a message. In total, users can add up to 52 shortcuts using a combination of long and short key presses. Granted, 52 might be overkill for most, but it's nice to have the option.
The use of the physical keyboard is optional. When it is hidden, you have use of the on-screen keyboard with oversized letters that make typing much simpler. While it does take some getting used to, the thumbs quickly remember how to type on a physical keyboard, and this feature was my deciding factor in moving back to Blackberry.
Given Blackberry's track record of security features, the Priv's championing of privilege and privacy would not be complete without DTEK security. For the layperson, DTEK essentially gives you a clear understanding of what information is being accessed by what apps. For example, if you are not big on Twitter and Facebook knowing your location, you can review what they are accessing using this app. You can't remove their access through DTEK (not likely to happen until Android Marshmallow is released) but it's good to know what information is being accessed, allowing you to then modify your preferences through individual apps.
With its 5.4-inch display, Blackberry has taken advantage of the curve to add their own unique spin on the design. As a former Samsung Galaxy Edge user who rarely used the edge functionality, Blackberry has put all of the key elements you look for into their edge. They have created a productivity tab where, with the slide of a finger, you can see your calendar, messages, tasks and contacts. I also liked that it didn't pop up every time I picked up my phone, which I found happened frequently with the Samsung. The curve also elegantly displays your battery life when charging. All very sleek and convenient.
Unique Blackberry features
Many Android users are familiar with swiping up to access Google Now. With Blackberry Launcher, the swipe up feature actually gives you access to three customizable apps, including Google.
Upon first glance, the notification centre does not look drastically different from the standard Android notification, but it lets you sort your notifications by category. For example, several icons indicating the notifications types that you have will appear at the top of the bar, and you simply click on that icon and it sorts the notifications to only display those related to that icon.
The swipe up gesture is another unique experience on the Blackberry Priv. With a variety of apps, look for the three dots beneath their icons which indicates they can be swiped up to display glance notifications. This is a great feature to be able to quickly view notifications without actually having to launch the app.
The Priv features an 18-megapixel Schneider-Kreuznach certified camera, and if you are a photo buff that will mean something to you. While I love the camera, the only real shortfall I have found is that the device lacks a proprietary photo gallery, so I was forced to use Google Photos which was not my first choice. With Carousel being removed from the market, Google is the only real game in town in terms of photo storage capabilities for the price (free as long as you are okay with not saving at full resolution).
I also would have liked to have seen some more photo editing tools, but I'm biased as I came from a Samsung Edge which has more editing tools than I will ever need.
Over the last month since owning this device, I have been stopped just about everywhere by people seeing "BlackBerry" on my device and asking me how I like it. As a Canadian, I am proud to say that Blackberry is back and I have no regrets over my move.