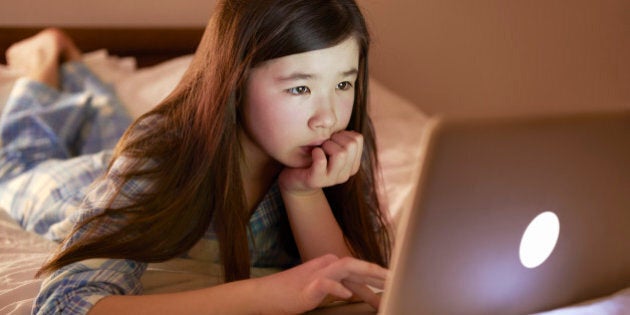 We live in an age of instant information. With a "click" here and a "swipe" there, we can pretty much find out anything about everything (and then some!). October is Cyber Security Awareness Month so it's a good time to take a pause and have a national conversation about online safety. Our kids have a world of information at their fingertips, which can be a wonderful social and educational tool when used properly, but can also present significant dangers without the right guidance. As our children become more independent, how do we keep them safe?
As parents, of course we play a fundamental role. From a very early age we talk to our kids about "stranger danger," but we need to expand this concept to the cyber world. i-SAFE, a U.S.-based organization dedicated to Internet safety says that 42 per cent of kids have been bullied online and 20 per cent of kids that go in chat rooms have been approached by a pedophile -- those are frightening statistics. As parents, our first line of defence is to teach kids to stay safe in cyberspace by setting house rules about which sites they can and can't visit.
And while house rules are great, what about when our kids venture out on a playdate? Now they're in someone else's house with someone else's rules. Parents all have different standards when it comes to Internet safety, so before my kids head out to a friend's house, I have a quick conversation with the other parent about their rules. If I am comfortable with their approach, that's the end of the conversation. If not, I politely ask that my child not use the computer in their home.
Set expectations with your kids too. Let them know that if they're with a friend, and on a website that they think isn't ok, they should ask a grown-up. The end-game is not to exert total control over our children (which admittedly would sometimes be nice), but rather to teach them how to make good, sound, independent decisions.
Parents are the first line of defense, but we cannot do this alone -- effectively educating our children about Internet safety must be a team effort. We need technology companies to provide training and resources to help us keep our kids safe.
Other technology companies are stepping up as good digital citizens as well. TELUS, for example, offers an amazingly comprehensive program to train and educate both parents and children. Through the PTPA-approved TELUS WISE program, ambassadors across the country provide 1:1 learning sessions on Internet and smartphone safety and security. Sessions are entirely free for anyone in-store (whether you are a customer or not) or you can request a group session for ten or more people (think: community or parenting group, etc.) and an ambassador will come to you! It doesn't get easier than that. Who better to teach us how to be safe online than those companies that put the technology at our fingertips?
Many internet service providers offer free parental controls to limit our children's access. This is a wonderful tool that I encourage all parents to take full advantage of. However, while these can be very effective for younger children, eventually kids will want more online independence. As you open the Internet up for your kids, I recommend using a software program like Norton Family to learn more about your kids' online interests, including what words and phrases they are searching; how they represent themselves online (including age and profile picture); and if they're intentionally seeking out blocked or inappropriate content.
Social media is a whole other beast because a child's biggest danger could be themselves or a close friend. Our kids need to understand that by the time they hit their tweens and teens, their life is being tweeted, Instagrammed and Snapchatted creating a digital footprint in cyberspace for all to see. Social media sites need to be less ambiguous with privacy settings and more proactive in educating their consumers. This onus ought to fall on the sites, but we should never be so naïve as to believe it happens to the degree we need. For parents, the need for education on the latest social sharing apps is paramount. Luckily, several companies are offering to help. For example, last year in addition to launching Snapkidz, Snapchat published a comprehensive guide for parents to educate them on the tool and provide tips on how to keep kids safe.
Education and communication will help us achieve the ultimate goal: protection. Cyber Security Awareness Month is an important reminder to parents to have these conversations with your kids and get the dialogues started early. We can create rules and monitor online activity, but ensuring our kids understand the risks and have the information they need to make the right decisions is our best bet at keeping them safe.
As kids get new devices, visit more sites and download new apps, we need to continuously educate ourselves on the latest technology and trends. It's a daunting task, but luckily there are many resources out there to make the job somewhat easier. And at the end of the day, keeping up with the latest trends has the added benefit of staying relevant to our children and being a constant source of advice and sage counsel.