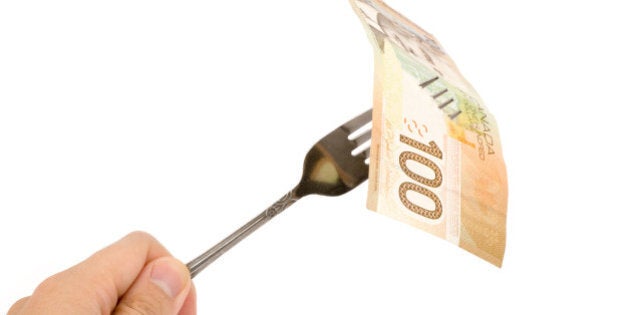 I'm old enough to remember a time when it was considered a good idea, in southwestern Ontario in the late 1980s and early 1990s, for my schoolmates to leave high school early and take a job in one of the factories feeding car parts to the auto plants on both sides of the border.
I'm also old enough to have seen my former schoolmates lose those jobs as, one by one, the plants closed and shipped their equipment where labour was cheaper. For me, the defining site of my home region of Chatham-Kent is the 40 acre empty space where the Navistar truck plant used to stand, employing more than 2,000 people in a city of 40,000.
Economic revolution, policy status quo
There was no food bank in my home town of Dresden, Ontario (pop. 2,800) in the 1980s. There is one now, and there are food banks in many of the surrounding communities as well. Across the country, organizations like these provide food to more than 860,000 people each and every month -- a truly staggering number of people.
How many of us have seen food banks open their doors in our home towns? The reasons may differ by region -- the decline of manufacturing in Ontario and Quebec, fisheries in Atlantic Canada, farming in the prairies, forestry in the northwest -- but the overall reality is similar across the country. The economic landscape is fundamentally changed.
With such revolutionary change, how is it that government policy and programs seem to have changed so little -- seem, in fact, like faded versions of something from a slightly better past? For example, an Employment Insurance system that covers fewer people and offers a smaller benefit; welfare programs that force people to open up every aspect of their lives to an invasive government bureaucracy, just to access below-poverty level benefits.
The 1980s are long past, and it makes no sense to rely on government programs that were designed for that decade. We need to fundamentally change the way we address economic vulnerability and poverty in Canada. While we have seen welcome changes at both federal and provincial levels, these have been incremental: slight increases to child benefits, small bumps in pensions for low income seniors, minor additions to welfare benefits.
In the 2016 HungerCount report, we call on governments to make large-scale changes to the way they address poverty and food insecurity: the abandonment of a failed and broken welfare system; real steps toward a basic liveable income; a real commitment to helping northern Canadians break out of a cycle of low income and high living costs.
In the history of the annual HungerCount study, which dates to 1999, food bank use has never been this high for this long: more than 830,000 people have accessed a food bank each month since 2010. This is a clarion call for change -- to make Canada into a country whose anti-poverty efforts, rather than its food bank network, is a model for the rest of the world.
Follow HuffPost Canada Blogs on Facebook