I'm sure it won't take much to convince you that love is in the air this month. From love notes, to paper hearts, to chocolate and candy in every shape and size, February serves as an annual reminder to celebrate all the things we adore and cherish.
When you think about those things, does your job make the list? Or are you still holding out hope that you'll fall head over heels for a job?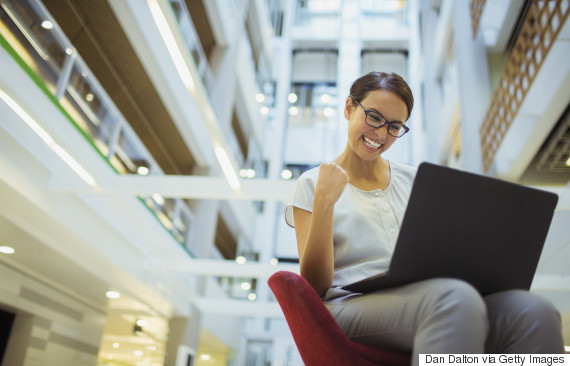 (Photo: Dan Dalton via Getty Images)
A recent poll from Monster Canada found that one in two Canadians believe that yes, they will find their "Mr./Ms. Right Job" in the next decade. Whether you believe you'll meet your match, or you're skeptical, there are steps you can take to help you find "the one." So how do you get there?
Searching for the specifics
In personal relationships, we find the things that we like (or even love) the most about someone right off the bat. What you value most in a partner might be their sense of humour or quick wit; their intelligence and curiosity; or how well they get along with your friends and family.
The same goes for a job. If it's the right fit, we immediately connect with colleagues and/or bosses, spend time outside of regular work hours on projects, and before we know it, we start gabbing about our job to our closest friends and family (just like most do when dating someone new).
Interestingly enough, the recent poll also revealed a "lovely" statistic that supports this idea of our search for something good. According to the results, 91 per cent of working Canadians love at least something about their current job. From work/life balance, daily responsibilities, bosses, and beyond, the majority of us find something to smile about at work.
Think about what might make you 'swipe right'
If you're not currently working in your 'right job' , or you're like the six per cent of working Canadians who can't find anything to love about their job, knowing what you do love is a good starting point to help you find better.
Your current job may be the stepping stone you need to land the job your heart desires.
If you find yourself seeking a new opportunity to better suit your interests, consider making a list of what you're looking for in your Mr. or Ms. Right Job. Use your "love list" as a reference point in your search for the right fit. Just as in the dating world, sometimes you need to try out a few jobs before you find your number-one choice.
Stepping stones don't break bones
You might not be ready to say the L-word when it comes to your job, but if you're "in like" with it, don't feel like you have to rush to declare your job Mr. or Ms. Right. As we know, love takes time to develop and taking smaller steps to get there is definitely doable. If you like what you're doing in your current role, but see something that has more potential for L-O-V-E, raise your hand for the opportunity to test the waters in a different area.
And if you're searching beyond your company borders, know that every work experience adds up to something greater. You should always think about how your current job is deepening your skillset. Whether it's a different perspective, new capabilities, or a wider network, your current job may be the stepping stone you need to land the job your heart desires.
(Photo: Yagi Studio)
Maintaining motivation
If you feel like the perfect job for you is a far-away dream that just can't come true, you wouldn't be alone in that line of thinking. For instance, the poll found that one-third of working Canadians don't think they'll ever find "the one," -- however, three-quarters are still motivated by what they do right now.
Your ideal job might not feel attainable, but it's very difficult to predict what doors may present themselves to you throughout your career. It stands to reason that keeping your motivation up and demonstrating your value to your current company might help encourage those doors to open.
If your dream job is only but a dream, seek out the hobbies that can make up for it. For example, if you long to be a farmer in rural Canada, but are tied to living in a metropolitan mecca like Toronto, plan weekend trips away to farm country and start forming more relationships outside of the city. Acting out that fantasy role, even in a small way, will keep you motivated in your job and perhaps pave the way for future opportunities you didn't see coming.
Follow HuffPost Canada Blogs on Facebook
Also on HuffPost:
Best, Worst Places To Find A Job In Canada