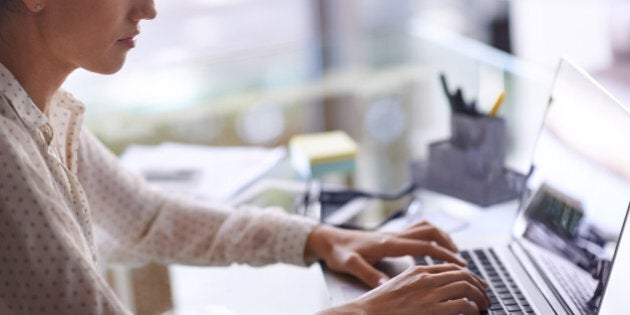 It's the most wonderful time of the year -- truly! December brings on plenty of good cheer and lots of anticipation for the New Year.
But it's also a time for a dip in productivity. The usual routines and motivations aren't the same and work tends to move at a slower pace. However, this doesn't mean you have to slow down, too. In fact, I find the time just before the holidays to be my most organized period. Below are some steps you can take to stay focused before the holidays and New Year approach.
Use up those remaining vacation days
First things first, if you have outstanding vacation days, check in to see if you can squeeze them in before year-end. If your schedule allows, extend a weekend or reduce your work week with a day or two off. Allow yourself some time to de-stress a little or run around for the last things on your holiday to-do list. This will ensure your mind is in work mode when you're in the office. Having a day off allows for a quick refresh and recharge during one of the busiest times of the year.
A clear space makes for a clear mind. Take a few minutes and really look at the space around you. Are there things you don't need any more, or just too much paper around? If there's a way to simplify and de-clutter, do it. Having a clean and minimalistic space allows for fewer distractions and gives fewer opportunities to procrastinate.
Make a to-do countdown list
As you mark off the days leading to the end of 2016, crossing off your work to-dos is equally, if not more, fulfilling. Whether big or small tasks, write down what needs to be completed before year-end. And if that list is longer than you expected, don't sweat or fret. Once you see what's transferred to the list in your head to paper, you can decide what tasks to keep for the remainder of the year and what can wait until 2017.
Don't forget to mark off items as you go! When you see the list get smaller, you know it's closer to the holidays and New Year's Eve too.
Don't take your work home
During the year, we get into the routine of bringing work home, and for some of us wherever we go. Whether at a cafe on the weekend or cozied up at home in the evening, we find ways to let work tag along with us.
Family and social obligations go into hyper-mode during the holiday season. I can tell you right now that little work will get done if you decide it's still a good idea to bring it home. When at the office, try to steer clear from your distractions. This is where a clean work area and to-do countdown list both come in handy. Knowing that family and friends are waiting for you once you leave the office should be a strong enough motivation, too.
Commit to not over-commit
This goes for both in and outside of the office. Make sure you're aware of how your holiday plans and work obligations affect one another. It's also important to manage a reasonable amount of holiday office commitments. If you don't have to attend every holiday lunch, pick and choose the right ones for you to attend.
In addition, if you have opportunity to work overtime, be sure to communicate what your intentions are. If you know if a week is filled with out-of-office celebrations and activities, make sure you check in with your manager to manage expectations.
We oftentimes forget that it's okay to say no. Keeping focused and motivated on tasks and commitments you know are doable and absolute musts is what matters first.
Keep yourself moving with your usual extra-curricular activity
Although it may seem by now that there's barely any time between balancing work and holiday activities - and sometimes there really isn't - make yourself a priority too! Given the extra stresses and family and friend interactions, we all need a way to blow off some steam.
Try your best to keep up with your usual out-of-the-office activities like going to the gym, taking your dog for a walk or going to yoga. Maintaining even a tidbit of your regular routine during the holiday buzz will keep you level headed through all the seasonal noise.
Last but not least, keep your eyes peeled for all the possibilities and opportunities that a new year brings. Start focusing on new personal and professional goals to keep you motivated. While in the office or with family and friends over the holidays, ask what their goals are for the New Year and if they have any advice to share. After all, the holidays are all about giving and receiving.
Follow HuffPost Canada Blogs on Facebook