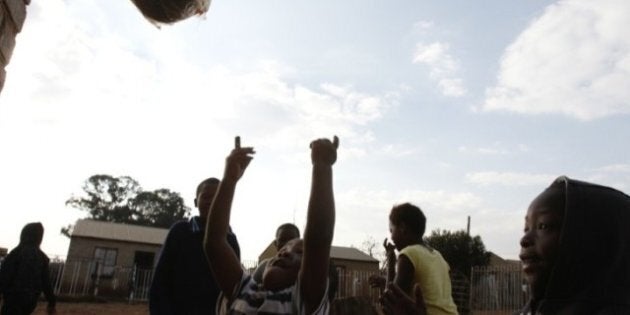 There is something remarkable happening in Rwanda today. In a country that has been torn apart of civil war and genocide, there are children playing.
Tutsi and Hutu children, brought together by a ball and a soccer field; girls holding a red ball in their small hands for the very first time. Headscarves are being tied tightly around their heads, in anticipation of the running and excitement soon to follow.
In a country still bleeding from the wounds of the past, hope lives here, here on this dusty playing field, here in the sound of the children's laughter. This week I am in Switzerland attending the International Board meeting of Right To Play, where I serve the board on two committees.
Right To Play is an international development agency using the transforming power of sport and play to help the world's children. I am listening to Denis Bright talk about the projects in francophone Africa and I am hanging on every word. He is talking about girls.
Traditional ideas still reside in many of the villages where Right To Play work in Africa. Denis plays with language to temper what he means, but the bottom line is that in many of these villages girls are forbidden to play. This is only a slight obstacle to the patient and skilled Right To Play coaches.
These young coaches are experienced in their work in other countries and know change takes time, but their belief in the power of sport to bolster self-esteem, empower girls, and build peace is extraordinary. Working with the regional representatives, they come up with a plan for a small soccer game. Only a game, but this time, they invite the women from the village. It takes some convincing, but the women trust the local Right To Play representative so they come out for a soccer game.
Many of these women have not touched a soccer ball, but within minutes they have lost their self-consciousness and laughter fills the air. These women become the advocates for their little girls, insisting that their girls have the opportunity to play as well. Soon sport and play is flourishing in this small village, then the next village, and soon all seven villages come together for a Right To Play tournament.
Through cooperative games children learn about HIV prevention, the importance of vaccines and the need to wash their hands before eating. When children learn through play, studies show they retain the message, and my observation is that they often share the messages with their parents.
It is these children, who are learning about how to help themselves, who are playing with one another without thought to race or religion, it is these children that will shape the future of this country.
As children learn to become leaders it is their experiences that will shape how they see the world and how they choose to interact in the world. Denis speaks about growing up in Rwanda and how his own views of women have transformed because of his experiences both in government and now with Right To Play. I reflect upon how different my ideas about what are possible for my life, would have been had I grown up in a different environment.
There is no easy fix for the myriad of complex problems that face the world's children, but I know without a shadow of a doubt, that this soccer game will help build better children, better citizens and a better world.