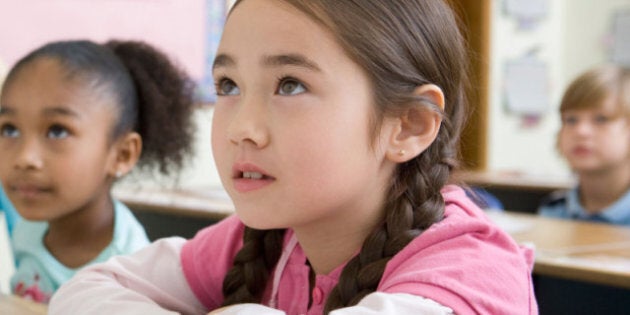 I think we should blow up the current school system and start over.
I said this to a teacher friend of mine this morning; a man who is taking a year of medical leave for a stress disorder akin to burnout. Blow it up; start over. There is so much wrong with what is happening in our system today that to start with the same foundation would be like attempting to take a dilapidated colonial home and turn it into an award-winning contemporary design.
As Margaret Wente said last week in the Globe and Mail, "Our schools are run like a bunch of factories from the early industrial age." I can't help but think of my sporting days and how the terrible burden of huge administration in our sport community crippled the teams' results in the early '80s. After a dismal performance in the Seoul Olympics the entire Rowing Canada staff was fired, and the system was rebuilt from the ground up. Financial accountability was the theme for many years. In 1989, I had to pay my own way to the world championships where I placed fourth. These kinds of cost-saving measures were brutal for the athletes, the life-time sport bureaucrats and many of the coaches, but by year's end, enough money was reallocated to hire two fine head coaches who began to make their own decisions on how to build a winning team. Our coaches prioritized where money was spent. As the new volunteer leadership was built, the belief was that the coaches knew what their team needed to win. Their wisdom proved itself four years later when our team won four gold medals and my bronze.
I know enough teachers to believe that great principals and teachers know exactly what is not working in their classroom, and have a pretty good idea how to fix it. The great principals I have met are leaders, not administrators, who set a tone of excellence within the school. They are limited though, by constant cuts, having to make difficult choices like whether to have art or should we have music. Due to cutbacks, my son did not have art in his entire middle school education -- a fact I find unacceptable, but not remarkable. After all, when I wrote my book, Child's Play, I was given a first-hand look at how little physical education is actually happening in the schools. I learned about the devastating cutbacks to physical education that happened over a decade ago, where specialists were taken out of the elementary schools, and roving physical education teachers were cut by two-thirds in British Columbia.
Where does it stop, and when do we as parents say enough is enough? We want a new education system. A system that inspires excellence and one that rewards the remarkable efforts of so many of our teachers who have no rewards for their exceptional commitment and innovation. My girlfriend Corinna Stevenson was given the Prime Minister's Award for Teaching Excellence almost a decade ago. That same year, she received a pink slip because her seniority was not enough to protect her from staff cuts. Although eventually she was kept on, the experience tainted her view of the public school system. Happily she continues to lead young people through a school she and her husband created called the Vancouver Island Experiential Wilderness (VIEW) Program, designed to provide struggling teens with an alternative to traditional, classroom-based teaching.
And here is an idea. Education should be exciting, education should be inspiring. Most of us can remember the one class that got us all fired up, the one teacher that made us believe anything was possible. Our kids deserve more of this: great teaching, inspiring material, and relevant curriculum. My son is studying the same math I did 30 years ago. As my 12-year-old daughter astutely commented yesterday, what's the purpose of this anyway? Many of us 40-somethings were asking that three decades ago.
My partner and I have four children between us, and they have been through many versions of the education system: co-op preschool, Montessori, public elementary school, private school. None of these systems is perfect, but I know for sure that my one daughter who is in private school is getting a better education for two reasons: there are 18 people in her classroom, and she consistently has great teachers. In her school, teachers who don't perform are not teaching the next year.
Private school is not for every child, and most parents can't afford it. Why shouldn't all our kids have great teaching, inspiring leadership, relevant curriculum and exiting extracurricular activities? This is possible when money is spent wisely and reallocated to the teachers and the students. If Canadians had more faith that their money was well spent, I expect more of us would be willing to pay more money for something world-class. Our education system is not world-class, and it should be. In Canada we have the resources, the freedom, and the talent to create an education system that is amongst the most innovative, accessible and inspiring in the world. We have to care more, each of us as parents and members of our communities. In our days already packed with kids, driving, work, and sports, we have to find the energy to tell our government and our school we want better.
I believe there are enough fabulous teachers and principals out there that we can have an outstanding school system. I have visited over 200 schools in the last 10 years, speaking about personal excellence. I have met teachers who fought and found resources for their inner-city classrooms. I have met principals who worked with other principals to pool money and hire a physical education teacher between them; my children had the privilege of going to a public elementary school whose leadership was amongst the best I have seen. Let these excellent teachers and principals lead us in the development of a rebuilt school system.