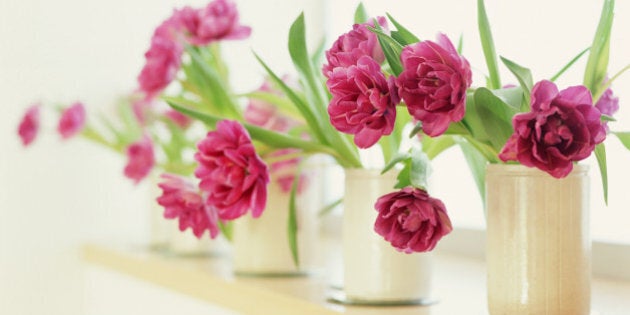 April showers bring May flowers -- or something. Although it's only the beginning of April, lately I've had flowers on my mind. Flowers are one of the easiest and most cost-effective ways to add just a little bit of beauty and romance into our lives. Whether you're buying them for yourself or someone else, I'm of the school of thought that (barring inconvenient allergies) we should all send and receive more flowers in general.
In honour of Spring and Mother's Day which is just around the corner, I thought I would consult with an expert: Ola Balas, owner of EuroFlowers -- one of my favourite florists located in Mississauga, Ontario.
Looking to step up your romance game? Here's a few reasons why flowers are the perfect way to show someone you care this spring.
When it comes to flowers, it's always the thought that counts. Not sure how to show someone that you appreciate them, but want to show it none-the-less? A simple bouquet or floral arrangement is the perfect solution. Flowers say, "hey, I'm thinking about you and think you deserve something nice!" Whether someone is having a rough time or you just want to show them you care, "having a beautiful floral arrangement in your home is the ultimate brightener" says Balas.
Ah, romance! Flowers are one of the easiest ways to heighten the romance in any situation. If you're planning a sexy date-night with your loved one, a bouquet of flowers can add that perfect, extra touch. As Balas points out, "It's not a cliche. There's just nothing that begins a romantic night better than a stunning rose bouquet. The variety and versatility of the rose conveys love, intention and attention to the lucky recipient."
Want to impress the object of your affection and show them you think they're special? Bring them flowers! I'm always impressed when I'm dating a man and he has the foresight to give me some gorgeous blossoms. It shows that you're thoughtful and planned ahead -- all admirable attributes in a partner.
Not sure when or how to send flowers? Balas has plenty of suggestions. "On a Friday when you're seeing each other that night, send her flowers at work during the day (IF it's easy for her to get them home). On any day of the week earlier on, so that she enjoys them at work all week long and doesn't have to take them home at all. Any day when you're going to see her that night. Obviously on her birthday and any kind of special anniversary."
FYI, guys, if you're hoping to stand out from the pack doing any of these things is an effective, not to mention romantic, way set to show that you care and mean business.
4. It's a great way to celebrate
Although flowers are a great way to birthdays, anniversaries and holidays like Valentine's Day and Mother's Day. They're also a great way to celebrate the little things in life. One of my most memorable flower experiences is when an ex purchased me a gorgeous bouquet of tropical flowers to celebrate me writing my final university exam. It was completely unexpected and lovely.
I asked a couple of my girlfriends about the most memorable time they received flowers and unsurprisingly, most of them said that it was when they received them "just because." You don't need a special reason to send flowers. You don't even need someone else to buy them for you. Romance doesn't need to involve anyone else. Want to brighten your day and your home? Treat yourself to a simple bouquet of Spring flowers for the simple reason that we all deserve a little bit of extra beauty in our lives.