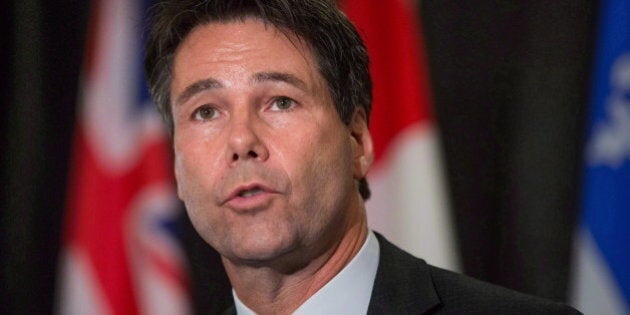 For Christmas, all Ontario doctors asked for was a brief respite from the toxic relationship between them and the Ontario Government of Premier Kathleen Wynne. They realized it would be too much to ask for an acceptable Physician Services Agreement (PSA) -- aka a contract -- after three years without one, but a couple of weeks without internecine politicking would have been welcome this holiday season.
Unfortunately, that was to be denied to them by Health Minister Eric Hoskins. In an unprecedented move, the health minister delivered a proposal for a PSA to the Ontario Medical Association (OMA) Board on Wednesday December 14 at 8:00 a.m., and then held a press conference at 9:00 a.m. in which he publicly announced his magnanimous proposal, promising good times, better health care, happy doctors and a chicken in every pot.
Clearly, it was an attempt to subvert due process. The normal procedure is to present the offer a contract to whatever bargaining agent you are dealing with, and let them review and study it. The fact he chose to simply go directly to the public was viewed as a slap in the face to most physicians, and viewed as a sign of ongoing disrespect by the OMA.
Key to understanding why Hoskins did this however, is to know what had happened in the preceding weeks. Hoskins rammed through the Legislature something called the "Patients First Act." Supposedly meant to decrease bureaucracy, the Act in fact creates 78 new Bureaucratic agencies (known as sub-LHINs), and numerous physicians expressed their concern in presentations to the Legislature.
Yet, despite these warnings, he forged ahead in a desperate attempt to leave some sort of legacy for his term as health minister. Right now, the only thing he's accomplished of note after three years on the job is lowered parking rates at hospitals.
Unfortunately for Hoskins, this meant that the job actions would bring focus to how deeply flawed his legacy agenda was. Most people will trust their doctors, not politicians. So, he had a problem, and needed a way to change the discussion in the media.
Realizing that many news media would blindly follow his statements, he chose to attack physicians' incomes (again) as a way of deflecting from the fact that "Patients First" is doomed to failure. The plan is to get people talking about greedy doctors again, and ignore all the ongoing, systemic, persistent disasters in Ontario Health Care.
Indeed, a quick glance at most major news reports of his conference, showed NONE of them mentioned that job action by physicians had already started, and was directed solely at the "Patients First" Act, not this supposed contract offer.
Clever (at least politically) that Hoskins fellow.
How will this all play out? Well, a lot of it will depend on the response from Physicians groups. The Concerned Ontario Doctors group has already pointed out to the media that it's "Patients First" that is the target. So has the Coalition of Ontario Doctors. Hopefully the OMA will follow suit.
Sure, it's easy for him to say that these are just individual voices, but the number of physician voices keeps rising, and they all seem to be focused on problems with the health care system, not on contracts.
Knowing that physicians will continue to fight the abysmal "Patients First Act" and expose flaws in the health care system, he cowardly suggested that "job action" would affect patient care. He specifically asked that patients be "kept out of this."
In fact, Hoskins knows very well that OMA president Virgina Walley clearly stated that the job action would NOT affect direct patient care. The job action would only be targeted towards stonewalling implementation of the flawed legislation. Heck he's an OMA member himself (no really) and gets all the OMA memos about this. He also knows as a physician that job action affecting patient care would be contrary to the College of Physicians and Surgeons rules, and would be cause for discipline.
Somewhat naively, I had hoped that with the passing of the annus horribilus of 2016, we would see the end of the trench war between physicians and the Ontario Government. But alas, 2017 is shaping up to be more of the same.
Follow HuffPost Canada Blogs on Facebook