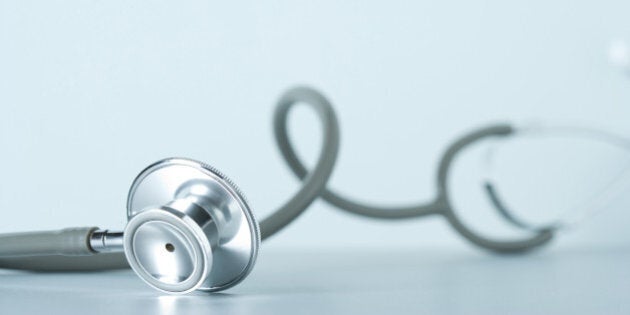 "Be careful not to be Penny Wise, Pound Foolish" - Old British Axiom
On February 1st, 2015, the Government of Ontario, under the leadership of Premier Kathleen Wynne and Health Minister Eric Hoskins, imposed a unilateral reduction in fees paid for the provision of patients services. This came after almost a year of tense, and ultimately fruitless negotiations between Ontario Physicians and the Government. The Ontario Medical Association (OMA) warned from the outset that these unilateral decisions made by the Ministry, without any input from physicians, would result in harm to patient care, and would ultimately be detrimental for the residents of Ontario. One can guess just how much heed Wynne and Hoskins paid that warning by the simple fact that on October 1st, 2015, they imposed a second round of unilateral cutbacks, again without the input of the OMA.
Wynne and Hoskins of course, are simply referring to this as a "modest reduction" in physician income. People like myself, who warned that it's actually some of the targeted fee reductions that will cause more harm, were told we were fear mongering. Unfortunately, it appears that I was right, and the harm to the residents of Ontario is only beginning. As always, it is the vulnerable patients who will suffer the most.
As I had previously mentioned, one of the targeted cuts was to the fee for a urine test to check for drugs of abuse in patients who are receiving methadone treatment. This fee was cut from $29 per test, to $15 per test. I'm not entirely sure in which language a 48 per cent reduction qualifies as "modest", but it sure isn't the Queen's English. As a result, a number of clinics treating patients with addiction disorder are now reducing their services, or closing altogether. The situation is particularly dire in Manitoulin Island, and while it's true a temporary solution has been found, it is clearly temporary and does not provide a sense of stability.
Hoskins' response to the closure in Manitoulin and to the closure of several other clinics is to simply state that "it's challenging" to think that a cut in the fee for a "urine dipstick" test means that a clinic is no longer viable. However, at the end of the day, he simply has to ask himself why would a physician (or anyone for that matter) close down an endeavour that was "well compensated"?
A review of more of the targeted cuts show that it is again the extremely sick patients, with chronic diseases that have been singled out by this government. For example, there is now a reduction in the funding of comprehensive care for diabetic patients. I personally have about 150 diabetic patients in my practice. I can tell you that this is a very challenging disease to treat. There are numerous complications from diabetes, and the burden or untreated diabetic care to our system is enormous. Yet, for some reason, Hoskins and Wynne chose to target this population for a reduction in service. As a result, over the next couple of years, we can expect to start to see an increased number of patients with uncontrolled diabetes, and the consequences thereof (heart disease, stroke, kidney failure, amputations, etc) being admitted to our hospitals.
There was also an elimination of the so called "chronic disease premium" in internal medicine, cardiology, gastroenterology, and nephrology. This premium helped to fund services for patients who had challenging complex diseases like congestive heart failure, Chron's Disease or Colitis and kidney failure leading to dialysis. Once again, we are dealing with a very frail and vulnerable population, and once again, a population that is a significant burden on the health-care system, when untreated. If these conditions are not managed correctly, then these patients often decompensate quickly, and wind up in hospital. But again, Hoskins and Wynne feel that they don't need to have resources dedicated towards preventative care for these illnesses.
The sad thing is that there is now a pall that has descended amongst physicians as a result of this, and many physicians are simply disengaging from working with the government on various endeavours that are meant to guide the health-care system going forward. While Hoskins and Wynne still stubbornly stick to the claim that 700 new physicians enter Ontario each year, this claim is based on data from before they unilaterally imposed cutbacks. A recent survey of Resident (trainee) physicians, shows that two-thirds are now actively planning on leaving Ontario once their training is complete. It is therefore extremely unlikely that there will be 700 new physicians to help the people of Ontario in July 2016, when the current training cycle ends.
Dr. Prateek Lala, a member of the Concerned Ontario MD's Facebook group, has been tracking all of negative impacts of these cuts to patient services. Dr. Lala made a handy graph, which I've reproduced with permission that nicely outlines how these unilateral cuts have negatively affected patient care to date.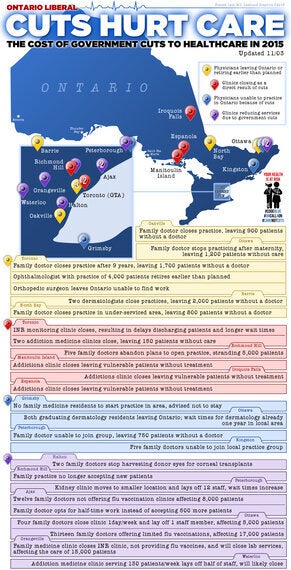 The most bizarre thing about Wynne and Hoskins' actions is that since 2012, for the most part they actually had succeeded in limiting the growth of the health-care budget. The rate of growth of health-care spending was only 2.1 per cent per annum, a marked decrease from the previous decade. This was in large part due to the fact that the physicians voluntarily accepted a 0.5 per cent fee cut in 2012. They also offered to freeze their fees until 2017 to help work with the government to restructure the health-care system. (As an aside, can you imagine teachers accepting five years without a fee increase?) Yet apparently that wasn't enough for the Liberal government, and so they embarked on this course of unilateral cuts that will now result in patients with chronic disease not having appropriate access to preventative care. Over the next few years this will result in more patients being admitted to hospital for the consequences of poorly managed disease.
What's that you say? Isn't hospitalized care the most expensive care available? Aren't these cuts supposed to save money? Won't they actually cost more in the long run? Would you mind telling Eric Hoskins that, since he's not listening to Ontario's doctors?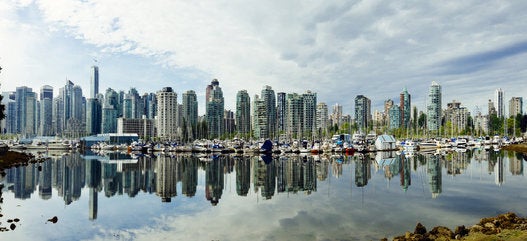 Canada's Most and Least Healthy Places, As Mapped By The 10 and 3