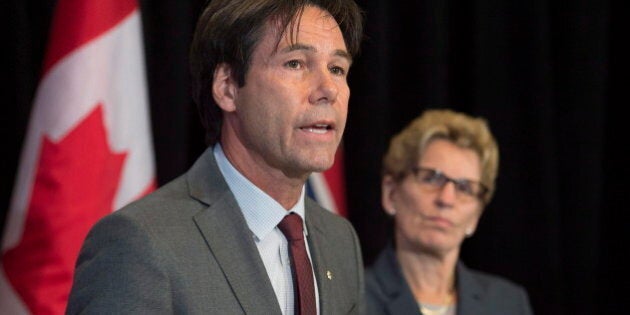 "Bureaucracy, the rule of no one, has become the modern form of despotism."
Last week, two health care stories in the news that got relatively little attention illustrated exactly what is wrong with the direction health care is taking in Ontario, under the leadership of its hapless Health Minister Eric Hoskins, and beleaguered Premier Kathleen Wynne.
The first news item was a truly sad story of how a specialized dementia unit in Ottawa was being forced to close. This unit provided care to the most difficult kind of patients with dementia, the ones whose dementia caused them to be verbally and physically aggressive. Personal Support Workers (PSW's) and nurses specifically trained to deal with patients like these were instrumental in providing the kind of compassionate, devoted care that these residents deserved.
Obviously, however, that care came at a cost. When the decision to close the unit was announced, there was no sugar coating of the reason why. It was, purely and simply due to money. The unit was not "financially sustainable." They could not afford the raises that were legitimately due the PSWs and Nurses that staffed the unit.
The Local Health Integration Network (LHIN), which is a sort of regional health authority, issued a statement saying that the services "were important" and information about a new program would be coming "soon." In the meantime, dementia patients with high risk behaviours are being sent back into local nursing homes, with assurances that they will be "well cared for." This is despite the fact that the local nursing homes were not staffed at the higher levels that these patients needed.
The second news item was the report that Hoskins and Wynne will be hiring 84 new vice-presidents, to join the new "sub-LHINs" that will be created in Ontario as part of Bill 41, aka the "Patients First Act." Hoskins states that this is due to a re-allocation of resources and that eventually the number of bureaucrats will go down. Considering this is from the same government that increased the number of senior bureaucrats at the Ministry of Health from 5 to 21, I would suggest you need MUCH more than a grain of salt when reading his statement.
This then, in a nutshell, is what's wrong with Ontario's health care system. Front line service providers are cut due to funding constraints, but money is always available to hire more bureaucrats, who never see, let alone touch, a patient.
To make matters worse, I can guarantee you that all of these vice-presidents will have a salary that puts them on Ontario's Sunshine List, the list of all employees of the Provincial Government who make over $100,000 a year. Yet PSWs, who actually lay hands on a patient, generally make between $25,000-$40,000 a year. I think it's safe to say that you could hire three PSW's (at least) for every one of these vice-presidents. It is shocking to me that the current government would prefer to hire 84 vice-presidents, instead of 252 PSW's, particularly when it's well known that there is a shortage of PSW's in the province.
The more maddening thing is that there are also a host of other solutions available to help residents of nursing homes, that would be less expensive than a vice-president, and provide better front line care.
I was the Health Links lead physician for the South Georgian Bay Health Links from 2012-2014. Yes, I actually did work co-operatively with the Ministry of Health. Did so for a number of years, in fact. I stopped when it became apparent that Minister Hoskins was no longer interested listening to front line health care workers, and preferred to dictate how care would be provided to the province, from his office in Toronto. I was fortunate enough however, to see through the development of the main project, which was the setting up of an electronic portal that securely linked to the Electronic Medical Record in the offices of the family physician.
This enabled a nursing home to securely communicate electronically, in real time, with the patients physician. As such, a much more timely response from the physician was possible and issues for patients were dealt with much more expeditiously. Illnesses are now caught in their early stage and treated quickly, before the residents condition deteriorates. This is particularly important given the residents of nursing homes often have multiple medical problems, and are prone to deteriorating very quickly.
The result? In the two years the portal has been up and running, there has been an almost 50 per cent reduction in transfers to the local hospital, and an almost 60 per cent reduction in the number of hospitalization days.
Sounds expensive, no? Actually, the cost for two years was $70,000. That's right, $35,000 per year. When you consider that the cost of a patient in hospital is $1,000 per day, the 60 per cent reduction in admission days very quickly made up the cost of the actual technology.
So, what do you think would help patients with significant behavioural problems due to dementia more? A mix of a secure, real time communications with the physician and more PSWs with specialized dementia training? Or 84 vice-Presidents? Would you mind telling Eric Hoskins and Kathleen Wynne? They just don't seem to get it, and they are not listening to front line health care workers.
Follow HuffPost Canada Blogs on Facebook