Here we go again. In Gaza, another cease fire has ceased to be. Except it's not "we" going back into this war, is it? It's them.
It's all those people on the other side of the world whose historical entanglements strangle their ability to see clearly, to think clearly, to look for another solution that will spare their lives and those of their children. Layers of history have accumulated like sediment into mountains, and each side grows more immovable by the day. And who am I to say that they should overlook rockets aiming at them from the sky, or see past the bodies of their babies wrapped in rubble?
You and I would not know a rocket if it landed on our heads. Most of us can't handle the sight of blood. Most of us have never been through or even seen a military checkpoint in our lives. In fact, we complain about the hassles of traveling, about crossing the ultra-organized borders between our country and the next. Most of us have never seen a bullet hole or a mortar shell, most of us have never heard one, other than in movies. I remember seeing them for the first time when I visited my father who was a foreign correspondent for Reuters in Beirut in 1994. War's fingerprints were still everywhere, from the airport's bullet-riddled roof to the Syrian not-so-secret police standing in full view with handguns down their pants, daring us to stare back. The city was a massive pile of rubble. It scared me, and that was after the war, so even I can't imagine what it is to live in the maw of a war like the one being waged in Gaza.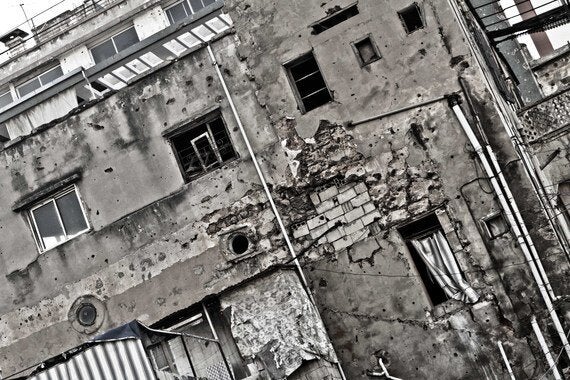 (copyright Sophie Tarnowska)
My friends, my peers, my generation -- I am ashamed of you, I am ashamed of us. You who share videos of cows being mistreated in slaughterhouses with captions of "this is SO wrong!", you who fight for LGBT rights because hey, human rights are for everyone, you who donate to UNICEF, to the Red Cross -- yes, the very same organizations that are picking up the pieces of bodies, of homes, of schools, of a society we feel oh-so-strongly about from our air-conditioned homes.
How dare we? It's so convenient to shout our opinions at each other from across every social media platform we can think of -- after all, we have no idea of what it means to live with those ideas in reality. Those people -- the Palestinians, the Israelis -- they are not yours no matter what your background and your religion. You do not walk in their shoes, you do not get stopped by their soldiers, you do not live with them, and you do not know what it means to live at war. So how dare you? How dare we do anything other than fight for the things I thought we stood for, this enlightened generation that shouts for rights, for equality, for respect for all things. Where are the voices demanding that the war stop? That dialogue begin? That the fire be put out, once and for all?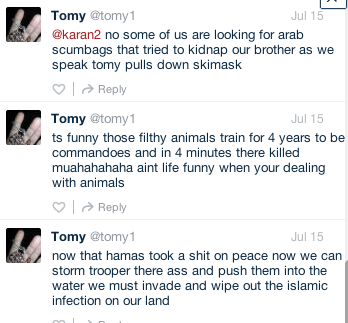 (this is a public post I found on a prominent newspaper in the Middle East. I prefer not to say which one for obvious reasons)
Until we stop throwing our own bombs at each other -- words, articles, blogs, cartoons, videos -- we are all fuel for a fire that will never burn us. I want us all to shut up until we are ready to stop being hypocrites. I ask that we stop justifying pain that in our own lives would be unjustifiable, unliveable, unkind. I am so ashamed of my people -- all of you whom I intersect with on social media, and even myself -- I barely hear anyone with the guts not to answer back, not to justify "their" point of view.
It's not enough to slide a few words of humanity -- your "well of course I don't feel that X, Y, Z is right, but...." -- into sentences that restate your commitment to a cause that is not even yours, that is not even ours. So go rescue your dog from the SPCA, go volunteer at the old people's home, go buy your free range eggs, keep donating to causes you can't seem to stand up for your self. Go cry over mistreated cows and abused chickens. Maybe that will make up for your hypocrisy, for our shared hypocrisy, we social media warriors.