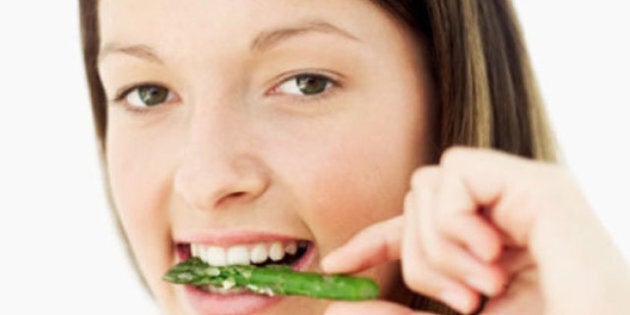 Summer is a good time to get kids interested in fresh, locally-grown fruits and vegetables. Whether it's fresh corn, or watermelon or cherries, the produce is seasonal, delicious, refreshing -- and visiting the farmers' market makes a great family outing.
Farmers' markets, which once required a long drive outside the city (and only on weekends), are now easily accessed in urban centres. Trendy, perhaps, but I'll wager that it's a trend that's here to stay. People have come to appreciate the benefits to their health from eating fruits and vegetables, and buying directly from farmers is both fun and a boost to the local economy.
But this is not just about being able to check off "kept kids busy this morning." They also learn what it means to buy local. Every toy seems to be stamped with "Made In...Somewhere Else" so here's an opportunity for children to see that yes, we produce stuff too! And it's good!
We should be concerned about children's eating habits. According to the Childhood Obesity Foundation, approximately 26 per cent of Canadian children are overweight or obese. This is largely attributed to poor diets deficient in fruits and vegetables, along with a lack of physical activity. Overweight children usually grow into overweight adults, as it has been discovered that obesity is tough to reverse. Good eating and living habits must be learned during childhood to prevent what seems to be an unfortunate self-fulfilling prophecy.
Whether it's at a farmers' market or your local grocery store, whether you think organic is important or not, children can be involved in the selection of healthy food that they will take back to the kitchen. It can be turned into a fun activity that is often taken quite seriously, and accomplished with much pride. My children help choose the berries, the apricots, and the zucchini. I am teaching my two-year-old, as I quickly yank her away, that trying to lick the fresh fruits and vegetables on the tables is NOT the best selection strategy, but I admire her enthusiasm.
Markets aren't only about fresh produce. The fries made by the sons of famed Toronto chef Jamie Kennedy are superb and a weekly experience for us, but it's also an opportunity to demonstrate that this is a treat. Treats are part of the joy of eating and I think eating can become a downright bore without them. Let's not be dogmatic with children lest they reject our message about a healthy diet. These fries are a blessing, but the bags we bring home will be filled with fruits and vegetables that will be enjoyed just as much. Almost.
Ok, the fries are that good. But so are the heirloom carrots and the artisanal cheese we buy directly from the producer. Kids should learn to appreciate that good food takes an effort to grow and to make. It's not instantaneous like processed food. Instantaneous is easy, there's no question. Cooking takes time, but meal preparation doesn't have to be complicated. It can be loads of fun when children help cook the wonderful produce that they chose at the market. And it's a life-long lesson to help them develop the good habits that will keep them well.
The kids and I will visit our local farmers' markets until the cold winds of autumn blow, and the snow flies. Lessons in healthy eating will have to move indoors. We'll buy produce from Somewhere Else...until spring returns and to market, to market we'll go!
In Toronto, we like to visit the Brick Works Farmers' Market on Saturday mornings, the Riverdale Farm Farmers' Market on Tuesday afternoons, and the Dufferin Grove Farmers' Market on Thursday afternoons. The Brick Works is a great weekend family outing, where kids can also watch turtles and fish along the boardwalks of the incredible pond. At Riverdale Farm, children can tour the farm and see animals for free. The Dufferin Grove Farmers' Market is open all year!