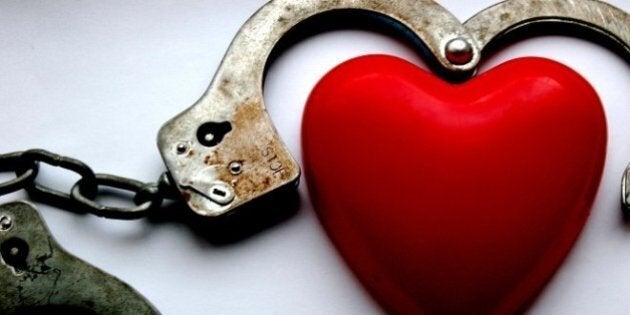 It's strange when a shooting can bring my country together and then, just four days later, a radio guy accused of serial aggravated abuse can rip us apart. Weird week, bro.
Last night, I had to brace myself so I didn't explode in anger and unfriend everyone I felt was jumping to defend a guy who's doing Scandal Management 101 to the tee.
The problem when you jump to defend the accused is it ends up making the accuser or victims feel like they've just been assaulted all over again. That's easier to stomach when you can say "But HEY, they're not coming forward, so they can't be serious." No, it's you who can't be serious. You can't hear the accuser's spin-cycle and then make your decision then and there -- but so many of you already have.
I'm getting ahead of myself. Let's look at this from all the angles.
The Background & a BDSM Primer
Jian Ghomeshi jumped into action Sunday the moment CBC fired him. It was within a couple hours that he had stated there'd be a $50 million suit to defend his good name, and then he posted a long "My dad is dead, my show was wrenched from my hands, and I've been a good soldier for the CBC" kinda sob story that masterfully framed the conversation.
(A "good soldier" the week one of our own is gunned down in cold blood? Motherfucker. Don't even -- And 100,000 likes in under 24 hours? I weep for objectivity.)
But here are the allegations he was jumping in front of, according to The Toronto Star:
"The three women interviewed by the Star allege that Ghomeshi physically attacked them on dates without consent. They allege he struck them with a closed fist or open hand; bit them; choked them until they almost passed out; covered their nose and mouth so that they had difficulty breathing; and that they were verbally abused during and after sex."
Ghomeshi, though, wants you to think this is all about BDSM and how he's forward-thinking but his bosses aren't. He "framed" the discussion by claiming he has edgy sex preferences, and the big, boring government broadcaster isn't hip to alternative sex lives.
Anyone involved in BDSM knows BDSM is not how the public perceives it. People joke about "safe words," but in the BDSM community, the safe word is sacred. There is a widespread understanding amongst even hardcore BDSM fans that sadomasochism is all about trust and power -- except that power is never held by the person with the whip in hand.
In the BDSM world, it's the person being hit, choked, bound, or whatever else they fancy, that holds 100% of the control. It's understood that if that safe word is even whispered, fun time is over. Period. No discussion, no whining, no pleading. Over.
Why is it so strict? Because folks in this lifestyle understand that these beatings, the choking, it can all go horribly awry and death is an accident away. That's why you actually very rarely ever hear of deaths stemming from BDSM practice -- there are rules and ethics in play. Always.
Ghomeshi and co. (since his Facebook letter was almost certainly orchestrated by the country's leading "reputation recovery" and "crisis management" PR firm, Navigator Ltd.), decided to frame this whole thing as an invasion of the bedroom and mutual consent.
After all, this is Canada, where "What Happens in Bedrooms Stays in Bedrooms." This has been thus since 1969, the year itself a cute little joke. That's when Trudeau declared the government had no business in the bedroom of consenting Canadians. As a result, gay rights took hold here long before they did in most countries, and we're more sexually relaxed than our southern neighbours will ever be. We can consider ourselves a leader in the bedroom, and that's awesome.
For that reason, Canadians take bedroom privacy very seriously, and rightly so. I'm a huge fan of sexual freedoms and the right to practice, and love, as you like -- as long as it's with consent and including folks over the age of 18.
So whether it's Ghomeshi or the accusers, this all comes back to consent. And consent is what the alleged victims in this case insist they either did not give, or they rescinded.
That takes us back to the point of BDSM and how Ghomeshi has framed all this.
If you read the Star's take on these events, it seems like Ghomeshi is trying to set groundwork for a legal defense, should this escalate to court. The defense he seems to be aiming for will likely include submitting evidence via texts, etc, that he told the women ahead of time he liked it rough. They might have even talked about blindfolding, spanking, and all kinds of other behaviour some say is "alternative" in tastes.
So even the would-be defense, then, would have you believe this amounts to consent.
But that's the amateur's take on the BDSM world and everyone should understand that expressing a mutual interest in sex before a date doesn't mean it's carte blanche for hours, days, or weeks later. Their exchanges should not be considered evidence of what might've happened much, much later.
The nature of the safe word is that it means EVERYTHING STOPS the moment it is said. It doesn't matter if you've paid a million dollars to do what you planned to do next, the safe word is like a giant "void" stamp that makes the entire sexual roadmap null and void.
And anyone who truly embraces the BDSM community gets this.
A Denial Is Always True -- WHAT?
Let's drop the BDSM and alternative lifestyle arguments and get down to the rest of it.
So many folks were babbling on with this argument last night: "But if he really did it, there's NO WAY he would write such a long thing saying that he didn't do it!"
Yeah, and Clinton would never have said "I did not have sexual relations with that woman" if he'd slept with Lewinsky. And Richard Nixon would never have said "I am not a crook" if he were guilty.
Are you serious with this? Really? Someone who's committed a crime would be suddenly so scared of being caught that they wouldn't tell a lie? I'd like to know what it is you're smoking, because I want some too, if you please. Sounds fun to live in that land of rainbows and kittens.
If they have committed the crime, then they are absolutely inclined to lie about it. That's Criminal Behaviour 101.
But His Voice Is Like Chocolate And I Love Him
Of course, let's not forget the fans. The people who think Ghomeshi is charming and spins a good yarn. But of course a storyteller couldn't possibly be a serial abuser. That would never happen.
Just like such a lovely, quirky old guy like Jimmy Savile, the darling of the BBC, a knight of the British Empire, and a popular TV host for DECADES could never be guilty of sexual abuse either. His defenders said he was such a visible persona for so long there was no way he could hide his deviance.
In fact, Savile was so insulated inside the BBC that rumours swirled for decades and allegations of a cover-up even today are so far-reaching it'll make your head spin. There are at present well over 200 witnesses in the Savile case and yet it was kept quiet for DECADES.
There's a sticky wicket for those in charge: Do you stand by your star that has made an empire inside your broadcasting corporation, or do you distance yourself?
Before Ghomeshi, BBC was alone in this corporate-star-scandal experience. Perhaps they felt if they cut Savile off, they'd open themselves up to litigation from claimants. Who knows. But now he's dead and the victims are emboldened by the day, and the ripples are still spreading.
CBC's left looking across the pond at the Motherland and realizing this case could have cash and legal implications for the BBC for years. Do they want to stick their neck out and defend a guy who is the subject of a reporter's investigation?
CBC's Walk-Walk-Walkin' Right Out That Door
As a taxpayer, I think CBC has done the only thing it can do. It's walked away, likely on strong advice from lawyers who have probably seen the evidence brought forward by acclaimed journalist Jesse Brown.
So now, the general public's argument is, "Well, if the Star doesn't have proof, they should shut up."
Well, not having hard proof didn't stop the Star from doing one hell of an investigative case on Mayor Rob Ford and his crack addiction. They went after him like a dog on a bone, and everything they wrote proved so true that the OPP were involved, and still are.
The Toronto Star has a long history of investigative reporting. They do it very, very, very well. In 2012, their massive local investigation led to widespread sackings and reform in the Toronto School Board.
Because this is what good journalists do, and I don't give a shit what your thoughts on journalism are -- there are a LOT of good journos out there who got involved in the industry because they were tired of powerful people getting away with stuff, little guys getting the shaft, and corporations writing new rulebooks as they go along.
There are idealists in journalism, and more than a few can be found at the Toronto Star -- and other papers across the country.
But How Do I Really Feel?
I'm opting to believe that a massive broadcaster who has stood by its star's side through YEARS of industry insider gossip about what a creep its star is, but then finally severs the relationship after an investigative journalist pores over his life for MONTHS, probably had pretty good cause to walk away.
I'm gonna believe a newspaper who's made their name around the world through high-quality, groundbreaking investigation in the last three years probably decided it was worth the risk to expose someone who's claiming he's Mr. Good Guy and that it's all "jilted ex-lover" innuendo -- if only for public safety.
I'm choosing to remember people like Phil Spector, who was legendary in the music industry but had a widespread reputation for violence and extreme behaviour, and who couldn't be touched, until one day he killed someone.
Where I come from, being a pretty, well-spoken man doesn't mean you can't be an absolute monster behind closed doors.
It might be "innocent until proven guilty," but that gives no one the excuse of calling the accusers names, belittling them as having something they're after, or accusing them of being greedy little whores who just want their fame and limelight.
Oh, and not for nothing, all this discussion is about a man who wanted to "debate" whether "rape culture" even exists. Or have we all forgotten that little explosion from March of this year?
I, for one, can't wait for this investigation to proceed, and I'm pretty confident that there's no road back for Ghomeshi after this story breaks wide, wide open.
And I'm wishing for all it's worth that every woman who may have had this happen to her will come forward.