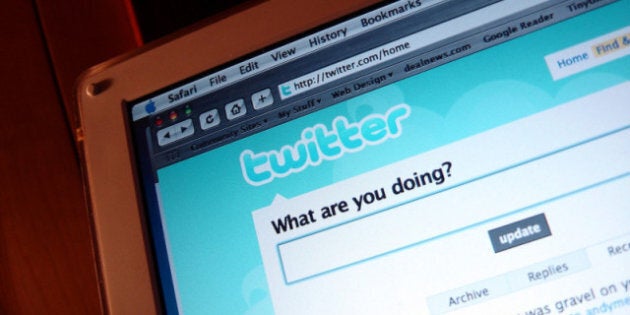 @hfxman: "The woman who wants 2 meet me is flipping me the bird in her profile pic. I think I'm in love."
My Twitter feed is full of Tweets from @hfxman. I want him to tell me about digital dating. He wants to do laundry. I'm very persistent, so I win... of course. If @hfxman has dirty laundry, it's because I had too much wine one night, talked to strangers and found myself wondering about second chances in love... and the Interwebs of course.
It's sticky and hot in Chicago when the need for sustenance and wine throws us in the path of a business traveller. The group of us -- my side, a bunch of Internet deep thinkers -- sit together for a few hours and talk. Our new friend, a late-50s fellow who lives in a houseboat, has recently ended a bazillion-year-long marriage and seems... confused about what to do next. We advise him, as drunken women like to do, and say that no, of course the lady he's only been on three dates with should NOT be leaving her thongs in his drawer. "It's much too soon for claiming drawers," we assure him.
We leave our new friend, who shares a name with a type of pear, behind, and head to our hotel. We'll awake slightly hungover and cranky with ourselves for consuming mass quantities of fried food the night before. And I'll think about the slightly morose gentleman, wonder if he'll find love again and decide he should really get himself a Match.com profile...
I'm back in Halifax and I'm Googling instead of working although, since I technically toil in the Internet Mines, I could claim the Google machine is my way to make a living. I'm searching online dating site stats feverishly and thinking of Mr. Pear's hopes for love.
The wonders of the Internet mean I know my pal Katie's toddler just had his first haircut and my Banana Republic friend has just checked into the store again. (He has a sickness, seriously.) I wonder if it's also brought real, tangible, fresh hope to people who've loved and lost and are ready to get twitterpated all over again.
In my intensive research (one Google search), I turn up the existence of these sites:
Wow. That's a lot of places to hook up. What I uncover on www.datingsitesreviews.com is that the online dating industry is worth $4 billion worldwide and one in five singles have dated someone they met on a dating site. (I also learned that women who marry younger men have a 20 per cent increase in mortality rates when compared to marrying someone closer to their age. Luckily, my husband is older than me so maybe that actually adds years to my life.)
Oh! Here's an interesting stat for women (and men I guess) who are dying to shove a ring on their finger: "Married couples who met online have an average courtship period of 18.5 months. Married couples who met offline courtship period last on average 42 months."
See! The Internet saves time in all sorts of ways.
So far, things are looking up for Mr. Pear and his chances at round two, don't you think?
Anyway, @hfxman tells me most of his digital romances have actually begun on Twitter as he hunts around for another connection of the romantic kind. @hfxman wasn't married for a billion years like Mr. Pear, but his Tweets give me hope for the gentleman I met one hot night in Chicago, wherever he may be.
@hfxman: "Am I jaded? Not in the last. Am I learning? Very quickly. Am I hopeful? I wouldn't be here if I wasn't."
And there you have it, a heartfelt commitment to the quest for love in 140 characters or less.
PSSST: I totally owe @hfxman huge, for helping me instead of doing his laundry. So, if you want to see what else he had to say about online love affairs, you can check out his Tweets:
@hfxman on digital dating: