Weighed down with huge back catalogues and diminishing demand, classical record companies have been issuing a steady stream of boxed sets, often covering the complete careers of conductors, pianists, singers, et al. These are niche products, but often successful ones. One executive has said that the target audience for such sets is the collector's market, "people who appreciate an authoritative career overview," listeners who may already have many but not all of the recordings in a new box -- or none at all.
From this bumper crop, a recent release on Sony Classical merits special attention. It contains the complete Columbia and Epic album collection of the late American pianist, Charles Rosen (1927-2012).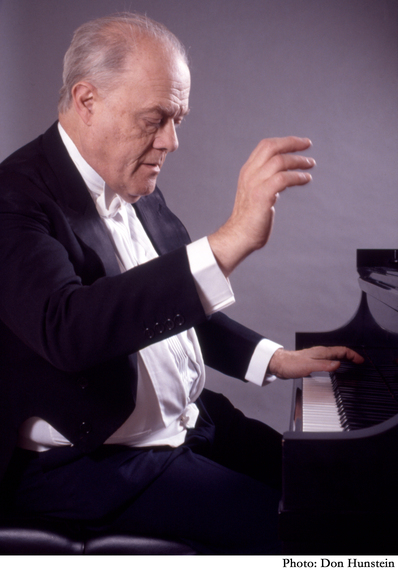 Rosen came to be known as much as an author and scholar as a pianist, but he always thought of himself as a pianist first. By any reckoning, he was a theorist and analyst of genius: a polymath with a Ph.D. in French literature from Princeton, and the writer of widely-acclaimed books on music and art, foremost among them The Classical Style. Rosen was a connoisseur of everything he touched.
He also happened to be a prodigious pianist who, as a child in New York, was taken to study with Moriz Rosenthal, a pupil of Franz Liszt.
What the new 21-CD set (recorded between 1959 and 1972) underscores is the vast range of Rosen's musical sympathies. It encompasses recordings of music from J.S. Bach to Pierre Boulez and Elliott Carter, by way of Haydn, Mozart, Beethoven, Schubert, Chopin, Schumann, Liszt, Debussy, Ravel, Bartók, Schoenberg, Webern and Stravinsky. (The large compilation does not even reflect Rosen's entire repertoire.) What other pianist recorded such a gamut of great music, from Baroque to modernist contemporary, at such a high standard? One thinks of Maurizio Pollini...
Rosen once said that he considered the late Soviet virtuoso, Sviatoslav Richter, to be "the most profoundly intelligent pianist in the world" -- but that designation surely applied to Rosen. Throughout these recordings, his awesome intellect, wedded to superior pianistic gifts, clarifies every strand of counterpoint in complex fugal writing, and unerringly paces the music to make individual stanzas of classical sonatas unfold as if in one great breath.
The playing is scrupulous with regard to detail, always respecting the composer's wishes, but never pedantic or exaggerated. It can sing with rare elegance and poetry (sample the "Chopin" movement in Schumann's "Carnaval") but never an excess of emotion. Everything is clear-eyed, un-sentimental, executed with taste.
There are some "buried treasures" here: Rosen's 1962 recording of Debussy's complete Etudes was a pioneering version that pre-dates even that of Debussy specialist, Walter Gieseking. There is Stravinsky's spiky Movements for piano and orchestra, recorded with the composer conducting (Rosen was the soloist at Stravinsky's request.)
Another jewel is Rosen's 1965 recording titled "Virtuoso," finger-twisting transcriptions that give the lie to those who considered Rosen merely an "intellectual" pianist. Here he relishes the opportunity for technical display, surmounting every hurdle with aplomb. Listen to the cascading labyrinth of double-thirds in his teacher Moriz Rosenthal's own study on Chopin's "Minute" Waltz. As a youth, Rosen would have heard the giants of a bygone era in Carnegie Hall: pianists such as Rosenthal, Josef Hofmann, Godowsky, probably Rachmaninoff as well. Their influence affected his own sensibility and understanding of that Romantic piano tradition, though of course he inhabited another style and musical ethos.
Finally, however, one returns to the pillars of this set: Rosen's renditions of music by J.S. Bach and Beethoven. Rosen's "Goldberg Variations" are never eccentric, but meticulous and clear, full of imagination and subtly attentive to articulation, ornamentation, rhythm and phrase. In "The Art of Fugue," Rosen dis-entangles every fibre of Bach's most abstruse counterpoint, rendering it all with lapidary precision and control. Such playing ensures that the listener hears each line independently.
Yet it is to Rosen's Beethoven that I will return most often. Again, one hears much more detail than usual in the last five piano sonatas (the set includes two recordings each of Opus 110 and the "Hammerklavier"). Though the performances are deeply considered and conceptually refined, they also manage to sound spontaneous and freshly-minted. They capture the revolutionary spirit of these works: the mighty "Hammerklavier" sounds explosive rather than grandiose, without a trace of rhetorical overkill.
In that sonata's monumental slow movement, the long phrase spans are delivered in soaring arcs. Then Rosen dispatches the "Hammerklavier"'s furious fugal finale with a colossal energy and clarity. In the Sonata Opus 101, Rosen captures the exploratory nature of the slow movement with utmost grace, savouring every detail in just proportion.
Any reservations? In some Liszt works and those virtuoso transcriptions, Rosen's tone in fortissimo can be a bit hard-edged and anti-sensual. A more significant regret is that all of Rosen's own liner notes weren't reprinted with this set, since his quality as a writer on music matched his stature as a pianist.
Many of these discs have been re-mastered, and the set should be snapped up before it goes out of print. The comprehensive booklet with the set includes an intelligent and perceptive essay by Jeremy Siepmann.