This is the second in a series of posts about my recent trip to the Central African Republic (CAR). Beginning in 2013, inter-communal violence has led to large population displacements and overwhelming humanitarian needs. Médecins Sans Frontières (MSF) is providing medical care throughout the country.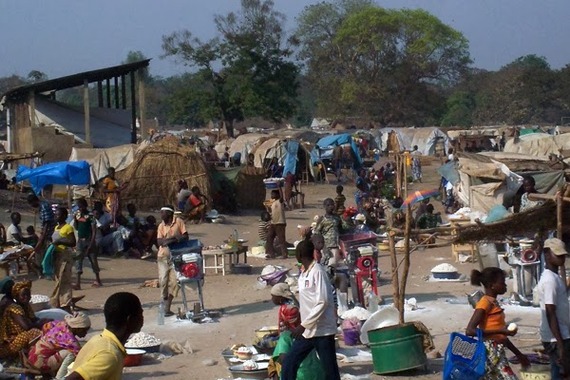 With one-million people displaced -- a quarter of CAR's population -- the need for massive humanitarian assistance is obvious. Yet the response has been totally inadequate.
Sabine and Monique and their families share two small tents in Eveche camp in Bossangoa, a town of 50,000 about 300 kilometres northwest of the capital, Bangui. In the past six months they have received a little food and some plastic sheeting to help their 15 family members survive a terrible ordeal.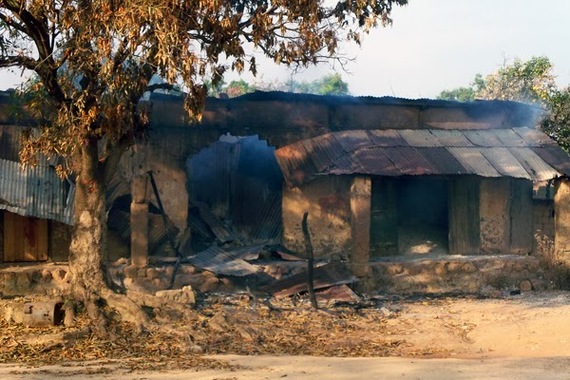 They would like to return home to rebuild their burned-out houses and tend their fields. But they can't envision doing so without an improvement in the security situation, and without help to rebuild their lives and livelihoods.
Sabine and Monique are among the hundreds of thousands displaced by violence that has swept CAR over the past year, violence that has worsened dramatically since December 2013. Town after town along the route from Bangui to Bossangoa has been destroyed. The inhabitants have scattered into the bush. Homes and crops have been burned to the ground. Fields now lie untended even as the planting season fast approaches. The health situation is deteriorating, with alarming rates of malnutrition and malaria.
In Bossangoa, food and plastic sheeting have been delivered to displaced people in the town centre. But there are more than 100,000 villagers from surrounding towns who have been burned out of their homes and have been hiding in the bush for some for six months. These people have yet to receive any humanitarian assistance at all.
Even as inter-communal violence spread dangerously out of control, the funding appeal for CAR remained the most poorly subscribed in the world, a reflection of both CAR's lack of perceived geostrategic value and our collective moral failure.
"While things appear bleak, there is still time. We can't lose hope and abandon the people of CAR, nor lose our empathy and desire to accompany both sides in their hour of need."
Some of the few NGOs present have made efforts to initiate inter-faith dialogue, and religious leaders from Bangui have called for tolerance and reconciliation. But inter-communal hatred and violence are hard to contain once they start.
In Bossangoa, opposing communities have cut each other off from fields, markets and even emergency medical care. MSF struggles to ensure that patients from both sides feel safe enough in our facilities that they can stay for a full recovery.
Elsewhere it has been a losing battle. In one particularly brutal attack on Christmas Eve, 10 patients in Bangui were taken from their rooms and found murdered in the street the next morning.
CAR's Muslim minority is being blamed for having supported the brutal Seleka militias, and they are coming under increasing attack. Entire communities are being forced to flee, in some cases under the protection of African Union (AU) peacekeeping forces.
Even as they retreat, convoys of fleeing civilians are being preyed upon. Two weeks ago outside Bouar, a convoy of trucks evacuating families to safety was stopped by an angry mob and 22 civilians onboard were killed.
Pain of loss prevents forgiveness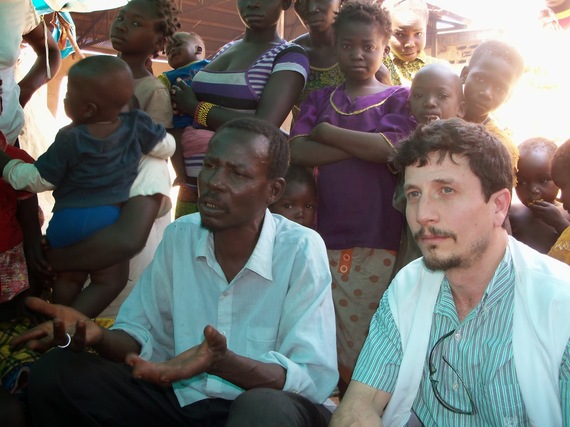 Back in Eveche camp, I meet Ali Sambi, a bricklayer and a seemingly mild-mannered father of 10. He is the family's only remaining breadwinner and cannot risk going home. When talk turns to rebuilding their lives, he and his camp neighbours boil with hatred. The pain of loss is too fresh for forgiveness.
On the other side of town, the displaced families I meet at the Ecole Liberté camp have their possessions piled high in front of their ragged tents. AU forces protect the camp for now but the residents are making plans to flee.
Abu says he would like to restart his life and live peacefully as they did before. But for now he can only think of surviving day to day, not about rebuilding or caring for his family's wellbeing.
While things appear bleak, there is still time. We can't lose hope and abandon the people of CAR, nor lose our empathy and desire to accompany both sides in their hour of need.
The Economic Community of Central African States and CAR's new interim president Catherine Samba Panza face the tough task of restoring law, order and social services, helping the population to overcome its pent-up anger, and assisting citizens to restart their lives. Ultimately they will have to ensure that the next elections are less about the struggle for power than about creating the possibility for hope and reconciliation.
The world must not fail in its responsibilities. There is still time to act. We must take a humanitarian stand; UN member states must ensure that CAR is prevented from falling deeper into a cycle of violence from which it will not easily recover.
Addendum
Last month, more than 8,000 displaced and terrified Muslims began preparing to flee en masse from Bossangoa, with the goal of leaving the country. There weren't enough vehicles to transport everyone who wanted to go, and in many cases families were forced to split up, with the men staying behind while the women and children joined the convoy out of CAR.
The situation continues to worsen. This week, MSF issued a damning indictment of the response to the escalating violence against civilians in the Central African Republic. MSF condemned the "utter failure" of the international community, and highlighted the targeted killing of the minority Muslims.
ALSO ON HUFFPOST:
Violence Wracks Central African Republic