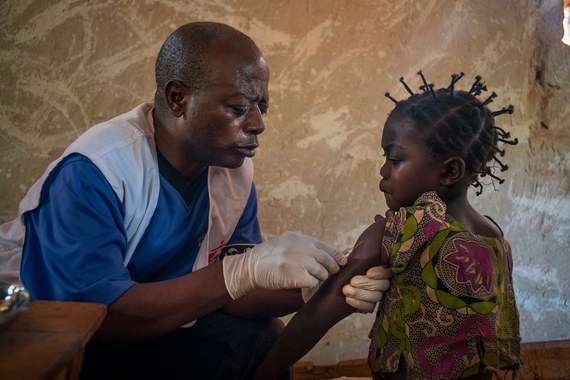 Every December, we look back not only to assess the past 12 months, but also to find reasons for hope heading into the new year. It's not always an easy task, especially when focusing on Doctors Without Borders/Médecins Sans Frontières (MSF)'s work on the front lines of humanitarian crises around the globe.
In this light, 2016 was no different. The ongoing war in Syria, conflict in Yemen, terror and malnutrition in northeastern Nigeria and record numbers of people around the world forcibly displaced from their homes were just some of the crises that required our intervention last year.
But it was the violence we saw against humanitarian action itself that challenged us most. Attacks against hospitals, doctors and aid convoys became normalized in 2016 -- violations of international humanitarian law that represent a massive political failure of the global system, one that our colleagues and patients in the field often paid for with their lives.
It is up to us to make a difference
It would be a mistake, however, to allow these challenges to undermine our resolve. Humanitarian assistance is needed now more than ever, and it is only through our direct presence in crisis zones that we can hold political decision makers to account. That's why it's important to look at the impact we can have on the lives of people in need -- and why, despite the obstacles, I draw hope from the work we did together last year.
In Democratic Republic of Congo (DRC), for example, an epidemic of yellow fever in 2016 threatened to send the entire central African region into a deadly health crisis. But the outbreak failed to reach the tipping point. Thanks to quick action, MSF was able to help vaccinate more than one million people in 11 days, so that a potentially disastrous health catastrophe was contained.
As humanitarians, we firmly believe every life is worth saving and everyone deserves dignity.
In Haiti, when Hurricane Matthew struck last October, many feared the worst. But MSF -- who was already on the ground in Haiti, where we run several health facilities -- and other agencies were quick to reach areas hit by the storm and to deliver vital care to some of those most affected. In the weeks that immediately followed, our teams treated more than 4,500 patients and set up cholera treatment centres, helping prevent mass outbreaks of disease.
And this past fall, thanks to the tireless efforts of our supporters here in Canada and around the world, the pharmaceutical giants GSK and Pfizer agreed to lower the price for the pneumonia vaccine in humanitarian emergencies. Pneumonia kills more than one million children around the world every year, and the two companies are the sole producers of the only vaccine that can prevent those deaths. The price reduction will have an immediate impact on our ability to save lives and reach more people at risk.
Millions of individual lifesaving acts
These highlights are by no means the only examples of what can be achieved when we commit to humanitarian action. Last year, MSF teams provided more than eight million medical consultations to people in need around the world. They treated more than two million cases of malaria, helped deliver 200,000 live births and rescued 23,000 refugees and migrants from drowning at sea. The numbers for 2016 are not yet finalized, but we know they will be similar, if not higher.
We can of course never meet all the needs: Fitting a war-wounded Syrian child with a prosthetic leg will help her walk again, but cannot stop the bombs raining down on Aleppo; treating a malnourished infant won't stop others from dying while they flee violence in Nigeria. But as humanitarians, we firmly believe every life is worth saving and everyone deserves dignity; furthermore these individual personal acts of care give the people we help reasons for hope, and the knowledge they are not abandoned and alone.
Seeing hope within tragic circumstances
Canadian MSF nurse Laura Puteris had a personal encounter with the collision between hope and tragedy that defines much of MSF's work.
A story from our recent fieldwork encapsulates this sentiment. It comes from Laura Puteris, a Canadian nurse who recently returned from her assignment with MSF providing maternal healthcare in Haiti (see the video above). One night, Laura and her team received a woman who had been burned beyond all recognition by an exploding fuel canister. The woman was eight months pregnant and on arrival had very little chance of surviving. It fell to Laura and her colleagues to try to save both mother and child. Tragically, the woman succumbed to her injuries. But Laura and her team gave her a fighting chance, accompanying her in dignity in her last hours and saving the life of her newborn child.
"We had two lives at risk," Laura recalled. "We only managed to save one. But the fact that we were there and able to help that one life counts a lot. It means that child, that person that will be, will have the capacity to change the world. That one person could make a huge difference in someone else's — or for thousands.
In a world beset by conflict and crisis, it is worth remembering that individuals matter, and that simple acts of caring -- even single, solitary gestures -- can still make a difference.
Thank you for all your support in 2016. We look forward to providing hope, care and dignity to all people who need our help together with you in 2017.
Follow HuffPost Canada Blogs on Facebook
Also on HuffPost: