People often ask me how Médecins Sans Frontières/Doctors Without Borders (MSF) prioritizes its medical response around the world. I use the term macro triage -- a process whereby we look at the scale of the needs, our capacity and the medical value that we can bring, along with judging whether or not a government or another organization is able to respond. Increasingly we also have to consider our ability to accompany patients and assist them in reasonable safety, for our teams and the patients themselves.
What we don't look at are media coverage, donor government preferences, or what causes are likely to generate sympathy and elicit donations. One of the reasons why we encourage unrestricted funding -- donations that aren't earmarked for a specific crisis -- is so we can respond impartially, according to needs alone.
It's not easy to save lives and prevent suffering in war zones. In fact intervening in conflict is becoming increasingly challenging as respect for the rules of war (the Geneva Conventions) ebbs, and both civilians and medical facilities increasingly come under fire.
Our organization works mainly in conflict-affected and unstable settings. Of these, we have chosen three to watch in 2014. In each country, governments are unable or unwilling to care for their populations, the ability of aid actors to respond has been curtailed, and populations are left to fend for themselves.
The Central African Republic (CAR) is a country which sends people to their atlases. CAR is a post-colonial creation that has long suffered instability due to transient warring factions, both domestic and imported from its neighbours. It's a country where MSF has been toiling for 15 years in relative obscurity. Thanks to your generous donations we've tackled the forgotten scourge of sleeping sickness, started AIDS patients on antiretrovirals and provided healthcare to hundreds of thousands who otherwise would have gone without.
This year, however, everything changed for the worse. Peace accords fell apart, the Seleka rebel alliance took control, and inter-communal violence broke out. The violence uprooted hundreds of thousands of people. Hundreds more were killed and injured due to gunshot and machete wounds.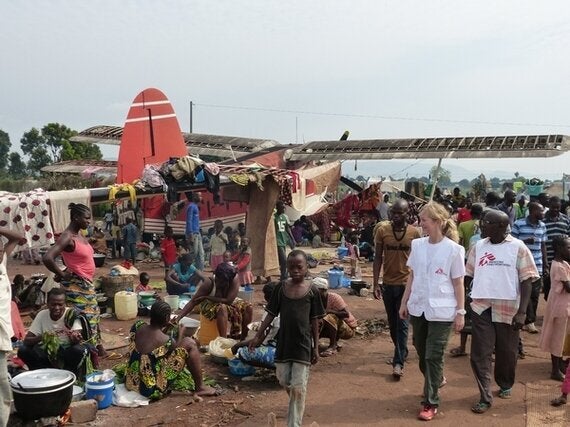 Displaced people take refuge at an airport in the capital city, Bangui, where Doctors Without Borders is providing medical assistance. Photo: MSF/Samuel Hanryon; December 2013
Despite warning signs, high-level UN visits and the slow degeneration of the peace accords, the international community was slow to respond. The widespread violence drastically increased the vulnerability and needs of the local population and sent the UN and many aid organizations into lockdown.
MSF was able to stay and provide lifesaving assistance. But the decision to stay was not taken lightly, nor was it without consequence. While we weathered the violence, we had warehouses and clinics looted, and our teams spent several sleepless nights in their safe rooms.
In 2014 the UN and aid organizations have an opportunity to re-establish their presence and to care for tens of thousands of vulnerable, newly displaced people. The people of CAR will need political and humanitarian support, along with a de-escalation of threats, if they and their country are to escape a downward spiral into all-out war.
Democratic Republic of Congo
The Democratic Republic of Congo (DRC) has suffered chronic violence over the past 20 years, yet seldom gets the attention it merits. In addition to the ongoing low-level conflict and the barbarous use of rape as a weapon of war, the appallingly poor healthcare services in much of DRC result in innumerable people succumbing to treatable illnesses.
In DRC, MSF attempts to provide a basic level of medical care and also responds to regular epidemics and outbreaks of violence. In 2012, MSF carried out a fifth of our eight million outpatient consultations in DRC alone. That year saw the rise of the M23 rebel group and its campaign of terror, which interrupted some of our activities and prevented many from accessing care.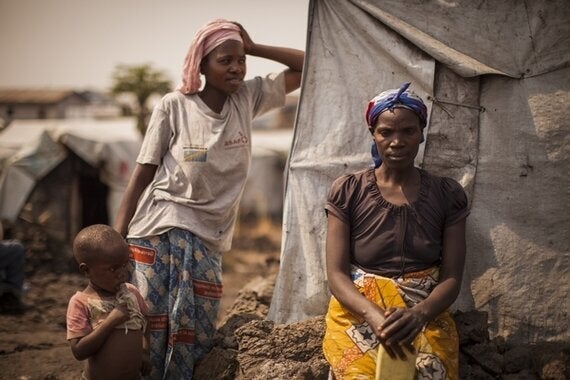 Violence forces many Congolese to live in displaced persons camps. Photo: Alberto Rojas; August 2013
Eastern DRC is a land of great mineral wealth sought after by neighbouring countries. It is also home to well-armed marauding bands that exert interminable horrors upon the population. Brutal rape, mutilation, torture and terror are wrought in successive cycles, seemingly without end.
Over the past year there have been political agreements to attempt to resolve the conflict. We wait to see how they will impact the population in 2014.
Having been to the region twice this year, I can truly attest that we as an international community are failing the Syrian people. We need to see a similar surge of political will for civilian protection and humanitarian assistance as we did with the response to the use of chemical weapons in August 2013.
At MSF, we have focused our efforts on rendering assistance cross-border and where others cannot or will not go. But we struggle to reach the conflict epicenters, blockaded towns and concentrations of humanitarian need. Although we have carried out more than 100,000 medical consultations, delivered 1,500 babies and performed 5,000 surgeries, many of our missions have only tenuous footholds.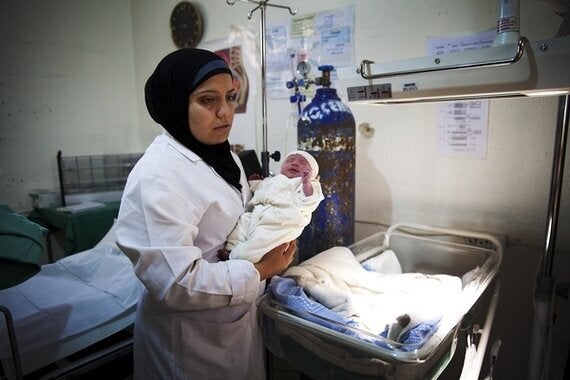 More than 600 children have been born in this Médecins Sans Frontières/Doctors Without Borders hospital in Aleppo. Photo: MSF/Anna Surinyach; May 2013.
We are confronted with an impossible balancing act -- between the safety of our teams and patients, and the need to reach areas without healthcare. We cannot be satisfied with our limitations.
The Syrian diaspora is playing a leading role, while the Syrian Red Crescent struggles valiantly to cross frontlines with aid supplies. They are the main conduit for aid from the World Food Program, UNICEF and the International Red Cross, but they must fight for permission to cross frontlines for every delivery and medical evacuation. Despite their successes, across large parts of Syria aid is intermittent at best. Deliveries are not always monitored, surgical supplies are blocked, and many areas remain no-go areas for assistance. All because, Damascus wields ultimate authority over every aid shipment, meaning that aid is used to strengthen its hand at the expense of long-suffering populations in opposition areas.
We must not turn away, must not accept such wanton displays of inhumanity. MSF and other actors seek to accompany, to witness and to extend lifesaving care - vital hallmarks of our common humanity.
Inform yourselves. The minerals that help drive the conflict in DRC are essential ingredients in our computers and cell phones. The Syrian conflict, what some describe as the last battle of the cold war, affects the stability of the entire region.
In CAR, where there may be no apparent geostrategic interest, our collective moral conscience is at stake. Will we allow this overlooked nation to descend into chaos and crimes against humanity in 2014, or will we stand up and speak out?