BROCK AND BRONZE IN SAINT CATHARINES, ONTARIO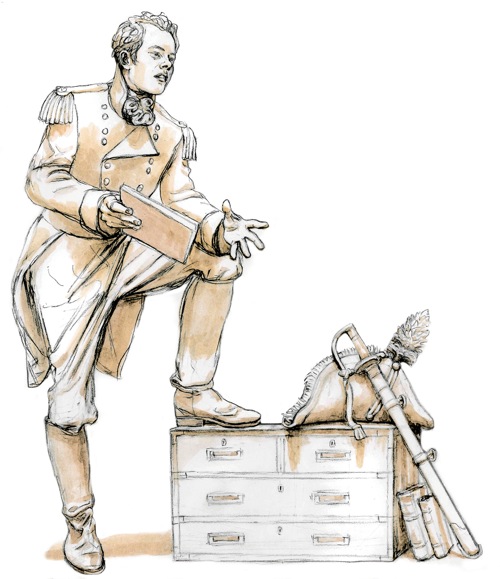 Every winter, when the temperature dips below zero, and the snow swirls across the campus of the University of Alberta, someone trudges out into the cold and puts a toque and scarf around Danek Mozdzenski's life-sized statue of Martin Luther. And on Parliament Hill in Ottawa, new Canadians, fresh from citizenship ceremonies get their pictures taken around Mozdzenski's famous seated statue of Prime Minister Lester B. Pearson.
"Children are often placed on Pearson's raised foot for the picture," said the Edmonton, Alberta sculptor. "So much so that Pearson's shoe is much shinier than the rest (of the statue)."
In a year's time, students at St Catharine's Brock University are going to have a Mozdzenski of their own. On Tuesday it was announced that the 61-year-old artist has won a million dollar commission to create a twice-life sized bronze statue of Sir Issac Brock -- the fallen hero of the War of 1812 and the namesake of the small Ontario school.
"Because of him we actually have a Canada. The man was incredibly bright, he took initiatives, he was very energetic, he was able to comprehend conflict realities and do something about them. He recognized there would be a war between Great Britain, Canada and the United States. He prepared Canada for that war, and because of that (Canada continues to be separate from the U.S.)."
Mozdzenski unveiled his sketches of the Brock statue at a press conference held at the university. The rendering shows Brock in his uniform, one foot on a trunk and a book in his hand. His hat and his sword are on top of the case.
The uniform, the military hat and even the sword hilt are based upon the war hero's artefacts that the artist has tracked down in museums and collections in Canada and abroad. "I stopped by the Bata Shoe Museum, yesterday and spoke to one of their curators. I am trying to find out what his shoes should look like," said Mozdezenski. "Yes, I have had to become a Brock expert."
"It (the drawings) shows him as a thinking man, a soldier, a man of action, dynamic, insightful," explained the artist. "As I said, he was a thinking man. I try to relate that aspect of him in this work to what a university does, what professors do, and what future students will do."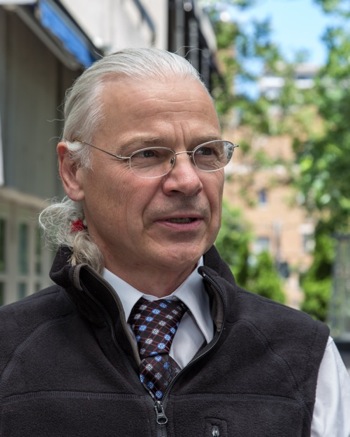 Mozdzenski the artist. Photo by George Socka
"This is an opportunity to make something extraordinary for the world," he continued. "Not just for the present, but, for the next thousand years!!!!"
A million dollar commission for a public sculpture in Canada is a rare event -- something to celebrate. The University, eager to commemorate its own 50th anniversary in 2014, wanted to honour Sir Issac Brock with a statue on their grounds. "The idea became a real possibility," says the university in a statement issued at the press conference, "when businessman and philanthropist David S. Howes agreed to contribute to the financial cost."
With funding in hand the school worked with Toronto based Cultural Asset Management to create a competition for the million dollar assignment. Mozdenski was eventually chosen by an eight-member committee (which included donor Howes). He won out over 26 other finalists, reduced from a longlist of 72 well-known sculptors.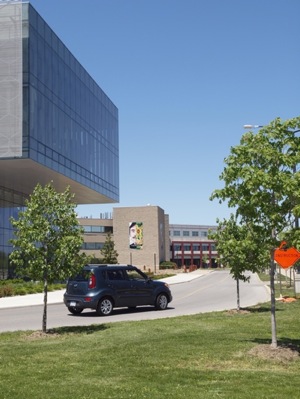 Brock University, St Catharines, Ontario
Given the hands-on reception that many of Mozdenski's works already get in public spaces across the country, there is no way that this Brock statue is going to rub people the wrong way.
Video interview of Danek Mozdzensk for Huffington Post i by George Socka. June 2013
Radio interview of Danek Mozdzenski by Mary Ito, CBC radio. June 2013.
BROCK AROUND THE DOCK POST SCRIPT: On the island of Guernsey (one of England's Channel Islands), Sir Isaac Brock is known as the Hero of Upper Canada. He was born in St. Peter Port, Guernsey on the 6 of October, 1769 and died in the Battle of Queenston Heights at the age of 43. He died a week after his birthday in 1812.
Guernsey has never forgotten her favourite son, and, according to the British press have commissioned their own Canadian sculptor to create another Sir Isaac Brock statue! The Brock Memorial Foundation has commissioned sculptor Adrienne Alison to produce a 2.3 metre tall bronze of the late general. Apparently the Royal Bank of Canada's Wealth Management division has offered to pay part of the estimated £80,000 cost to erect the statue in a town square near the dock.
The Brock Memorial Foundation, which include direct descendants of General Brock was set up last year to arrange the Guernsey commemorations of the 200th anniversary of Brock's death. The Foundation has said it wants to also provide funds "for the restoration of desecrated and neglected Native American grave markers at Walpole Island in western Ontario."