Moscow. Jerusalem. Vatican City. São Paulo. Canadian photographer Yuri Dojc is is known and admired for his world vision. His photographs of crumbling synagogues, badly decayed Torahs scrolls and discarded school books he discovered in a rotting 70-years locked Jewish school in Slovakia are seen as instruments of change in a battle against cultural genocide.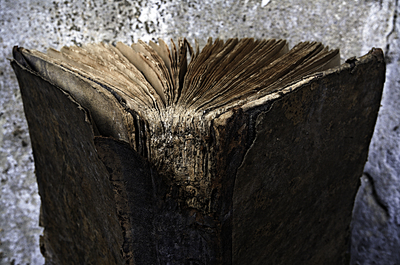 Here in Canada little is known about his travelling exhibition of pictures of those holocaust books. That is because he is Canada's most accomplished nude photographer. That may change now that hisLast Folio exhibition has finally arrived in Canada, and people in Ontario are seeing his passion and his dread of mankind's dark side.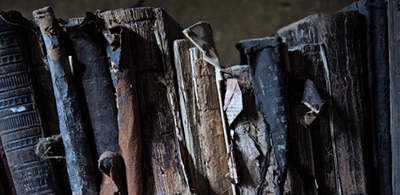 The Last Folio is an exhibition, an art book and a documentary movie, based on the Slovakia pictures he has taken. The exhibition that continues to tour in Europe, Israel, South America and the United States just opened in Hamilton, Ontario.
Time had stood still since 1942 in Bardejov, Slovakia, until ten years ago Dojc returned to visit his family's ancestral home. There was once a thriving Jewish community in the North-Eastern Slovakia town but that ended a long time ago. It was on the eve of World War II, many of the villagers had fled, and those remaining were taken away to concentration camps.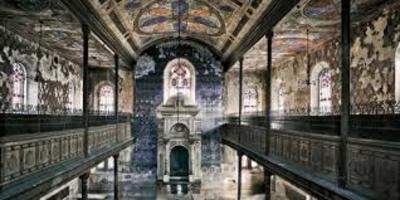 The school where the artist found the books
Serendipity led Dojc, along with a documentary film team to the local Jewish school, which had been locked since the day their students were deported to the concentration camps. All the schoolbooks were still there, including essay notebooks with corrections.
The decomposing books, which were lying on dusty shelves, are the last witnesses of a once thriving culture. Dojc photographed each book like the survivors they are-each one captured as a portrait, preserved in their final beauty, silent witnesses to the horrors of history.
It was oh so personal for the Toronto photographer. Amongst the hundreds of books and fragments he photographed one instantly seared his soul -- it had belonged to his grandfather, Jakab Deutsch.
"The Holocaust is something, it is a topic that I have avoided all my life, but now in my 60s, it eventually caught up with me," said Yuri Dojc, explaining how he turned his photographs of those books into the global travelling show he calls Last Folio.
"This exhibition started in 1997, it was a total departure from what I was doing until then. This work actually changed me as a person and as a photographer. This is a show about cultural memory. Memories of people who never came home. Memories about my parents, from whom I just got scraps of what happened during my childhood.
" What I was fascinated with is the beauty of the decaying books... they are monuments to people who used to own them . Most of the people who owned those books did not return from the camps. There were no funerals, there were no headstones, there is nothing to show they lived, except what I was able to picture. Those books are their tombs and at the same time they are acts of defiance against those people who tried to destroy (it all). "
It is Dojc's stunningly beautiful photographs that let us experience the vibrant cultural history of Slovakian Jews through the now abandoned schools, synagogues and mikvahs (ceremonial baths) he remembers with his camera.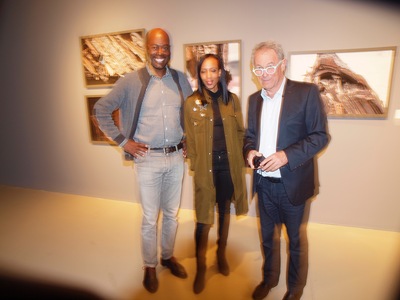 Yuri Dojc (far right) tours visitors
"There is a reason why I call it Last Folio. It was the last stand. The people are all gone, the books 90 per cent of them are gone and the other 10 per cent will be gone in five years because of neglect. A project like this is just a cultural memory -- nothing else. The photographs are all that I can do."
In Brazil the arrival of the show was frontpage news. Last month a television special was broadcast throughout the country comparing Dojc's exhibition with what is happening in Allepo, Syria.
"The news feature talks of how easily cultures can be destroyed by war," explained Dojc. "They said I was showing a culture that was killed 70-years ago and now we are watching the destruction of another culture, in real time in Syria. So what have we learned over those 70 years? My pictures preserve and hopefully we learn!"
The Art Gallery of Hamilton is exhibiting the Last Folio, The show opened last week and will remain on view until May 14, 2017.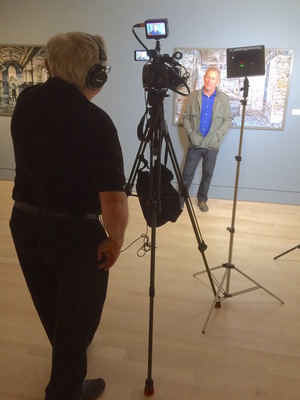 Videographer George Socka attended a preview of the Last Folio in Hamilton and interviewed Yuri Dojc inside the Art Gallery of Hamilton. You can see the six-minute video here.
Follow HuffPost Canada Blogs on Facebook