In the Black, a new autobiography by activist businessman and radio pioneer B. Denham Jolly, is going to have members of Toronto's white community seeing red. It might have Black Lives Matter taking notes too.
"To the white readers of this book, I have to stress that for Black people the basic and continuing infringements of our rights are not mere distractions. Canadians like to congratulate themselves over our diversity, but ... " Denham Jolly told me when we talked about his early days. Quoting from his just published book, he says discriminatory policing (from carding to DWB) "remain part of our day-to-day life and casts a long shadow."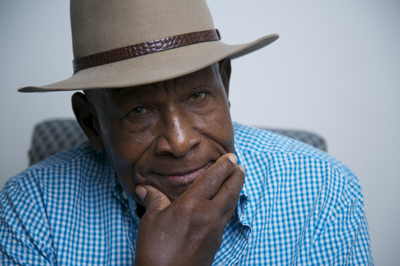 B. Denham Jolly
Over the years Jolly and I have occasional crossed paths. He doesn't remember me, but I'll never forget how strongly opinionated he is (for example: Mayor John Tory should be impeached for reneging on his campaign promise to end carding). When we first met I had come to FLOW (first Black owned FM station) to pick up a donation for the Caribana festival. Before my coat was off, he told me what was wrong with the annual parade.
I can't recall his exact words, but it was about how Canada's establishment was "fucking over" Caribana. "Tons of cash is handed over to the Art Gallery of Ontario and to the National Ballet, which generates 1/84th the amount of economic activity that Caribana brings. Government support to Caribana continues to be minuscule compared to what is given to the National Ballet. It (Caribana) is the greatest cultural event."
I have supplied PR support to Carnival for 19 years and his Toronto radio station FLOW FM supported us for as long as he owned FLOW.
I also lived steps from him in Cabbagetown and often passed him in the street. If he hadn't sold them off, I might one day soon move into one of his nursing homes.
Jolly is a highly successful man. Born in Jamaica he came to Canada 60 years ago to study at three schools, the final being McGill. He believed that there were more opportunities and less cultural striation in Canada in the Fifties than in colonial Jamaica.
He reluctantly left Canada when his student visa expired. He returned to Jamaica just long enough to save enough money to return to Canada! A chance encounter with a Canadian High Commissioner at a Jamaican rum party got him the paperwork he needed!
His first day job was teaching in the richest Toronto neighbourhood. At night he managed his first boarding house in the 'hood'. He acquired property, lived frugally and his fortunes grew!
He moved briefly to Sault St Marie to teach science and meet his future wife, a white nurse. Together, back in Toronto, they acquired rooming houses and branched out into nursing homes and medical testing facilities in Ontario and Texas.
Jolly soon became the publisher of the iconic Black Contrast Newspaper. Almost everything he touched did well, except for his time as a Fuller Brush salesman ("I ended up with a closet full of brushes").
His passion to own a radio station that would be the voice of the Caribbean Canadian people was a 12-year struggle. He blames political interference for the setbacks he had to overcome before FLOW went on the air in 2001.
According to In The Black, Liberal politicians were publicly supportive of Jolly's dream, but behind closed doors worked against him to help other stations get the licenses he sought. "Liberal politicians are dishonest, they told me I was going to get a license but gave it away to a C&W radio station," explained Jolly. "Campaign left and rule to the right - they made Mulroney look good"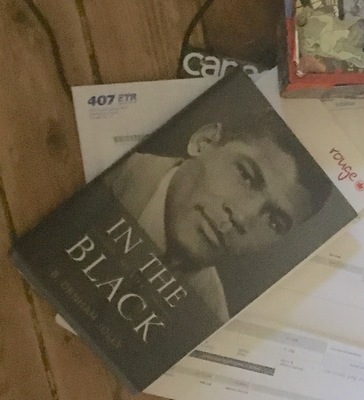 In the Black: My Life. ECW Press
His business smarts came from his Father Cappy (short for Capital) who gave him Duddy-Kravitz-like advice which Jolly still follows - "Don't work for anyone but yourself. Buy property."
The book frustrates in that Cappy makes only a brief appearance. We don't learn much about his Jamaican roots, nor his wife Carol and their three children. His divorce is a single paragraph and there is scant reference to his new love.
Odd for a man involved in the communication business to say so little about himself. It is an autobiography with all the juicy parts of his 80+ years left out. The curtain lifts when Jolly talks about issues of race and equality and the people he fought the good fight with - former Minister of State Jean Augustine, Caribana's Charles Roach and Dudley Laws.
It makes for interesting reading to see just the activist causes Jolly joined. He started the Black Business and Professional Association and was a vocal member of an endless string of action groups.
He talks about demonstrating when a mentally disturbed Black man, Lester Donaldson is shot by police. "After the demonstration, a number of us, including Charlie Roach and Jean Augustine, went to a meeting called by Dudley Laws to launch the Black Action Defense Committee. BADC was formed to fight against this sort of police killing. I was named as part of the founding group, but in this case the moving force really was Dudley Laws."
"There probably is a file with my name on it," said Jolly. "In 1991 the police were clearly obsessed with nailing the hides of uppity Blacks to the wall."
As he aged he spent more time in keeping FLOW afloat than in demonstrating. He was cited for his cultural contributions - he won the Black Media Pioneer Award and the African/Canadian Lifetime Achievement Award.
Two months ago, as ECW Press was publishing In the Black, the city honoured him by naming a new road Jolly Way in Scarborough. It is s a tribute to a man who hasn't always been happy in Canada but has always been loud, proud and uniquely Jolly!
Follow HuffPost Canada Blogs on Facebook