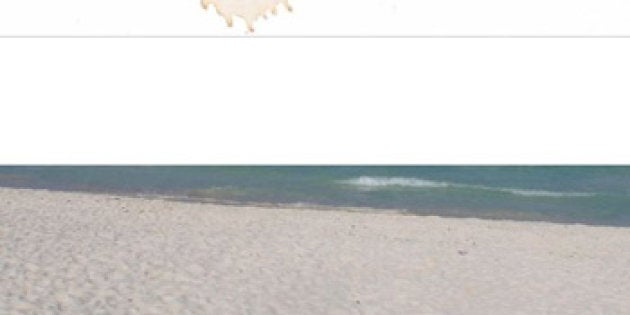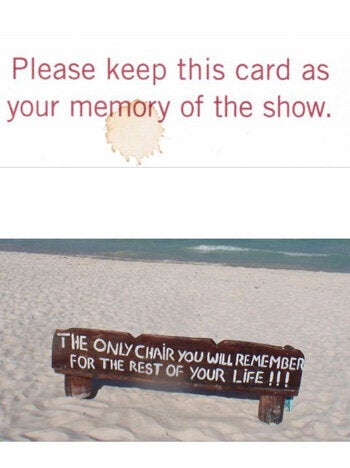 Saying something loudly doesn't make it true. Doubly so when it is the printed word doing all the yelling.
I was given a card (pictured top) to keep so that I wouldn't forget the show I had just paid to see. Since then the card has been pinned to my corkboard wall. It has been up there for a while. It edges have started to curl. It has taken a couple of Starbuck splashes over time.
I took it down yesterday when I realized the card's message -- Please Keep This Card As Your Memory Of The Show -- hadn't worked. I have no memory of getting that 3" by 4" piece of cardboard. I can't tell you what show I was at when I received the card. An art show? A play? A dance performance?
Hmm. Probably something that was given out at a Toronto Harbourfront performance, since they are the only arts institution these days that has money to print this sort of thing.
I won't ever know now, the card has been moved into my blue bin.
The second written promo that claims I will remember something for life, has a better back story.
Two years ago I was on assignment in the Yucatan. Cave diving. One of the caves came to the surface near the beach community of Tulum. I had been underwater, in the dark, claustrophobic confines of a freshwater cave.
I stripped out of my wetsuit and drove to the coast to enjoy the warm sun, the wide open space and the blue sea (all the opposite of what I had been scuba diving through). Walking the beach I took the above picture of a bench in the white sand.
The chair's signature -- The Only Chair You Will Remember For the Rest of Your Life -- is a big fat lie.
Today I was warehousing photos onto a backup hard drive (my digital blue bin) when I looked at the picture once again. Had to check my notes to see where I had taken the picture. I had forgotten the chair, the beach and even the country I was in when I took the photo.
In the world of PR there is a lot of borrowing. Best though to steal concepts that work. Here are two ideas that you don't want to sneak out of my blue bin.