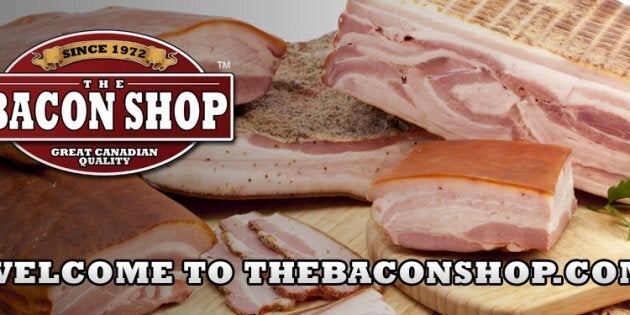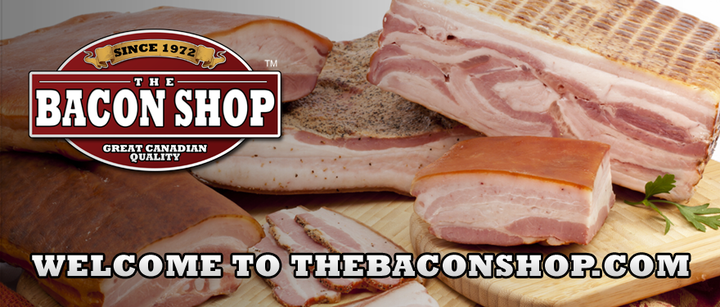 Radio is not dead, it's alive, and in Toronto it's kicking. Toronto is the largest radio market in Canada. There are over 20 radio stations covering a population of six million-plus. The competition is fierce and it's a battle between the established stations that have been around for decades against the newer stations who strive everyday for a foothold with listeners. It's not out of the ordinary to see several radio stations at events all across the Greater Toronto area grabbing for your attention. Each station's Promotions and marketing departments are, or should be labeled as, the most elite in the industry and are tasked to bring as many listeners into the station in any creative way possible.
One station continually excels at just that and did something that had never been done before.
Boom FM is only 2.5 years old and was a former Legacy Station called EZ Rock that started in the late 1980s. The music boom focuses on classic hits from the 1970s to the 1990s. The competition is Q FM and CHFI. Both have established audiences since the 1960s. Q FM plays classic rock music and CHFI plays easy listening music.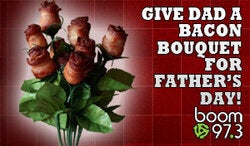 On Tuesday June 5, Boom FM was without a promotion for Father's Day just a week and a half away. There were many ideas but nothing had been set in stone. One of the on-air personalities had seen via social media a photo of someone creating a Bacon Rose Bouquet, where instead of flowers, a slice of bacon was shaped and placed on top of a rose stem. Listeners would text the word BACON to qualify. As no retailer in Canada makes bacon bouquets, the staff found a recipe online and was prepared to make the prize themselves -- for the humor of it - and throw in a $50 VISA gift certificate for added value. The Promotion Team decided that local media including TV and newsprint would be sent a novelty bacon bouquet and media releases in hopes of free publicity.
Albeit it was a fun promotion, but Boom was not satisfied with that. Twenty-Four hours later an idea was sizzling on the grill.
Operation: The Bacon Shop
Advertising on Radio Stations is how stations make their profits. It's not uncommon for a new company to spend money on a station to promote an opening of a store or the beginning of a sales campaign to use the media to boost their awareness. Boom FM put their focus on that. If they were able to get on Q's and CHFI's Morning Shows and advertise on their websites the campaign would be a hit.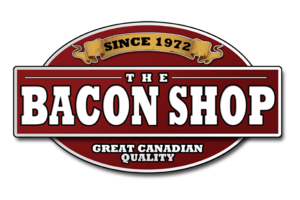 The Bacon Shop was started in 1972 in Red Deer Alberta by the Reynolds family and was now opening its online doors in Ontario. The site would sell Pork Products and Bacon related merchandise with the ability to order via Phone at (416-607-PORK) and online at thebaconshop.com. A 30 second commercial was created. The shop was on Twitter, it's PR Marketing person was on LinkedIn, it even had a weekly email newsletter ready to send Special Offers and Coupons to the shop.
None of this existed two weeks ago.
Because Toronto stations had been duped before by a fake website ad, Sales Representatives would be diligent to make sure what they were advertising was the real deal, hence the complexity to add more authenticity.
The bacon was cooking, now it was time to wait.
B-Day (The B stands for Bacon)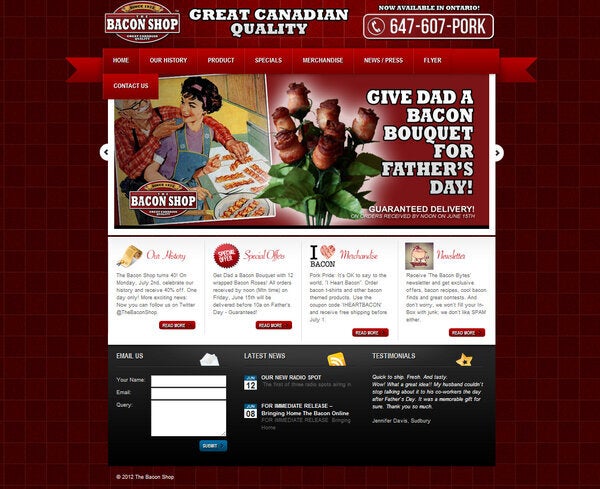 It was early Wednesday morning, Q and CHFI had The Bacon Shop ads running on their websites for 24 hours.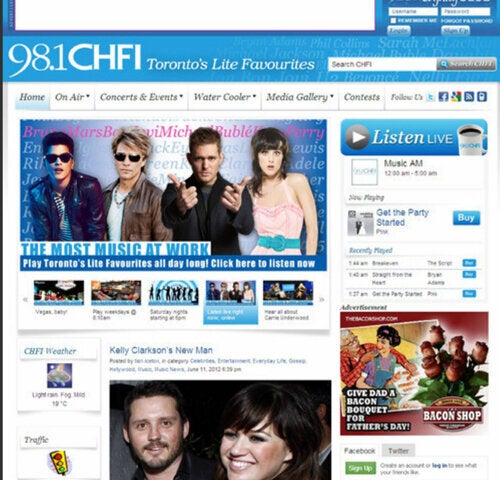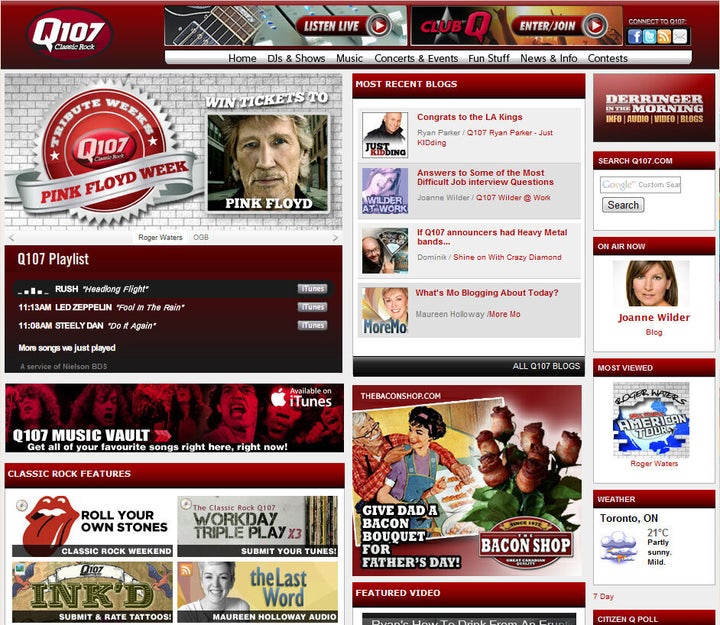 The site was operational and working. Arrangements were made to have The Bacon Shop's "Baconstrippers" Promotion team to hand deliver a Bacon Bouquet to each of the morning shows. With custom T-Shirts and Aprons made, two "Baconstrippers" tweeted and took photos of their visits.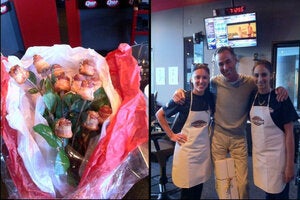 Both morning shows took the bait, and ate it...literally
They both talked about "The Bacon Shop" on the air while Torontonians were heading to work and posted photos and tweets on their Twitter and Facebook accounts. You can hear the audio of both mentions here and here.
At 11:45am, 2 hours after the redirect, a listener on the CHFI Facebook page commented, that the link went to boom FM. The stunt had been outed.
Two hours later, CHFI finally responded by contacting the sales representative for The Bacon Shop to provide a new URL, the Bacon Shop never responded as they accomplished their goal, shortly after CHFI pulled all Bacon Shop ads.
Twenty-six hours later after the redirect, Q FM caught on and pulled their ads.
Guerrilla marketing at its best
In less than one week, with a minimal budget, boom FM had done what no one had accomplished before and for an entire week the boom Promotions team stood in victory. It didn't take a large campaign, or months of work or traditional marketing. boom FM knows that this was a once in a lifetime event and could not be replicated again. They just know for next time to be even more creative. The station is still moving and has no signs of slowing down.
To see a Timeline of the whole event take a look at the slideshow below. And for more details click here