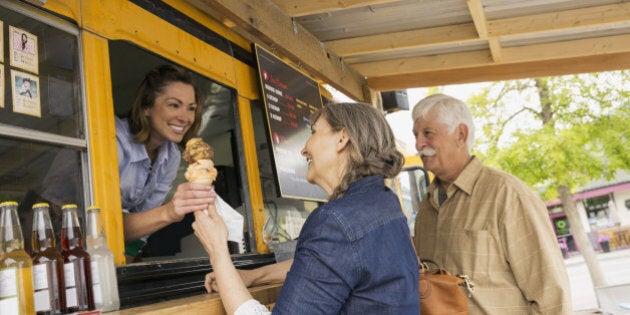 Food Trucks are the latest rage in most major cities across North America. The idea of food trucks is nothing revolutionary. Food trucks have been around since at least 1866, when they were pulled by horses and called chuckwagons. However, the trend has picked up greatly in the last few years and is riding a huge wave of popularity.
Many cities have relaxed the bylaws governing these street vendors and are allowing them greater freedom. This has not only spiced up the food scene but has also triggered a turf war in many cities between the more traditional brick-and-mortar restaurants and the invading army of food trucks. Restaurant owners are demanding stricter regulations for these mobile vendors in a bid to ease the competitive pressure.
In 2013, Air Canada's 'enRoute' magazine awarded the People's Choice Award for Canada's Best New Restaurant to Vij's Railway Express, a food truck. Yes, Canada's best new restaurant is a food truck, run by the award-winning chef, Vikram Vij, from Vancouver, British Columbia. This demonstrates how gourmet trucks are challenging the traditional restaurants for food market revenue.
Brightly painted food trucks can now be seen parked in every major city offering cheap, mouthwatering delights. Many people, who have sampled these foods enjoy the culinary experience but...are the foods from these trucks safe?
Between late 2010 and early 2011, approximately 91 people fell ill in an outbreak of Salmonella poisoning in Calgary. A subsequent investigation by Alberta Health Services found a mobile catering company responsible for triggering the outbreak. Six of the affected people were company employees. The Salmonella-infected eggs were apparently bought from an illegal supplier.
According to information posted on AHS website, 26 of Calgary's 35 food trucks failed inspection, most with water and temperature related shortcomings. Some food trucks had been caught with no soap for their employees to wash their hands. Fortunately, stricter inspections have resulted in a much better showing by these mobile vendors.
But the news is not all bad. A recent survey conducted in seven major U.S. cities, has found substantial improvements. The Institute for Justice, a public-interest law firm, conducted the 'Street Eats, Safe Eats' survey in Washington D.C, Las Vegas, Los Angeles, Seattle, Louisville, Boston and Miami, selecting these cities because food trucks and restaurants are subjected to the same regulations and inspection regimes in these jurisdictions. Over 260,000 inspection reports were reviewed and, surprisingly, food trucks in all these cities had averaged fewer sanitation violations as compared to restaurants. Food trucks in Los Angeles fared better than anywhere else with only half as many violations as restaurants. As a result, the Institute for Justice has put its weight behind the drive to relax food truck regulations... so much for calling them "roach coaches."
Food trucks' better performance may be attributed to fewer employees and fewer ingredients. Most of these gourmet trucks serve a limited range of signature items, which makes their kitchens easier to manage. Whatever the reason, this is good news for all foodies out there, who love to eat from the street. Truck kitchens are often easier for customers to inspect as you can peer over the counter and have a quick look inside. Fortunately, most cities require vendors to publicly display their inspection grades, which should help you decide between trying a new tasty treat or giving it a miss.
Food trucks offer unique and tasty culinary experiences and have become a part of the cultural heritage in the cities they serve. Market trends have clearly established that the food truck phenomenon is here to stay. Eating from a street vendor can be a satisfying and a delicious experience... provided you're street smart enough to choose the right truck.