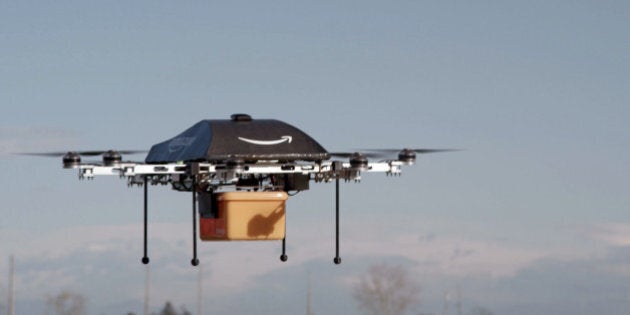 I'm a Canadian who lives in Hollywood, right by the iconic Walk of Fame. It's a hustle and bustle kinda neighborhood, as you might expect, with tourists from all walks of life soaking in everything from the TCL Chinese Theater to the big ol' building where they film Jimmy Kimmel Live.
I'm not a selfie stick-clutching touristy type in the least. So, what drew me to this area? Convenience. Unlike most of Los Angeles, you don't need a car here. There are countless shops, grocery stores and pharmacies within walking distance. This saves me time, money and aggravation.
In return, I tolerate -- as best I can -- the myriad tacky out-of-towners invading my space on a daily basis. (And the occasional One Direction concert that shuts down Hollywood Boulevard.) A fair trade-off, I reckon.
Turns out, my strategic geographic placement may have been all for naught. In recent months, I've embraced Amazon Prime. Particularly its two-day free delivery service, which ships any product under the sun directly to my door. Clothing. Electronics. Toothpaste. Cleaning supplies. Prescription drugs. Even groceries. Well, the non-perishable kind.
For items like milk, eggs, fish and the like, I use a different company. (There are several.) One that brings the goods my way in the time it takes to have a pizza delivered.
To most of us, these services aren't exactly a new thing. Many, in one form or another, have been available for years. What's changed is how quickly -- and vastly -- they're integrating into our culture. So much so that the concept of "moving to a neighborhood for its amenities" is officially antiquated. Lesson learned.
Home delivery is fast becoming the prevailing form of consumer commerce, and I for one am at peace with it. It's easy and convenient, with a pretty decent system of checks and balances to ensure customer satisfaction. Plus, there's a certain childlike exuberance that wells up in all of us when a package arrives at the front door.
Even when we're fully aware of its contents, it's still a blast to open the sucker up. Think of it as a microcosm of Christmas morning. Is it any wonder monthly subscription box deliveries have become so popular?
Just as Netflix has taken over for video rental stores, there's no stopping the inevitable dominance of home delivery over conventional retail. Even those in the ruralest (not actually a word) of rural areas have been invited to the party, courtesy of expanded courier routes and burgeoning drone delivery technology.
Will this transition further decrease our interaction with other human beings, making us all the more isolated? Perhaps. Or maybe it'll pave the way for higher instances of quality socializing. Sure, you can spend 60 minutes a week knee-deep in fellow Walmart shoppers. Or you can order those items online and spend the hour you just saved engaging with friends or family.
Personally, I'll take the latter, and I'm assuming you would, too. Unless your friends and family kinda suck, in which case the Walmart option may still be your best bet.
Follow HuffPost Canada Blogs on Facebook