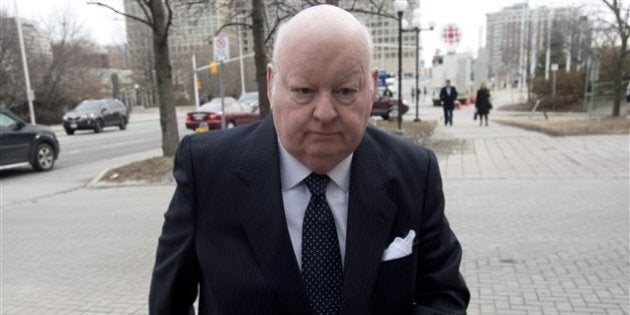 The combination of an election and a court helped focus a spotlight of accountability on Conservative Leader Stephen Harper and his office -- the kind that Canadians didn't always get with the last Parliament. The trial of Senator Mike Duffy (of PEI) has exposed the extent to which the Prime Minister's Office shapes the disposition of the Conservative caucus. As Mr. Duffy faces 31 counts of fraud, bribery and breach of trust, Stephen Harper had to field daily questions from reporters on how much he knew about the deal struck between the PMO and Duffy.
This has certainly thrown a monkey wrench into the incumbent leader's plans to control the narratives of what this year's election is about. Harper has long cast himself as the only leader with a steady enough hand in a world riddled with Muslim terrorists and economic failure. Yet the Duffy trial may have disturbed this self-portrayal for segments of the electorate that count most in elections: swing voters. The CBC reports that polling by Abacus Data and the Angus Reid Institute has come out with numbers that show roughly one in four Canadians are paying attention to the Duffy trial. Fifteen per cent of those surveyed by Abacus say that Stephen Harper acted the right way in the Duffy Affair, while 20 per cent of those surveyed by Angus Reid believe his version of events. Even worse for the Conservatives, these reports show that "many of these voters have already decided they will be casting a ballot for the Liberals or the New Democrats."
Polling aside, the importance of how much and how well a party shapes the public's perception of what an election is about has always been an important key to winning. The voter has an opportunity to take in the leaders' words and to compare these political messages vis-a-vis reality. This is a process that involves critical thinking and the ability to separate fact from fiction or, in practical terms, the ability to not be easily swayed by speeches set to inspirational music.
The Canadian Muslim Vote has posted video messages from Justin Trudeau (LPC) and Thomas Mulcair (NDP) in an effort to allow engaged Muslims to exercise their politically critical faculties (still waiting on Elizabeth May and Stephen Harper). It will also give participating party leaders a chance to pitch their narratives of how Canadian Muslims figure into their plan to push the country forward. This kind of opportunity is relatively new, given that the slim amount of Muslim political participation over the years has afforded politicians limited platforms to address Muslims, thus allowing many to throw aside Muslim concerns altogether. Whether one buys these politicians' message or not, it'd be useful for Muslims to listen. Only then can those paying attention build a case in their minds for or against the story that each politician tells.
Now back to polls. The CBC's Poll Tracker still has the NDP leading at 33 per cent, the Conservatives at 29 per cent and the Liberals at 28 per cent. These numbers take into consideration the Forum Research's latest poll, which doesn't affect much change in the tracker's overall numbers, but does show that the NDP are gaining a lot of steam in Quebec. The numbers may not tell the full story of how Canadians are actually assessing just how each party's points stack up to the facts, but events like the Duffy trial show just how fragile political narratives can be when put under intense public scrutiny.
Muslims in Canada will do well to follow these developments in the days that follow. There are a lot of elements worth considering when assessing a party's position in lieu of an election. By paying attention to how elected officials and their staff do business behind the scenes, constituents should be reminded that all of them, regardless of which party -- from Stephen Harper, to Elizabeth May, to whoever else --deserve a substantial dose of civic skepticism.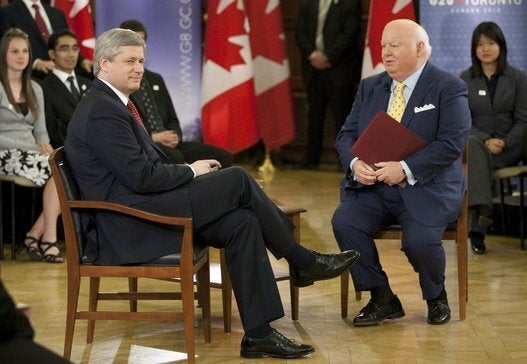 Duffy's Downfall: A Chronology Of Events