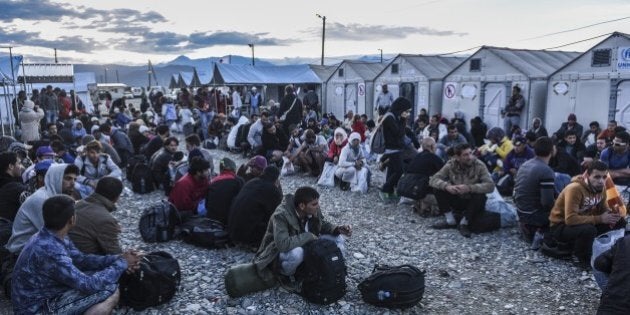 The global refugee crisis is likely to solidify as a significant election issue in Canada, and many have already lamented the Harper administration's response to the problem as slow and insufficient. Despite the Tory government's portrayal of its current refugee policy as highly responsive and generous, data from UNHCR shows that only about one per cent of the world's displaced population resides in Canada. In fact, Canada has yet to meet its own targets for refugee acceptance when it comes to the current crisis, which originates primarily out of Syria and Iraq.
Canadians, especially Muslim Canadians, interested in changing this status quo now have a lot more incentive to show up on October 19 to vote and do their part in the political process.
The world is now populated by more refugees than any other time in history, but it took the photo of three-year-old Alan Kurdi's corpse to galvanize international attention. Yet this new spotlight hasn't triggered the kind of pressure that would compel the Canadian political system to treat the problem in a significant and effective way.
Stephen Harper has already cited his concern with letting too many Syrians and Iraqis into Canada because, in his thinking, refugees may actually be Muslim extremists threatening to ruin the country (though his administration has pledged more money and food to the region).
The Liberals and New Democrats have, in their own respective ways, criticized this line of thinking, but Canadians should understand that serious solutions to the current crisis won't come without a high level of public pressure. This is probably true regardless of what party is in power, though one party may be easier to convince than the other. Many Muslim Canadians have family in Syria, Iraq and the region at large, which means they have a vested interest in seeing a swift humanitarian response from their government. In fact, data collected by The Canadian Muslim Vote (TCMV) shows that human rights and foreign policy are among the top concerns of Canadians Muslims.
Yet the public discussions and debates of how to respond to the crisis is largely connected to and shaped by how Muslims are perceived around the world today. In other words, Canadian Muslims doing their part to influence this issue is directly tied to how the next government chooses to treat the refugee crisis. If the Muslim voice is missing, then chances of a weak or slow-moving government response goes up.
TCMV has put together an ongoing canvassing campaign for all who are interested in getting Muslims to actually act on their political convictions. Regardless of where they stand on the refugee issue, or any other issue for that matter, TCMV is committed to get them engaged for 2015 and beyond. Those interested in participating in the canvassing can sign up to go door-to-door or even work the phones. The experience will give people a good idea of what it actually means to do grassroots work for political change.
A good amount of change at the political level would have to happen for Canada to shift from its current position and open its doors to the displaced. Canada now prefers to support private sponsorship of refugees instead of funding directly, and has cut refugee healthcare, among other things. Absent a change on this policy front, all Canadians should get in touch with local organizations with refugee sponsorship agreement holdings if they want to help.
But if Canadians are truly interested in having their government act to ease the massive pressure that the refugee crisis is imposing upon the world, then elected officials will have to be lobbied again and again in order to be reminded that their party can almost always do more.
Perhaps it's changing the federal and provincial systems' stifling refugee acceptance policies or getting the government to restore health care for those fleeing violence and tyranny. These are political problems are their root, and further highlight the importance of civic engagement for Muslims and non-Muslims alike. It's a reminder that this kind of engagement has real, lasting consequences on people's lives -- and they're not even always from this country.
There's no way that Canada can solve this crisis on its own, but in the eyes of many it has yet to do its part. The issue has become highly politicized in a time of electoral uncertainty, and all parties with a shot are tied up in dozens of issues and concerns. But this is more reason to remind our candidates that some things deserve to bypass the web of partisan calculation.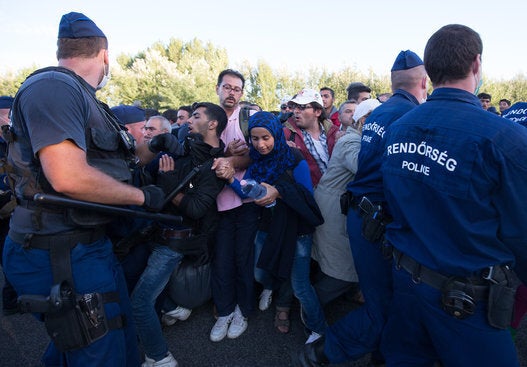 Matt Cardy Photographs The Refugee Crisis In Hungary