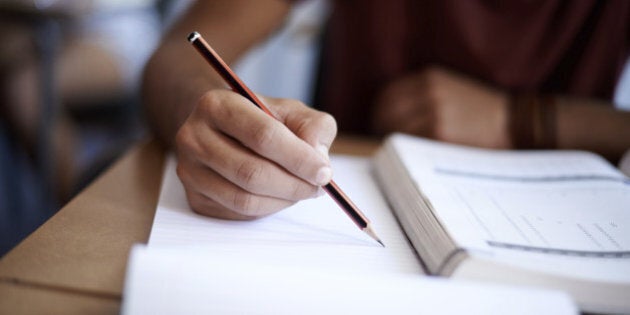 In high school, I was placed in a special education program instead of regular classes because I couldn't learn like the other students. I felt I was being "left on the shelf" -- not important enough to be given the opportunity to learn to my potential. I felt like a yo-yo, bounced between special education and "regular" classes. I was not being challenged in ways that would enrich my learning.
To make things worse, I was bullied. Throughout my years at school I didn't feel safe, or even that I belonged. I would come home in tears, reluctant to go back to school each day. My experience made me question my ability to learn, and I felt stupid.
During this time I would often sit at a nearby lake where I could be alone with nature. As I got to know myself in that place of silence, I came to the realization that I would have to stand up and be strong for myself. It took a long time for me to build confidence in myself and realize my true potential. I was someone who could learn. Everyone has different learning styles, and I was able to recognize the difference in my learning from others in my class.
As I began to speak up against the bullying, other students would share their experiences of bullying with me. I encouraged them to continue in their classes, which gave them courage to stand up to their bullies. In this way, learning and sharing was empowering.
A hard lesson came when I was told by a college admissions officer that I did not meet their entrance requirements. I was demoralized but my mother told me that I was able to learn no matter what others thought and she encouraged me to continue studying. It was then that I entered the Street Haven Learning Centre (SHLC), and spoke to the program manager who listened to my concerns, and believed in me and my ability to learn.
I registered for their literacy program, which would help me upgrade my skills in preparation for college. At the Learning Centre, the instructor and staff were caring and encouraged my goal to study at college. Classes at Street Haven were fun, and I discovered for the first time that I was good at reading and math. More importantly, the experience reinforced my previous discovery -- that I am capable of learning.
My time taking classes there helped me to better understand the unique way I learn. I felt blessed to be at the Street Haven Learning Centre, where I was a member of the class, feeling safe, surrounded by those who accepted and encouraged me.
I enjoyed learning at the SHLC, spending three years there. Community involvement and activism was an important part of my life throughout this time. I was a committed member of an organization dedicated to improving the lives and working conditions of people in low-wage and unstable employment, participating in campaigns, outreach, and awareness work.
My comrades there were a source of support and encouraged me to apply to college. Determined to pursue this goal, I enrolled in as many learning programs as I could, including other community classes and free online courses.
These experiences were valuable and helped me to explore my interests in community work and to prepare for college. It was not always easy, as there were people around me who told me to find work instead of applying to college. Always determined, I knew college education was my path. There came a point when I was ready: I knew I had developed the skills to re-apply. Through the support and guidance of my counsellor and my instructors, I re-applied, and was finally accepted into Transition to Post-Secondary Education program at George Brown College.
I am currently in my fourth semester at George Brown College, have been on the Dean's List twice, and just won a third scholarship to continue in my studies for the next year. I feel motivated and engaged every time I attend class. At this point in my life, I feel good, knowing that I have achieved my dream of studying at college. Developing strength and determination to become an advocate for others has directed my college studies.
I am now preparing for entrance into the Community Service Worker program, a step on the route to my goals to become a support for others in the community. I am proud of myself for not letting the barriers I faced in high school hold me back, and for persevering to get to where I am now. The lesson I learned from overcoming the barriers I faced was that you cannot give up hope, as there is always something greater for you if you persevere.
Follow HuffPost Canada Blogs on Facebook