On November 13, I found myself a block away from the site of a major attack in Paris while I was touring Europe with the Council of Canadians to talk about CETA, the Canada-European Union Comprehensive Economic and Trade Agreement. Stuck in my temporary lodgings preparing my meetings, I remember hearing sirens and drumming. Being that Paris is a dense, noisy city, I ignored it.
Then, I got an e-mail from the Brent Patterson, Political Director of the Council of Canadians about the killings in Paris. I learned the news from internet sites -- the Bataclan was not very far from me. I know that spot. I discovered that one of the shootings was on Charonne Street. I looked up the address: 92 rue de Charonne, la Belle Équipe restaurant. My address: 125 rue de Charonne.
Brent ordered me not to go outside.
For the next few hours, I had no connection with what was actually happening on the street. I could only watch it on television. The Bataclan was under siege for hours. French President François Hollande had said that he had closed the borders. I didn't know whether it was safe to go to sleep.
The next day, I left the apartment. Life was still happening: I witnessed a wedding photo at the mayoralty of the 11th borough.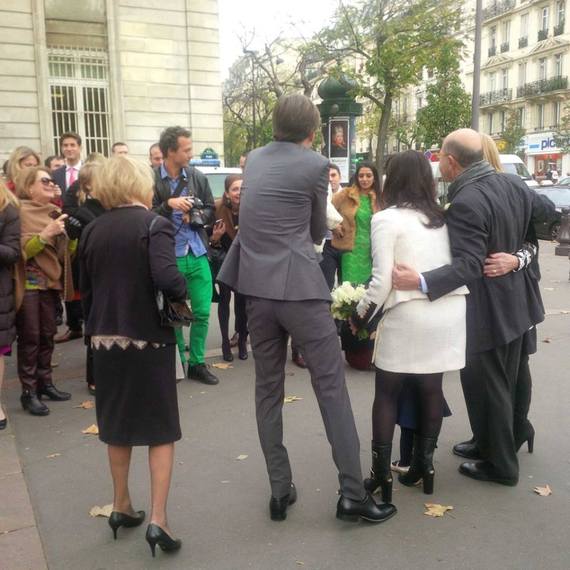 But all was not normal. The Belle Équipe's window glass was still shattered by bullets sprayed by the attackers.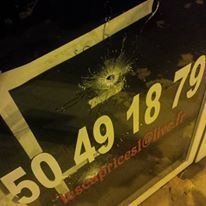 A friend of mine had been looking for a cousin on Facebook. In the morning, she posted that they had stopped looking: he was in peace. Another former classmate of mine, a Mexican student at EM Lyon, was also dead.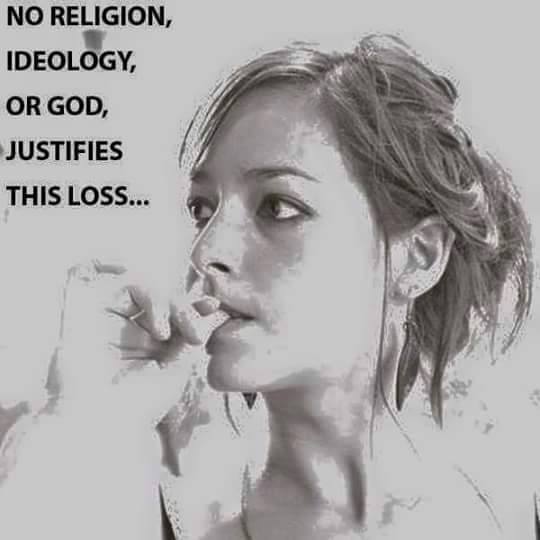 Later in the evening, there were shrines: flowers, candles and prayers for the victims.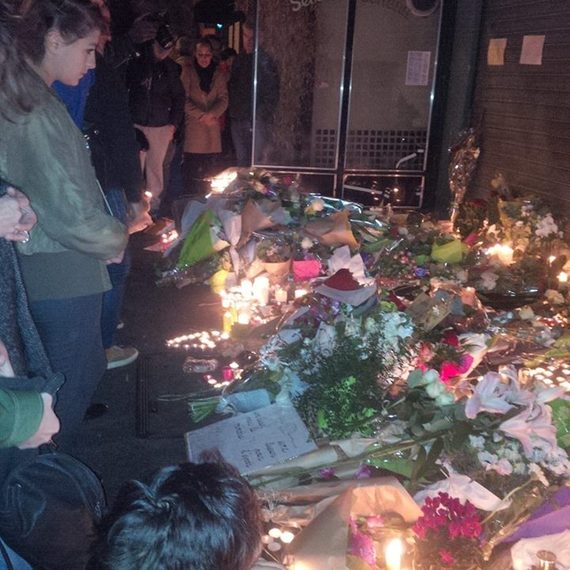 The next day, I left for Vienna. Apparently, the border closings were a bit of an exaggeration on Hollande's part. In Vienna, familiarity and a normal city without the stench of mourning all over it.
As we were also in Europe to participate in events around the Paris climate talks, we weren't sure whether or not these events would actually occur. Our ATTAC friends had already cancelled their buses from Vienna to Paris for the march. The world march for climate on November 29 will happen everywhere in the world. But not in Paris.
So, the terrorists had won. The world leaders could make their decisions without the inconveniences of civil society.
The French constitution would be amended. The Republicans were competing to see who could be meaner to refugees. And then, there was arson at a mosque in Peterborough.
People will use the events to advance their own ideologies and pet theories. Would there be too many refugees? Was Edward Snowden responsible for this? Is this a conspiracy from Saudi Arabia? I think it is important to reject conspiracy theories and false solutions.
But we can control how we respond to this as activists. We must oppose hatred against Muslims, the vast majority of whom are not responsible for this. We must make sure immigrants and refugees feel part of our society so that they are not seduced by evil, destructive ideologies. We must do our part to help the Syrian refugees who are fleeing from the very violence that we experienced in Paris. We must ensure that the response of our states to make us secure is balanced with the safeguards for democratic and political actions.
At the end of my trip to Vienna, I was going to do my part. Thanks to ATTAC-Austria's Lena Drescher, I had read about the Train of Hope which greets refugees, offering meals, medical attention, cell phone charging and other forms of support at the main Vienna train station.
So before I left, I chopped vegetables for refugees with Ibrahim, volunteer and a recently landed Iraqi immigrant. He was a typical 20-something adult rocking out to his MP3 player while chopping efficiently. From time to time, he would signal to me that my chopping was absolutely pathetic, showing me the proper way to use the knife. Because of the language barrier -- he only spoke Arabic -- I'm still not sure which culinary school he studied at.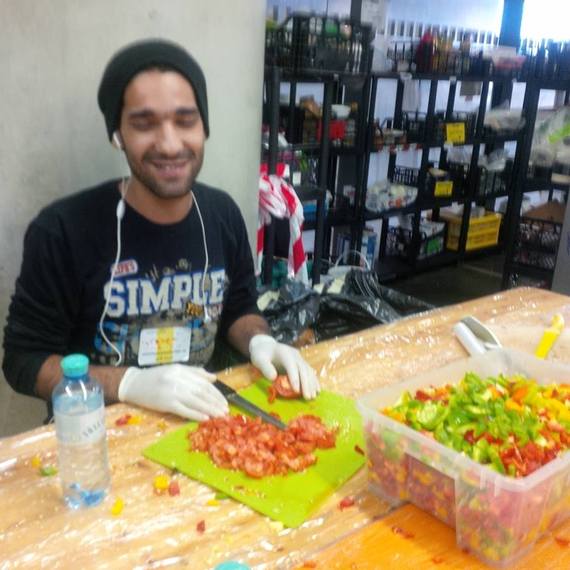 There were many Viennese residents helping out. The Viennese Sikh community had brought big pots of kichiri and dahl.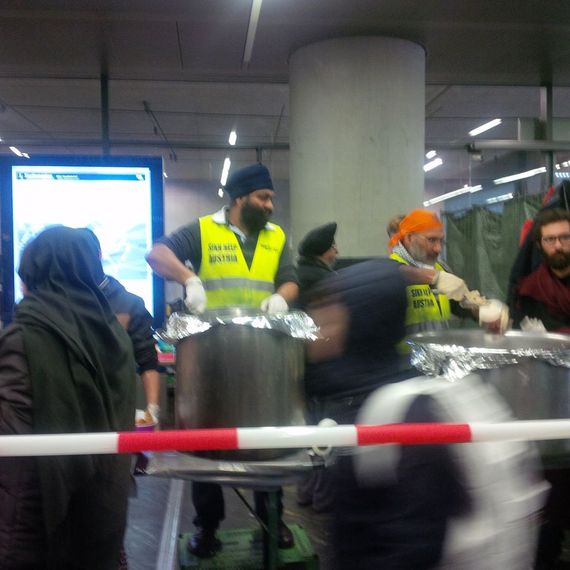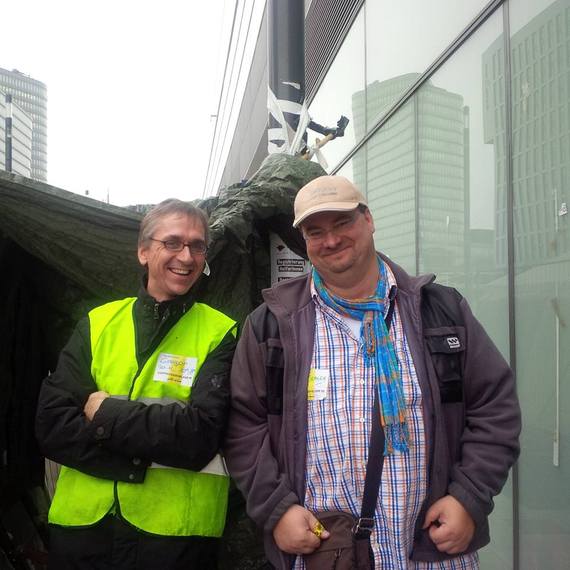 I spoke to the organizer. She actually came to the whole thing by accident. In September, a friend of hers called from the train station saying that refugees were arriving and no one was there to help them. She suggested they bring some food and try to help. So they did.
Months later, as a volunteer, she has organized a small tent city at the train station with very sophisticated organization, security and trained volunteers. Through social media, they have appealed to Vienna residents to bring money, food and needed equipment. And people have come through.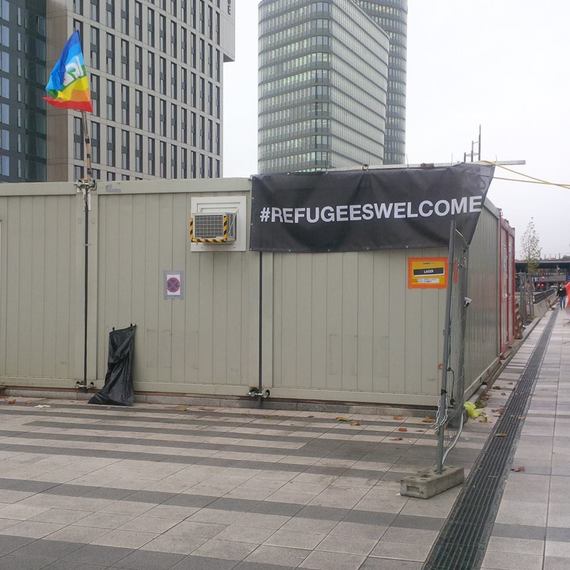 The terrorists want a polarized world. They want more hatred so that they can recruit more soldiers. They want us to reject refugees so that the only hope is to explode in front of police officers. They wanted to provoke a nasty reaction to prove that the West is evil. It only feeds their movement.
As Maude Barlow said, "After Paris, our resolve for justice should only be stronger."
Photos: Sujata Dey and her trusty Blackberry
MORE ON HUFFPOST: