Social media is great but I sometimes wonder if it feeds an unnecessary amount of insecurity and narcissism.
Think about it. The most popular tweet ever is now a "selfie" of famous actors at the Oscars.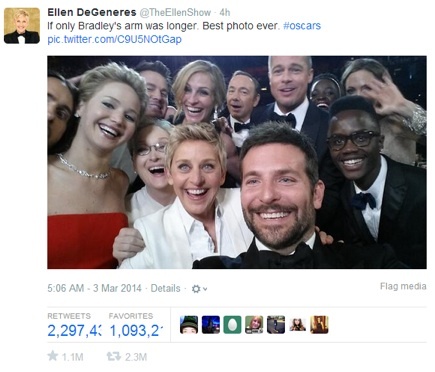 Don't get me wrong as I think Ellen DeGeneres is hilarious, but with all the incredible advancements in education, health, arts, charity, culture, design, innovation, business and technology there really isn't a better candidate for "most popular tweet ever"?
I also wonder if this kind of thing reinforces the behaviour in many cases where it's all about ME (80 per cent of the time) and then others or WE (20 per cent of the time). My hypothesis is the current formula stands as follows: 80ME20WE
As social media access and usage increases globally does narcism also increase? What if people revised the formula as follows: 80WE20ME
This is by no means scientifically based research but simply on recent experience where I've seen the impact when one focuses on others with a genuine sense of concern and appreciation.
Part of my thinking was recently affected by Give and Take by Adam Grant. It's one of the best books I've read in the past five years. Watching other LinkedIn Influencers help others without fanfare like Linda Descano, John Taft and Rachel Sklar solidifies my belief. The content of their Influencer posts reflects this reality.
A recent LinkedIn status update confirmed the 80WE20ME formula. One Friday afternoon it was observed someone who wishes to be anonymous (let's call them "Person X") congratulated a long-time LinkedIn employee who was moving on to the next great adventure. What follows after that LinkedIn status update is when things took off.
AFTER THREE DAYS: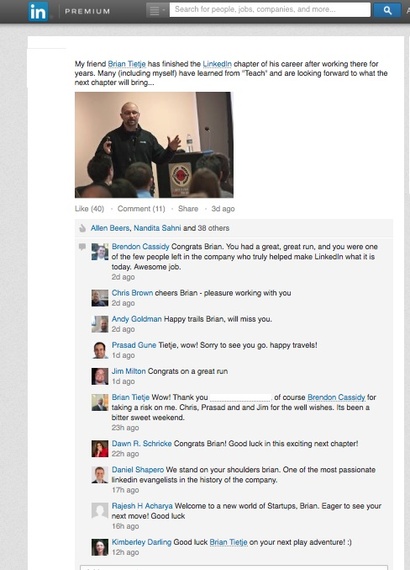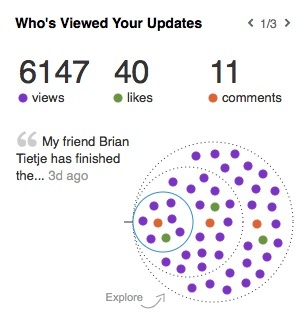 AFTER TEN DAYS: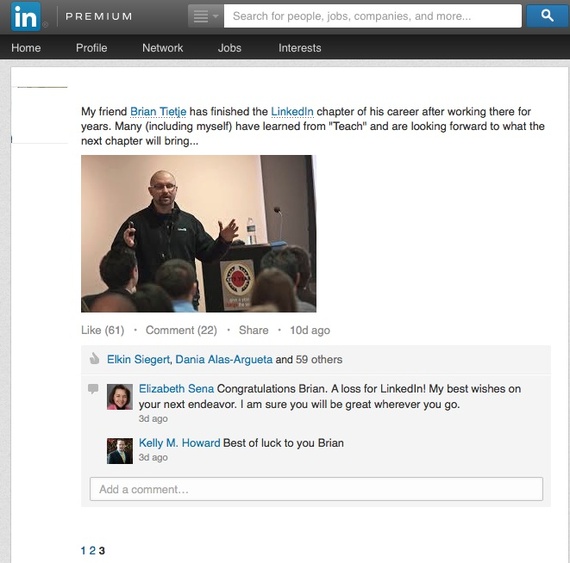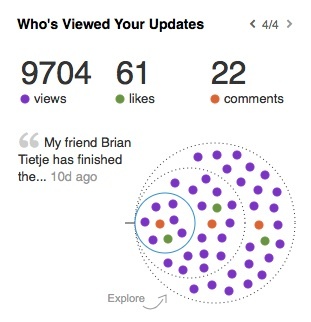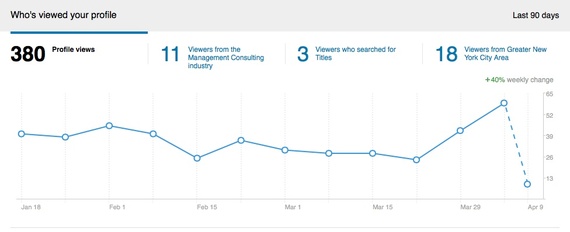 It was never Person X's desire for more LinkedIn profile views. They simply wanted to congratulate a friend that affected them in a positive way. It's evident Brian had a positive impact on others based on the response in such a short time frame. Talk about word of mouth on steroids.
Candidly, in the past I have looked at my number of Twitter followers and how many people mention me, so when I see this kind of thing I'm going to try to consciously make it less about myself also. Or at least cut it down to 20 per cent and make it much more about others like Person X did.
The truly telling part is for almost a decade I've written for publishing platforms such as Huffington Post and shared content via LinkedIn and other social networks. I've never encountered this level of engagement to content that I have shared digitally. It gives one pause.
So I'll now try to abide by the formula: 80 per cent of the content I share digitally is about others (WE) and 20 per cent about myself (ME).
80WE20ME
Try it out and please let me know how that works for you, OK?