The indomitable spirit of the Kenyan people emanates from this harmonizing group of young men whose soulful acapella fills a modern Toronto office space. It is one week, thousands of kilometres and a world away from the horror that took place in their hometown of Nairobi.
As they break into "Jambo Bwana," (Hello, mister) the country's unofficial anthem, memories of the vibrant children, the rich culture, the majestic animals and the romantic landscape come flooding back to me.
If I close my eyes I can pretend I am back at the Bogani camp in the middle of the Maasai Mara, where monkeys in nearby acacia trees added their own layer to the harmonies of the same Kenyan Boys Choir now travelling throughout Canada.
"Kenya yetu, hakuna matata," the soloist calls.
Here in Kenya, there are no problems.
Months after my return to Canada, their hopeful and upbeat rhythms transport me back to the awe-inspiring country I am lucky to know.
The Kenya they embody is a far cry from the scenes of terror at Nairobi's upscale Westgate that were part of the biggest news story in the world for four days.
A week later the images and headlines of violence that left at least 68 dead in a wealthy Nairobi suburb have faded from front pages.
But long after the terrorists are charged, the body count is clear and funerals are held, Kenyans will continue to suffer the aftermath of such violence. Those images will have a detrimental effect on tourism and the economy in a country where nearly half the population lives in absolute poverty.
With 80 per cent of the country's population living in rural areas, some Kenyans are so far removed that they will know even less than we do about the attacks, as they focus on daily survival -- fetching water, tending cattle and praying for a plentiful harvest to feed their families.
I had the privilege of meeting some of these hardworking, resilient and friendly people this summer on AOL Canada's Me to We trip to rural south-west Kenya. In the Maasai Mara district, Free The Children has been working to help the people dig their way out of poverty -- and enlisted us to help dig a foundation for new dormitories for their Kisaruni all-girls high school.
At that high school, girls from area Maasai and Kipsigi communities greeted us warmly and clasped our hands in theirs. Over cups of chai, they shared tales of gruelling school weeks that would leave North American children shaking, but for which they are intensely grateful; of the families they left to attend school; and of ambitious plans for the future.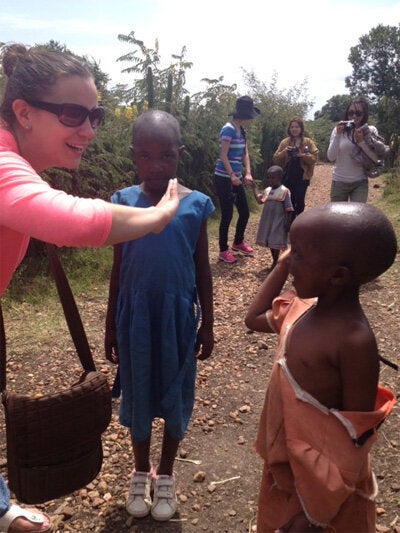 Girls in Kenya haven't always been free to dream so courageously. When Free The Child first came to the region with the aim of providing education, they noticed that parents were opting to send their boys to school and keep the girls at home.
The girls were needed to make the kilometre or more journey to fetch water from the dirty Maasai river several times a day and therefore could not be spared. Working with the communities, Free The Children soon realized its goal of educating children required a second pillar -- access to clean water. The organization built wells near community schools so that girls could both fetch water and gain an education.
The young women of the school's drama club treated us to a traditional performance that left our mouths wide open and our eyes wet.
But it wasn't until the next day that I realized the true impact of that performance.
While visiting the Emori Joi village, we gave high fives and said "jambo", waving with both hands to the children. We also had a chance to speak to the adults in its alternative income group, where members handcraft rungus, traditional wooden weapons that can kill a lion, to sell through the Me to We artisan program in exchange for money often used to improve the lives of their children.
I got involved in a (very broken) conversation with one of the women smoothing the weapons with broken pieces of glass, who became mesmerized with my iPhone. Swiping through the photos and videos, one in particular caught her eye.
Lingering on the image of those Kisaruni girls, heads shaved and dressed in colourful traditional garb, she pressed the play arrow and the scene of their performance the day before came to life.
"Your school?" she asked.
"No," I said. "Kisaruni."
Her eyes and mouth widened. A squeal of delight emerged from this otherwise composed and demure woman and she called to the others in Swahili -- the only word I could make out being "Kisaruni."
She played that video again and again, until my battery finally died.
I realized then that it may have been the first and only time this woman and her friends saw the fruits of their labour -- the only chance they may ever have to see young girls, no doubt some from their community, at their cherished high school.
At first, those alternative income groups focused on women; as mothers they were most directly concerned with seeing children go to school.
But men, traditional heads of the households, began to notice how much money the beading and craftwork the mamas groups were pulling in. Now, men are increasingly getting involved in alternative income projects to help improve the lives of their children.
Take Setanik, a security guard at Me to We's Bogani camp by night, who started the Emori Joi men's group two years ago and is also a community organizer by day. Setanik hopes that through the sale of decorative rungus for tourists he can put his children through school and ensure they have a brighter future.
Setanik, a charismatic and animated speaker and leader in the Emori Joi community spoke with me through a translator, lamenting that if he had the education his children have now, he might be speaking to me in English.
Education is the sole focus for these communities who recognize it's the solution to pulling their children out of poverty, so men are okay with following the example set by the women.
"We saw what Free the Children was doing, coming together to help our children, and thought if they are coming together we should too," he said to our translator, Philip, a Maasai warrior.
And, he says, the idea is spreading to other communities.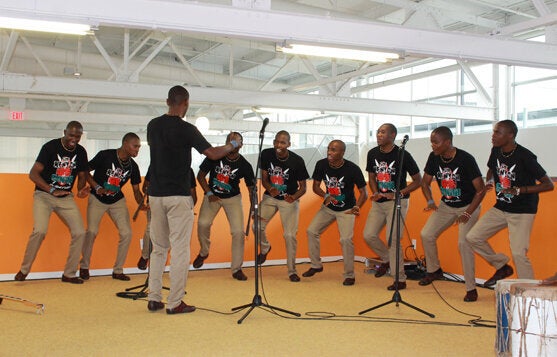 Setanik is also chairman of the Set Kobor Self-Help Group, his community's Savings and Loan Association, a group of villagers who pool their savings and dole out small loans to community members looking to start a business or improve their homes and offer a 10 per cent interest rate compared to the bank's 28 per cent.
Setanik hopes to build enough savings to one day open a small stall to sell cell phones and other gadgets at the Mulot outdoor market to the poor people throughout Kenya's Narok south district, some of whom walk for kilometres for a week's supply of food and other necessities.
At Mulot, there are no escalators, no security guards and no storefronts. We are the only foreigners; it's obvious as we clumsily navigate our way through donkeys, vendors hawking the largest avocados I've ever seen and piles of worn shoes being scrubbed then dumped into a pile on a tarp.
While Kenyan authorities work to piece together how the tragedy in Nairobi unfolded and how to prevent another terrorist attack on its soil, the people of rural Kenya continue to struggle with more rudimentary, but no less dire, challenges -- spending their meagre market budget to buy maize to feed their family or a school sweater so their children can get an education.
And even with so little, they are the most appreciative people I have ever met. The experience was life-changing, humbling. In village after village, the people stream out to thank us, to touch us, not for anything I've done, but because of our affiliation with Free The Children.
In Pimbiniet, a village on a steep hill that built a road to work with Free The Children, men in the community scraped their money together to offer us a goat for a feast -- an overwhelming gesture of gratitude that is so undeserved.
Setanik, through Philip, tells me that his whole community says "hi" and "thank you" for my interest.
The world may be focused on the shocking attacks in Nairobi. But this is the heart of Kenya that deserves our attention.
For a video of the Kenyan Boys Choir perform at the Cossette/ Vision 7 Offices in Toronto, click here.