As they wished, Rika and Adrian's wedding was a beautiful day filled with love and family. But it came together a year ahead of schedule in a way they never expected.
Last fall, Adrian's father Anthony started complaining of abdominal discomfort. He loved eating out at restaurants, so thought it was just something he ate. But the pain persisted and worsened, precipitating a visit to the doctor. Tests were run and then the devastating news was delivered: Anthony had stage 4 colon cancer. Within a matter of weeks, Anthony was admitted to the Sunnybrook palliative care unit.
Adrian and Rika knew his illness was becoming more severe, so with Anthony's blessing, decided to get married at the hospital. They wanted him to bear witness to the wedding, and have his fun-loving spirit forever be a part of this incredibly important day.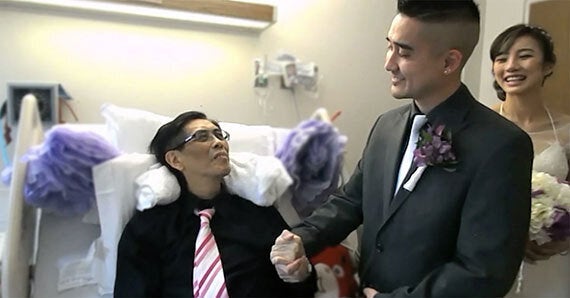 "He was really happy on that day," says Rika. "We were able to enjoy his best moments and have that on video and camera so we can cherish that memory."
They are sharing their story because they want others to know about Anthony's incredible spirit, and the lessons they can learn from his own journey.
The day wouldn't have been possible without the help and support of family and friends. From the dress to the food and décor, many helping hands came together to make the event feel like a real wedding. And some of those hands were those of staff. Radiation therapist Erika Hammer remembers hearing about Rika and Adrian's plans to wed through some co-workers who were treating Anthony at Sunnybrook's Odette Cancer Centre. In a serendipitous twist, Erika is also a wedding photographer with Ten 2 Ten Photography. She volunteered to come in on her day off to capture the day.
"What I've learned in my time in the industry is that it really doesn't matter how long you plan your wedding for or how grand it may be," she says. "What matters at the end of the day is that you're married, and you got to spend that time with family and those who love you."
The memories of the wedding and photographs will be forever cherished, say Rika and Adrian. Anthony passed away in early February, not long after the ceremony. And they are sharing their story because they want others to know about Anthony's incredible spirit, and the lessons they can learn from his own journey.
One is to ensure people get regular check ups, and don't ignore physical changes that could signify a health problem. "[Anthony] hadn't gotten a check up in ten years and that added to the lack of knowledge and inability to know the difference [between symptoms]," says Rika. "When it's too late there's not much you can do, and it seems like there is so much more pain." To determine how often you need check ups or screening, be sure to talk to your doctor.
They also want to make sure that family members discuss their wishes for end of life, a process known as advance care planning. "It's a tough conversation to have because you don't want to seem like you've given up," says Rika. "Some family members didn't want to talk about it, others wanted to avoid it. We just wanted to talk about it because we didn't want to have regrets. There are still regrets, but at least we tried our best."
"We didn't plan to have our wedding in a hospital," says Adrian. "But under those circumstances, I think we've done pretty well."
"Love is not necessarily big extravagant, but it's more doing it in a meaningful way."
Written by Monica Matys, Communications Advisor at Sunnybrook.