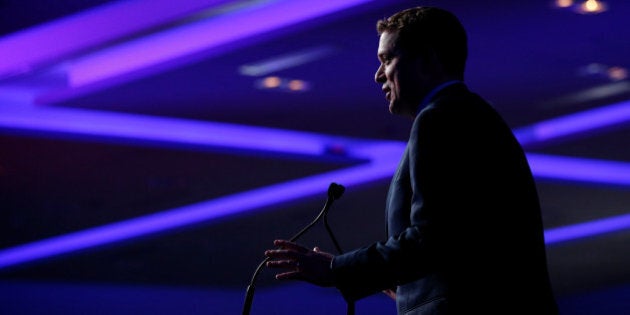 The Conservative Party elected Andrew Scheer as leader in a major upset win over popular libertarian conservative favourite Maxime Bernier during the party's leadership convention on May 27, 2017. However, as the newly sworn in Leader of Opposition took on his first face-to-face encounter with Prime Minister Justin Trudeau in House of Commons last week, questions remain regarding the legitimacy of his victory and his more-than-subtle vision to unite the Conservative Party for 2019.
In September of last year, Scheer announced his bid for the leadership of the Conservative Party as the youngest candidate who was also largely favoured by the establishment. As the former Speaker of the House and Opposition House Leader, Scheer was the candidate with the most Conservative Party caucus endorsements during much of the race, until fellow candidate Erin O'Toole surpassed him in March of this year.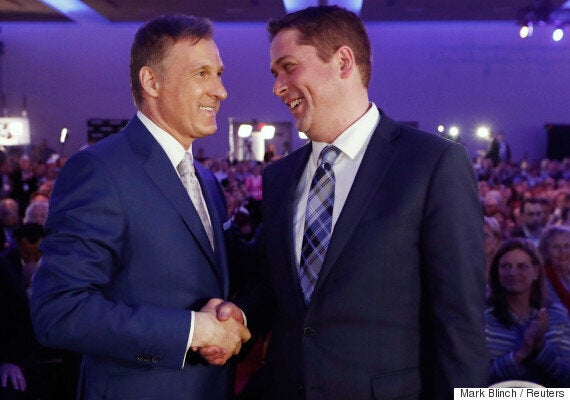 Scheer was positioned in a solid third place throughout the race according to various polls, before surging into second place after reality TV star Kevin O'Leary's sudden exit from the race in late April. Then, with a razor-thin margin of 50.95 per cent to 49.05 per cent of total vote points on the 13th round of ballot, he won against favourite Maxime Bernier on the leadership convention night in a ranked ballot system.
It was reported on various major news outlets later that Scheer's campaign also carried a "Andrew Scheer is my second choice" sub-campaign which may have had an effect in contributing to his overall winning results on the election night, scrapping in more second and third choice ballots than otherwise expected from moderate and non-mainstream social conservative voters.
Scheer's vision and rhetoric pose questions and doubts on whether he can truly unite the different factions within the party.
Understandably, enthusiasm over Scheer's win is not shared by everyone within the party. After all, Scheer only won by 1.9 per cent of total vote points over Bernier on the 13th round of ballot, and 53 per cent in popular vote with 23,225 votes discarded by 13th round, enough votes to have swayed the final result of the race between the top two contenders (if these ballots were counted). 16.4 per cent of total ballots were discarded by the 13th round because they either did not rank Scheer or Bernier on the ballot, or simply failed to rank any other choices after their preferred candidates were dropped from previous rounds. As well, Scheer only won on the 13th round of ballot, more or less emphasizing the lukewarm reality that he is "everybody's second choice."
In addition to his slim margin of victory, Scheer's vision and rhetoric pose questions and doubts on whether he can truly unite the different factions within the party. Starting from the first day as party leader, he has been popularly branded as "Stephen Harper with a smile and dimples," referring to the lighter touch of Stephen Harper era conservatism that he embodies, which has been welcomed with more than open arms by the party establishment, but is skeptical to the eyes of outsiders and non-incumbents of the party.
Will Scheer embrace those factions within the Conservative party that diverge from what he stood for during his campaign? More specifically, will he be able to win over the progressive and libertarian conservative wings of the party that have so rapidly expanded since the end of Harper years? Both vote counts and voter turnout have shown that these wings of the party have grown substantially, and disregarding them to simply satisfy what some call the "core conservative" base may mean a smaller and more divided Conservative Party for Scheer moving forward to 2019.
Other questions one may pose around Mr. Scheer is: does he offer any visionary change from the success and failures of the 2015 Conservative campaign? What is his new Conservative brand and what will it contain? In reality, the core Conservative brand may really need a rejuvenation to make it appeal to Canadians or be stuck with reminiscence of the Stephen Harper years -- the good and the bad. During the next two years, on top of brushing up his shaky French, if Scheer wants to be even remotely competitive against Liberal Justin Trudeau, he needs to show enough leadership initiative within the Conservative party, outline a bold forward-looking vision, re-engage the millennials that the party lost in 2015 and re-brand himself successfully in the minds of average Canadian voters.
Currently, the path to victory looks slim for Scheer as no majority government in Canada has ever lost a second-term mandate since the Great Depression. Furthermore, it seems like much work still need to be done on his polling numbers compared to the Liberal incumbent Justin Trudeau.
Concern over result legitimacy
In response, the Conservative Party maintained a line of defence and emphasized its decision to uphold the result of the vote, pointing to party rules where appeal or recount is not accepted.
The path to victory is going to be more than rough for Scheer.
Some within the party are alleging all those who are calling for attention on vote system re-examination are experiencing "sour grapes" and are destroying the unity of the party. However, it seems equally not helpful to cast a shadow over so many questions in a close leadership result like this one, especially if there are possible discrepancies in the final result. The truth is that, frankly speaking, the losing side consists of almost half of the Conservative Party membership base, shown through both vote counts and voter turnout, and they may need a more convincing answer or assurance to continue supporting the party in 2019.
If Leader Andrew Scheer wants to unify and bring forward a stronger Conservative Party to Canadians in 2019 like he has said he will do, he needs to address his legitimacy concerns properly, to both campaigns and supporters of the party, in order to restore conservative grassroots' faith in the party establishment. He also needs to find the challenging solution to unify the different factions within the party that have grew so sharply divided from one another, as a result of the year long fiercely fought leadership race with 13 ideologically differing candidates. The path to victory is going to be more than rough for Scheer.
Perhaps a good way to start the uneasy process of post-election reconciliation is to publicize the detailed voting results in a press conference as oppose to a private caucus-member-only meeting, and propose necessary changes to the party's leadership voting process, especially in regards to the highly problematic ballot mail-in process, to restore transparency in such a process for the future.
Follow HuffPost Canada Blogs on Facebook