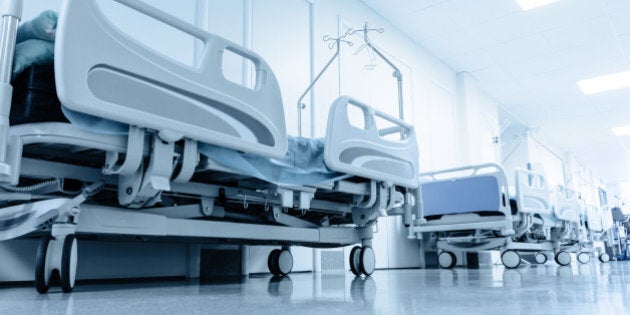 In August 2015 my 83-year-old mother went to the hospital to have a drug interaction dealt with. Less than 24 hours later the doctor called me to say her medications had been adjusted and she was fine for discharge. Shortly after that the doctor called back to inform me that the private assisted-living facility my mother was living in was refusing to let her back in and they were legally allowed to do so.
Since then she has been stuck living at this hospital with no medical reason to be there while she waits for a long-term care room to become available. This scenario is so common nowadays that a new category of care had to be defined to describe the status of patients such as my mother: Alternate Level of Care (ALC). A patient may be designated as ALC if he or she is occupying an acute care hospital bed but is no longer acutely ill and does not require the intensity of resources and services provided in an acute care setting. Currently 15 per cent of all Acute Care hospital beds in Canada are occupied by ALC patients who do not need or want to be there.
Our family continues to advocate to get my mother out of the hospital and moved into the same facility my father lives in.
Before I continue I would like to make it clear that the hospital itself is a fine facility and no doubt its doctors and nurses achieve miracles on a daily basis on behalf of the sick and injured. The staff are friendly and kind to my mother. Everyone does their best but no amount of smiles and professional check ins can smooth over the failure of health-care policies that have left her stranded here. Why are private assisted-living facilities that are licensed by Alberta Health Services allowed to kick out their residents with little to no oversight or scrutiny? How is it that a province like Alberta that has experienced many decades of wealth and prosperity has allowed itself to have such a massive deficit of long-term care beds?
Speaking personally on the real life consequence of this failure of the seniors care system I would like to share some observations about what my mother has to deal with. It is fair to assume that the 7,500 other Canadians who are also stuck living as ALC patients in hospitals across the country are facing similar scenarios.
The day she gives up and decides it is okay to stay in a hospital gown is the day we start to lose her.
My mom is in a shared room with three other people. She feels uncomfortable about sharing the same bathroom with the men in her room. The people in the other three beds come and go as strangers, all of whom are facing their own crises. She has no window and a curtain is the divider between her and the next bed. The closet is suitable for night clothes, but not for a person's wardrobe. Though this may seem like a trivial point, part of what keeps my mother going is making the effort to look nice. Like many ladies of her generation, she gets her hair set once a week and gets dressed in her nice outfits every day. The day she gives up and decides it is okay to stay in a hospital gown is the day we start to lose her.
There is no room for a reclining chair so she sits in her motorized power chair from morning to night. When she needs to put her feet up to prevent swelling she has to do so in bed. Lights are always on, the room is full of extraneous sound from beeping machines, other residents' TVs, staff pages and overhead announcements. The shared room is always busy with a stream of nurses, doctors, therapists, LPNs, cleaners, volunteers and visitors.
My mother does her 'book work' by laying her paper work out on her bed. She goes down the hallway when she is feeling down because she is embarrassed to have others hear her cry. She eats three meals a day in her room as hospitals are not designed for patient interaction. This is the same reason there is no recreation program for her to take part in. She lives between the strange reality of having zero privacy and a high level of social isolation.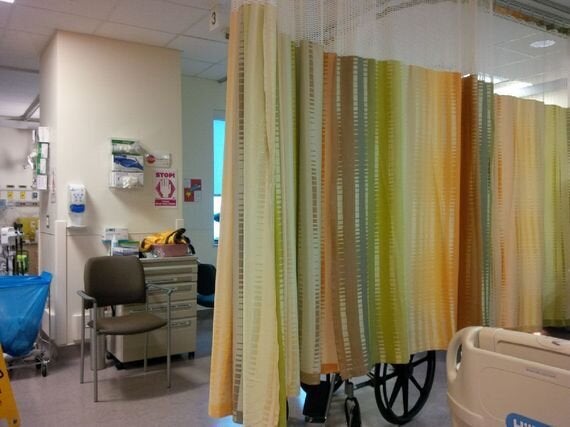 These living conditions are starting to take their toll.
I asked my mom to tell me what her days are like. Her response is that every day is boring with nothing to do. She drives up and down the hallways aimlessly. Alarmingly at one point she had befriended a using OxyContin addict. She stopped talking about that person so I can only assume she was discharged.
These living conditions are starting to take their toll. For the first month she was so shocked about her sudden and forced homelessness that she assumed there must be people in charge who would fix things as soon as possible. In the second month she was becoming increasingly nervous and worried that she was being monitored and she needed to be on 'best behaviour.' By the third month she was fixated on her husband and feeling guilty and frustrated that he was living (with a terminal diagnoses) at a long-term care facility 35 km across the city and she was only able to visit him once during the week with the assistance of a paid companion. (Her routine improves most weekends when family visits and gets the two of them together and out and about in the city).
Now my mother is starting to give up hope. She feels helpless with no ability to change her situation, angry at the assisted-living facility that barred their doors to her and depressed by the growing realization that she is stuck living with the consequences of a health-care system that does not seem to have any answers. Even though the representatives of Alberta Health Services seem nice and genuinely concerned they do not seem to be able to solve this problem.
None of what I have written so far addresses the most serious consequence of all. Healthy people can get sick in hospitals. They are surrounded by illness and exposed to potentially virulent hospital bugs. Canadian studies have identified that people like my mom have a much higher risk of getting seriously ill and dying simply because they are living in a hospital rather than living in a facility that is more appropriate to their needs. This is somewhat paradoxical considering that the private assisted-living facility that imposed this move on my mother justified their decision on the grounds that this was the best thing for her well being and quality of life.
For more information you can go to my blog.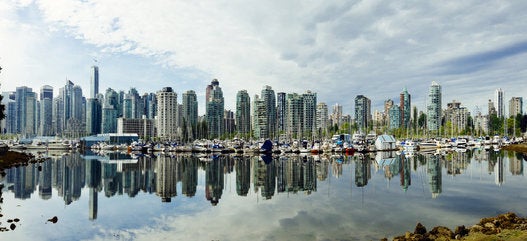 Canada's Most and Least Healthy Places, As Mapped By The 10 and 3