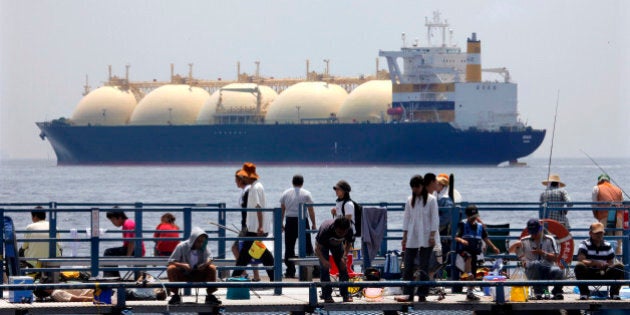 Recently the National Energy Board approved Trans Mountain Expansion Project. It's the first piece of good news the energy industry has had in quite some time. But it (hopefully) will not be the last if decreasing global (and not just domestic) emissions is truly Canada's goal.
Canada has a remarkable opportunity to significantly boost Canadian economic growth and lower global greenhouse gas emissions with the Pacific Northwest LNG project. This $36-billion infrastructure project in British Columbia will convert natural gas into liquid natural gas for shipment to Asia.
The price of natural gas in North America has been at rock bottom levels. Recently, Alberta's benchmark natural gas prices hit $1.24/ MCF, its lowest level in 18 years. Meanwhile, Asia desperately needs natural gas and prices there are three times what they are in North America.
Not surprisingly, around the world, companies (and countries) are rushing to complete their various liquid natural gas projects to take advantage of this significant natural gas price gap.
British Columbia is one of the jurisdictions racing to supply Asia with LNG. Because there are more LNG proposals under consideration than there are needs in Asia, this opportunity is a race against time, or more accurately, a race against hundreds of other projects around the world.
This is a first come, first served opportunity.
What is driving Asian demand for natural gas? They, like us, are trying to reduce GHG emissions. They, like us, want to replace coal generation with cleaner options. And natural gas is a critical clean option.
Being shut out would be both an economic and environmental disgrace.
Canada does not just stand to benefit economically from this large infrastructure project -- the first of many; it does not just stand to benefit from long-term royalty and tax benefits from LNG extraction and sales. By approving this project, Canada will directly contribute to a net reduction in global GHG emissions because our natural gas will offset coal.
Everyone knows that global warming is not just a Canadian problem. It is a global problem. A small increase in emissions in Canada that contributes to a reduction in emissions in Asia will result in an overall net global GHG emissions reduction which from a political perspective should be every bit as good as focusing on reductions in emissions in Canada (I'd argue, better).
And there is the key question: Should we allow a slight rise in Canadian emissions in service of lower overall global emissions?
British Columbia has said yes, which is why it gave the project its Environmental Assessment certificate in November 2014. It has publicly and strongly made the case that the increase in GHG emissions from the project should be considered in the global context of reducing overall global emissions -- especially in Asia.
The problem is, neither our federal government nor the recent Paris agreement they signed, measure results of global targets. Because the Pacific LNG project will increase GHG emissions in Canada, the global race to supply Canadian LNG to Asia and reduce global emissions is at risk as the federal government has delayed approval for the project.
In a classic case of wasted duplication of processes, both the province and Ottawa have conducted separate environmental reviews. Ottawa's Canadian Environmental Assessment Agency produced a draft report this past February that green lighted all aspects of the project except the increase in GHG emissions. It notes the risk to Canada's GHG emissions target by 2030 -- thereby making this project political fodder.
Instead of issuing its final report when the comment period ended in March, the federal minister granted the agency a three-month extension. A large number of late commenters urged the agency to recommend that the project be turned down on the basis of increased GHG emissions in Canada. From a global environmental perspective, this would be a mistake.
A recent study on Canada's liquid natural gas opportunity released by the School of Public Policy in Calgary stated, "Canada has almost everything going for it: political stability, free-market principles, immense resource, extensive infrastructure and industry experience. Everything, that is, except a coordinated regulatory and policy regime. Without that, Canada could be shut out..."
Being shut out would be bad news for Canada's economy as we may lose the global race to supply Asia with natural gas at a time when the energy sector desperately needs an economic boost.
Being shut out would be bad news for global GHG emissions as we may lose out on the opportunity to contribute to a significant reduction in global GHG emissions by focusing on Asia.
In short, being shut out would be both an economic and environmental disgrace.
Susanne DiCocco leads a consulting practice in Calgary and has 18 years experience in the public sector and the energy industry.
Follow HuffPost Canada Blogs on Facebook