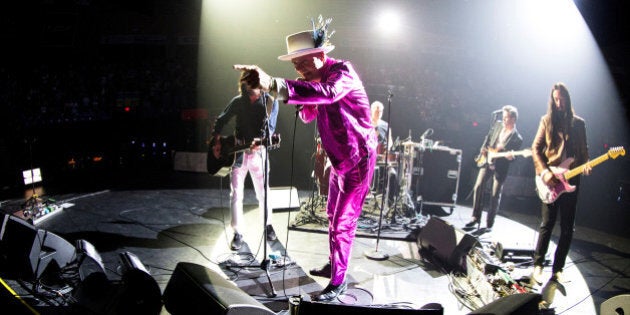 If you are tempted into buying a knock-off version of Tragically Hip's final tour T-shirt at this Saturday's concert in Kingston or at your local Hip bash, I ask that you to please remember the cause, too.
Gord Downie has chosen an excellent -- and personal -- benefit for his final tour. Glioblastoma (GBM, or stage 4 brain tumour) is among the number one causes of death for 40 to 60 year old Canadians. It also affects children and adults of all ages, without any genetic predisposition. Thanks to Downie's push, HUGE milestones can be reached in this disease, already at the forefront of medical breakthroughs.Ten years ago, patients with the disease were given months to live. Nowadays, because of advances, some patients survive years.
I've witnessed firsthand the benefits of aggressive treatment: When my beautiful mother, Sharon Wexler, PhD, was diagnosed with a GBM in 2011 while vacationing in Florida, she was given a devastating six months to live. She decided to go home and be treated at The Neuro in Montreal instead.
Good thing she did. Dr. Kevin Petrecca -- a pioneering neurosurgeon who recently invented the Raman probe to detect microscopic cancer cells, and now chief of neurosurgery and brain cancer research at The Neuro -- performed a 10-and-a-half hour craniotomy on my mom, removing her entire tumour with a two-centimeter margin of normal tissue (the neurosurgeon in Boca had proposed a three-hour operation).
Thanks to Downie's push, HUGE milestones can be reached in this disease, already at the forefront of medical breakthroughs.
Thanks to this remarkable surgery, supported by chemo and radiation treatments, Sharon survived almost four years, and her tumour never returned. Sadly, she passed away of rare post-operative complications and treatment-related declines last year. But with her extended days, she delighted in countless meals with family and friends and enjoyed three new grandchildren born.
It has been said before: It took courage for Gord Downie to announce his terminal GBM brain tumour to the public.
"His final concert could have been just as successful had he said nothing about his illness," noted Susan Marshall, chief executive of the Brain Tumour Foundation of Canada.
Many celebrities keep mum about their terminal illness, even Nora Ephron, a champion of the confessional essay. Early in 2016, David Bowie kept his cancer secret and channeled his inter-galactic creative energy into his final album, Blackstar, which gave hints towards his demise.
Downie, however, announced his story to public (fully, completely) on May 24, 2016. He had an incurable GBM, according to Dr. James Perry. Furthermore, Downie also did the incredibly mensch-y thing by stating that proceeds from his farewell tour would be donated to The Gord Downie Fund For Brain Cancer Research at Sunnybrook Hospital where he was treated.
Exactly how much of Downie's raised funds will go towards the hospital is unclear, along with whether this money will be allocated to new drugs, surgical techniques and/or genetic therapies, all great potentials listed on the hospital's website.
But given the Canadian climactic moment of Saturday's final Tragically Hip show in Kingston, Ontario, naturally (if making money is your nature) people will be out hawking homemade iron-ons at the show itself or at a local Hip party.
So, again: Don't buy faux-Hip T-shirts at the Man Machine Poem farewell concert! Or if you are tempted, please remember Downie's great cause, brain cancer research, too.
Merch is probably where the bulk of The Hip's tour's money is being made, after all. At prior shows, the operating hours of the (clearly indicated) "official merchandise" stands were reportedly 11 a.m. to 1 a.m.
T-shirts on the TheHip.com have been long sold out.
Downie's impact on brain cancer awareness in Canada has been immense.
"Brain cancer is usually very difficult for people to talk about... And what Downie has done is encourage so many other people to come forward with their stories too," Marshall said.
Many fans have created initiatives, such as #Courage4Gord, where maple leafs on red cardstock will be distributed at Saturday's show, featuring the hashtag and donation instructions to his Sunnybrook charity. The intention is to send well-wishes to Downie as he plays the song "Courage," stoke social media and encourage donations. The blog associated with it is #Courage4GordKingston.
As for Marshall, she has asked those in her network who are making satellite parties during The Hip's final Kingston show to give proceeds to the Canadian Brain Tumour Registry Project, an initiative of The Brain Tumour Foundation of Canada.
Does she believe the Brain Tumour Foundation of Canada's Registry fund takes away from The Hip's Sunnybrook charity?
"I would be fundraising for it anyway," Marshall said. (There is a message of courage on the Foundation's website.)
Also, she noted how Downie's announcement about his illness has given momentum for GBM awareness and causes all throughout Canada. This ripple effect can benefit the tens of thousands Canadians currently suffering from brain cancer -- and have an actual impact on current and future patients, possibly extending the life of someone's mother or father, husband or wife, son or daughter, or a friend.
As for myself, I will be handing out information at The Neuro's booth on Monkland Ave. in Montreal where The Hip's final show will be live-streamed at an outdoor street festival. I, along with several others, have co-founded The Neuro's A Brilliant Night gala, in honor of my mother, Sharon Wexler, and other loved ones who were, or are currently, stricken with brain cancer.
This year's event will be held on Wed. Oct. 19, 2016 at Windsor Station in downtown Montreal and will once again feature the coolest, most cutting-edge immersive entertainment and music. Proceeds will go towards Dr. Petrecca and his research team, who are coming up with next generation ways to extend more patient prognosis into the three- to- five-year range, and who even dare hope for a cure.
Thanks to Downie's help, and his inspiration, we can all be ahead by a century when it comes to ending this disease.
Follow HuffPost Canada Blogs on Facebook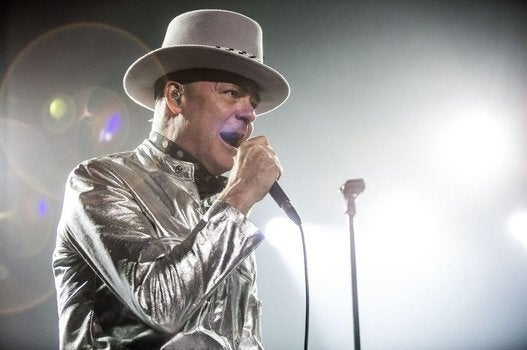 Tragically Hip "Man Machine Poem" Tour