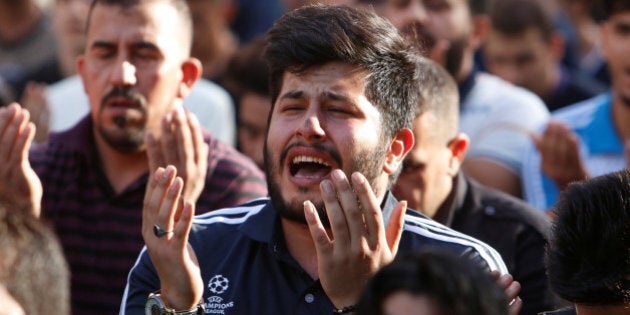 Today, Muslims around the world are celebrating Eid and sharing Eid greetings.
But those greetings are not flying too far this time.
They are heavily soaked with the weekend bombing in Iraq that caused more than 250 lives.
IS has taken the responsibility.
Saudi Arabia got struck by three suicide attacks two days before Eid. One of Muslims' holiest mosques in Medina was the target as well. Saudi authorities have identified a suicide bomber a Pakistani national.
Another horrifying terror act happened in Bangladesh that was reportedly led by a Canadian Bengali Jihadist, Tamim Chowdhury, who is also considered IS Chief in Bangladesh.
Twenty foreign hostages were killed during a siege at a cafe in Dhaka.
Another Islamist related terrorist attack occurred in Istanbul airport in the last week of Ramadan, killing 45 and injuring over 200.
Yemen was rocked with terror attacks on June 28th.
The attacks targeted fasting Yemini soldiers and civilians in Al Mukalla city. ISIL claimed that their eight suicide bombers killed 50 people in those attacks.
On the 27th of June 2016, at least five people in Christian village of Qaa in Lebanon were killed.
On 12 June 2016, an American Muslim, Omar Mateen killed 49 and injured dozens in a gay nightclub in Orlando.
On 8 June 2016, the second day of Ramadan, two Palestinian men shot and killed four people and injured seven in Tel Aviv, Israel. Hamas praised the attack.
When my niece saw me this Eid morning writing this piece and collecting all those killing numbers scored by Islamists' terrorists, she was very objectionable towards my writing and accused me of falling into traps of western media.
She showed me many video clips and pointed to many articles from Western media that were supporting her argument. For instance, she showed me a famous social media picture spread by Muslim activists.
This caricature illustrates satirically that if a shooter is a Black he will be called a Gangster, and if a shooter is a white he will be known as a troubled loner or mentally ill and if a shooter is a Muslim he will immediately be identified as a terrorist, etc.
My niece, not being a religious Muslim, but rather a kid caught up in an identity crisis and feeling burdened by terrorist acts in the name of Islam, is defensive all the time.
I tried to convince her that Western media is also showing her point of view over and over.
Also Western leaders including our Canadian Prime Minister Justin Trudeau have sent out the message of love and respect to fellow Muslims on this occasion of Eid.
I agreed with her that all Muslims are not terrorists but I told her my opinion that unfortunately many terrorist incidences today are related to us.
I also gave my opinion to her that instead of being defensive, caught up with political correctness or playing with blame cards or conspiracy theories, we Muslims and our Islamic organizations need to take stand against the black sheep among us.
Without cleaning our own dirty laundry, Eid Mubarak greetings won't take us too far.
Follow HuffPost Canada Blogs on Facebook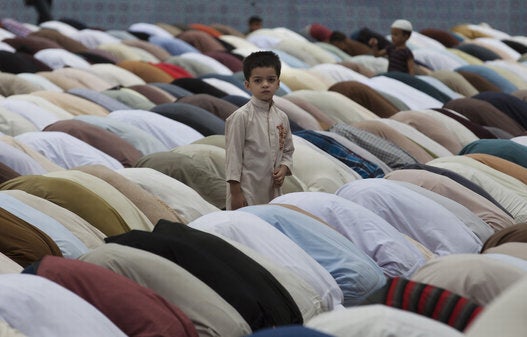 Eid-al-Fitr Around The World 2015