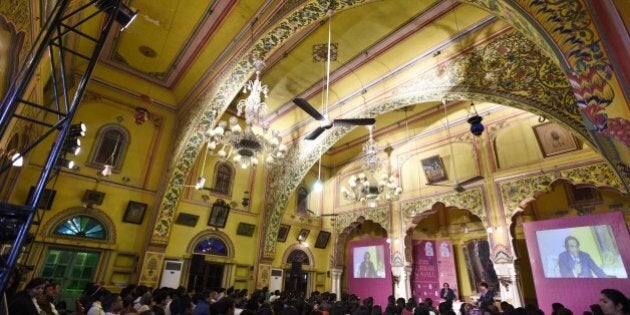 It was a pleasure participating as a Guest Delegate in India's Jaipur Literary Festival, which claims to be a world's largest Literary Festival.
Jaipur Literary Festival 2016 marked another success story of the event with a record presence of Indian youth, showing their interests to delicate issues such as 'Decoding India's Visual Culture', 'Ancient Indian Knowledge System', 'Fiction and Economics', 'The Poet and Privacy', 'The Politics of Inequality' and hundreds topics alike.
The world's largest Literary Festival also drew writers, poets and intellectuals from all over the world as well as writers, thinkers and artists of diverse background from all across India.
Canadian Author Margaret Atwood took the lead this year by her inaugurating speech.
She concluded her speech with remarks: "As we know from reading stories, a happy ending often includes a feast, but today is not a happy ending -- today is a happy beginning."
The festival was featured by the presence of high profile Indian writers, journalists and celebrities such as Barkha Dutt, Javaid Akhtar, Gulzar, Akshay Kumar, Anupam Kher, Shatrughan Sinha, Karan Johar and many.
Filmmaker Karan Johar seemed too much concerned about the Intolerance Debate which has put Aamir Khan, Shah Rukh and Karan Johar on one side and Anupam Kher, Kajol, Akshay Kumar, Shatrughan Sinha and Madhur Bhandarkar on the other side.
Filmmaker Karan Johar went on emotional and harsh on the very first day of the festival by stating "talk about freedom of expression is the biggest joke in the world and democracy is the second biggest joke".
Shatrughan Sinha responded "a lot of people from the film industry brought up the issues of intolerance in haste, and it is childish to do so. I don't stand by them in this regard." Sinha also indicated that he agreed with filmstar Kajol's remarks at the festival recently about there being "no barrier, no line, no caste or creed in Bollywood."
Anupam Kher, who also attended a session at Jaipur Literature Festival, said, "It's ironical, that the issue of intolerance is being felt by the rich, the intellectuals, the ones who move around with bodyguards."
"I think it is a joke. People talking about intolerant India is a joke. Some of them may be my colleagues; the fact that they can make statements like this is a proof enough that there is freedom of speech," stressed Aupam Kher further.
An accomplished TV journalist Barkha Dutt reflected on her latest book This Unquiet Land,and shared about her journey of journalistic persuasion. She also reflected on current burning issues around intolerance and the beef ban.
In 2014 India elections, Indians clearly delivered their mandate to Bharatiya Janata Party to set the future of India under their Nationalist Approach.
Some critics, opponents and political rivals call their approach Hindu nationalist approach. Even so, the BJP clean sweep revealed the majority of Indians' aspirations to stand on their identity rather than being called politically secularists.
In my humble opinion, secularist politics in India means politics of accommodating minorities, especially Muslims who are little less than 200 million there.
If that huge number integrates in the society rather than sticking to their ghettos they can change their fate. Also they wouldn't be needed to be accommodated in India -- they would be owing India.
Hindu nationalists, in fact, love Muslims' flowery Urdu language and their Islamic traditions.
India's iconic Bollywood industry from its beginning till today rallies on Urdu songs, Muslim poets and actors.
Hindus are relatively tolerant to other cultures and religions. It's up to other cultures and religions to intermingle with their host traditions. Multiculturalism and interfaith are not a one-way phenomena. Every culture and religion has to get along with others.
So in this new phase of India, new debates are opening up.
Also one could see countless books in Indian book stores that talk about Muslims' plight in new phase of India. The Book store set in Jaipur Festival was displaying books by Christophe Jaffrelot, such as "Muslims in India - Trajectories of Marginalisation."
Books on Pakistan and India's 1947 partition were quite prominent. Christophe Jaffrelot's title 'The Pakistan Paradox: Instability and Resilience' and M.J. Akbar's title 'Tinderbox - The past and Future of Pakistan' were on top shelves in Indian books stores as well as in Jaipur Literary Festival.
This Festival indicates that Indians seem jubilant today in terms of contributing at world stage more vehemently than before. There is no doubt that India's culture is parallel one to the West. It's a nation of colours, spices, dances, music, spirituality and magic.
Not just Indians, all South Asian countries and communities should take pride of India's new flight towards prosperous and colorful skies.
Follow HuffPost Canada Blogs on Facebook