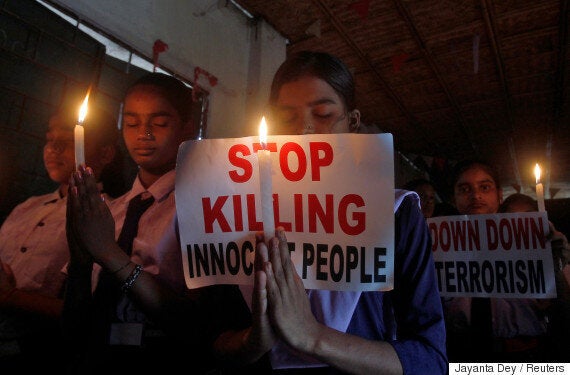 School children hold candles and placards during a vigil for the soldiers who were killed after gunmen attacked an Indian army base in Kashmir's Uri on Sunday, in Agartala, India, Sept. 19, 2016. (Photo: REUTERS/Jayanta Dey)
The recent terrorist attack on an Indian army base in Uri, Kashmir -- resulting in 18 soldiers' deaths -- has strained the relationship between India and Pakistan once again.
India summoned Pakistan's High Commissioner in Delhi and presented to him evidence of Pakistan's role in the Uri terror attack.
India's Foreign Secretary Jaishankar called in Pakistan's High Commissioner in Delhi and demanded that Pakistan lives up to its public commitment to refrain from supporting and sponsoring terrorism against India.
Fuelling India's concerns, Pakistan's Prime Minister Nawaz Sharif called a terrorist, Burhan Wani, a hero in his speech in United Nations' General Assembly Meeting in New York last Wednesday.
India's Minister of State for External Affairs M.J. Akbar criticized Sharif for glorifying Wani, who was killed in an encounter with security forces on July 8, and said India will not succumb to the blackmail tactics of a Pakistan government that seems eager to use terrorism as policy.
Akbar himself is a renowned author and intellectual. His remarks that Sharif's speech was one full of threatening bluster, rising immaturity and complete disregard of facts are not wrong.
Sharif didn't only glorify Burhan Wani, he also dragged out the Palestinian Intifada theory:
"Burhan Wani, the young leader murdered by Indian forces, has emerged as the symbol of the latest Kashmiri Intifada, a popular and peaceful freedom movement, led by Kashmiris, young and old, men and women, armed only with an undying faith in the legitimacy of their cause and a hunger for freedom in their hearts."
Pakistan's non-condemnation of the Uri attack in Sharif's speech is another alarming sign from the Pakistani establishment.
In the past, Sharif was quite reluctant to talk about the Kashmir issue, but it looks like the Pakistani army has put its words in Sharif's mouth.
On one hand, Sharif and the Pakistani establishment talk about their victimhood in the hands of terrorist organizations, but on the other hand, the following known terrorist organizations are operating in Pakistan -- allegedly with the support of Pakistan army and its intelligence agencies. Lashkar-e-Taiba/ Jamaat ul Da'awa, United Jihad Council, Harkatul Mujhaideen, Hizb ul Mujhaideen, Jaish-e-Muhammed, Harkat-ul-Jihadi-Islami, Lashkar-e-Omar, Lashkar-e-Jhangvi, Lashkar-e-Islam, Sepah-e-Muhammad, Sepah-e-Sahaba, Hizbut Tehrir, Islam Mujahidin, Jaish-e- Islam, Islamic Jihad Union, Tehreek-e-Taliban Pakistan (TTP) and Haqqani Network are few names in the list.
It's true that Pakistan and Pakistanis themselves are victims of terrorism, but this terrorism has been nourished by the Pakistani establishment itself.
The Pakistani establishment destroyed Pakistan in 1971 through its breakdown. This establishment is again seeding an environment ripe for another breakdown by destabilizing the region's peace, putting innocent Pakistanis' futures into question.
Follow HuffPost Canada Blogs on Facebook