In Italy eating wild plants has been central to the diet for the majority of the population from the fall of Rome until the end of WWII.
Why is it becoming popular again, and how has it been sustainable for so long?
I joined in a foraging event in the mountains of Central Italy, the Monti Sibillini National park, http://www.sibillini.net and I asked the event organizer, Michela Gionni, her opinion.
"In the 1950s and 60s factories opened up all over Italy and everyone thought that was the new life, and a good way to get rich. Later most factories have closed here, and people have realized it is a work that damages your health. Now people are turning back to nature with new eyes. No one ever feels content leaving a factory at the end of their shift, although the work is financially important. By foraging people can rediscover the cycles of nature. You loose that living in a city. Foraging gives people wellbeing," Michela says.
Foraging for food is nothing new in Italy.
Pythagoras apparently wrote a recipe for making a wild green salad (Ferretti 2014). The Italian expert, John Dickie, in 'Delizia, The Epic History of the Italians and Their Food', (2008) relates how one of the first cookbooks in Europe and the first in Italy, dates from Imperial Rome. The famous 'De re coquinaria', by Marcus Gavius Apicius tells Romans how to eat nettles, Urtica dioica, and other wild plants like mallow, Malva sylvestris. These wild foods are equals within a spectacular array of delights.
I ask Michela why she thinks Italians managed to forage sustainably, on a large scale, for thousands of years?
"Wild plants, or 'erbe di campo' have always formed the base of the Italian diet. At different times in history wild plants have been consumed by all and every social class. Maybe it's been so sustainable because we've always mixed wild foods with the practice of vegetable growing. Even today most everyone wants to grow their own vegetables."
Another vital aspect of sustainability Michela comments on, is the tradition of foraging all year around, whereby every period of the year offers a particular time for gathering certain plants. She explains that it's important to respect the growing seasons of plants and eat a very wide range of plants so that each plant has its season to mature.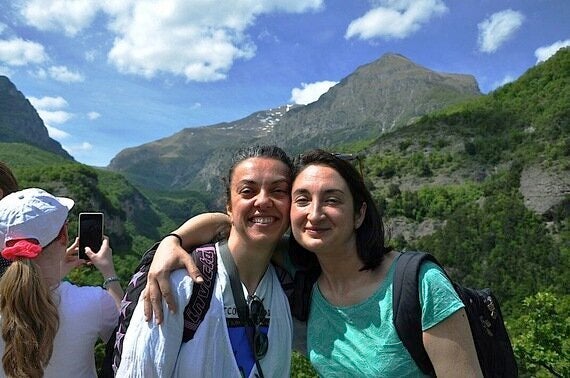 (Michela Gionni and a participant in Monti Sibillini National Park, foraging event)
A vast range of seasonal wild food is perfect for Italian cooking. Particularly in the mountains, where biodiversity has been damaged less due to low levels of industrial agriculture, life is more traditional and recipes are linked to the seasons in terms of celebrating particular wild foods and the harvest. Wild foods play a key role in traditional regional dishes in Italy, as Guarrera & Savo (2013) write in 'Perceived health properties of wild and cultivated food plants in local and popular traditions of Italy: A review' and many of the recipes are centuries old.
Within this seasonal eating, for example 'dolce', or deserts, are eaten at one specific time during the year, connected to harvesting the ingredients and traditional festivals. The dolce is not made again for a whole year. This may influence rural Italians' relationship to nature and creates a psychological difference compared to a North American view built upon choice and abundance, with supermarket aisles of sweets one can eat anytime on a whim.
Since this foraging event was in the Park, a protected area, it was a learning only experience.
Hot and thirsty from the educational hike, everyone assembled for a wild food based lunch in the mountains, at the rifugio restaurant in the hamlet of Rubbiano http://www.rifugiorubbiano.com A local white wine was ready for them, with the wild herb pimpinella, Sanguisorba minor, to give it a distinctive flavour.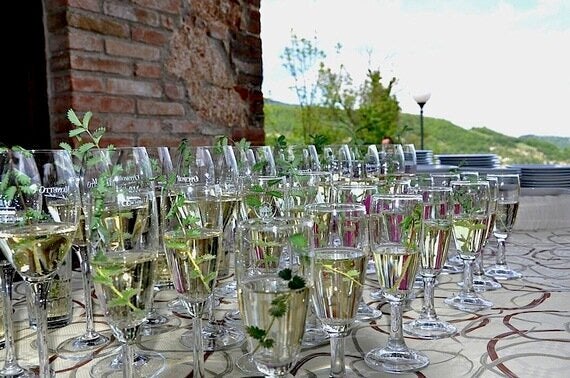 (White wine with wild herb, at mountain rifugio)
People came from different parts of Italy to participate.
Sabrina, from Rome, told me this was her first foraging experience and she had brought her young children too.
"For me," Sabrina said, "these wild greens taste very strong, and bitter. That's because I normally eat industrially grown lettuce, which has no flavour. It is very bland. My palate is accustomed to supermarket foods. That's why."
As well as a Swedish participant, there were two Slovakians.
I asked if foraging is big in Slovakia.
"Oh yeah," Juraj says. "It's what our grandmothers did."
So why come to Italy to learn about foraging?
"People are interested in foraging in Bratislava, but we don't do it. You have to have evolved through capitalism for this kind of thing. We started with capitalism in 1998. We haven't advanced out of it yet. But when we do I'm sure foraging will be popular in Slovakia," Juraj Mati tells me.
This is his third visit to Central Italy and his second time participating in this foraging workshop.
Italy may have a lasting advantage over Anglo-Saxon countries, where foraging is a fast growing fashion.
Obviously Italians are assisted by the climate, and the large range of species, yet the human factor is equally significant. Italians have a history of millennia of foraging and mixing wild foods with seasonal eating, plus an economy matured into a late capitalistic phase.
Perhaps these ingredients are needed to forage for the future, sustainably?
(Mountain settlement of Rubianno in Park where there is the Rifugio Rubianno)