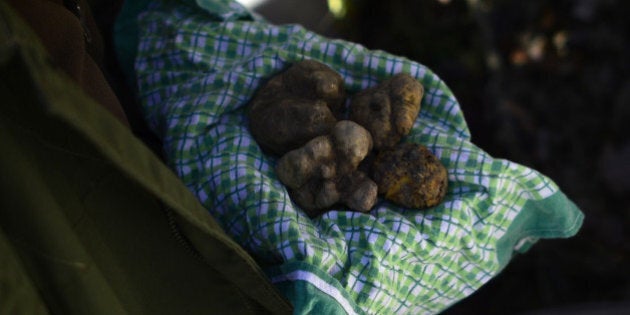 The season is upon us. Truffles are everywhere and the gossip is intense.
The mountains of the Apennines in Central Italy are the heartland for truffle culture. This area is utterly unique, or terrifically truffly, because it is the only place in Europe where there are different truffles for every season year round. Truffles should only ever be eaten fresh otherwise you are likely eating a chemical concoction -- see my article "The Real Truffle Your Nose Knows Not."
Although there are over 15 types of truffles, the main truffles here are those that consumers come into contact with most often.
This is the most famous truffle known as the white truffle that fetches the highest price. In this area it is harvested at the end of September. This truffle has a perfumed lingering taste that some people suggest is slightly garlic flavored. It is subtle but distinctively "truffle."
This is the lesser white truffle. In this area it is harvested from mid-January to mid-April. It is more pungent than the magnatum and not always pleasant. It is lower priced. Only an expert will be able to tell a magnatum from the borchii by sight alone.
This is the most popular black truffle. It is harvested here from the first of December to mid-March. It has a distinctive "truffle" taste, is also subtle and complex. It is the truffle best suited to a range of recipes since it maintains its flavor when semi-cooked. Truffles should never be fully cooked on any occasion! Normally it is second after the Tuber magnatum in price and desirability.
Recently, although sworn to secrecy since it represents a security risk, I was shown an enormous White Truffle found in the mountains. It was waiting to be collected by someone who had purchased it sight unseen, probably because the family is trusted.
The confusion between the Tuber borchii and the Tuber magnatum, both being white truffles, offers scope for profit by the unscrupulous.
The price for the Tuber magnatum depends on the abundance of the harvest. For example in the year 2000 they sold for more than the price of gold due to high demand and restricted availability. The large ones fetch astronomic prices, such as in 2006 when one White Truffle weighing more than a kilo sold for more than $US 150,000.
Contrastingly in many parts of Italy the Tuber borchii has a poor reputation and is often only used for preserved products or tinned. Some restaurants outside of Italy have started to serve the Tuber borchii. There is an argument that its poor reputation is based on being sold mixed with other more undesirable truffles that appear similar but have no commercial value like the Tuber scruposum, or the Tuber asa. Sometimes it is sold mixed with the Tuber dryophilum, which has even less intense flavor.
If these truffles were sliced fresh at your table it would be very hard to tell them apart, unless you were already familiar with the Tuber magnatum -- the pricey one. Restaurants and the middlemen who sell the truffles need to be honest and distinguish the different types. But do they?
The world of the truffle with its "grande mystique" is famed for passion, corruption, secrecy, and very occasionally shoot-outs between cultivators and truffle robbers. Italy and France represent the oldest, most traditional truffle cultures, and here in Italy truffle cultivators, truffle hunters, middlemen, and provincial scientists mingle in bars and cross paths in the tiny mountain villages. Having been party to a few of these meetings I was amazed to hear that this wetter summer has produced an abundance of Tuber magnatum. So much so, I heard it is selling this season at Euro 400 a kilo, which really represents an all-time low. As one grower joked: "Just when my trees produce for the first time I discover they are worth almost nothing."
This is not a price any of us will ever see in shops or restaurants. The real moneymakers in this business appear to be the dealers. But time will tell if the public gets to enjoy this luxury product at a more accessible price this season...
Meanwhile I endeavor to keep Canadians up to date on truffle news from Italy. Send me your comments please.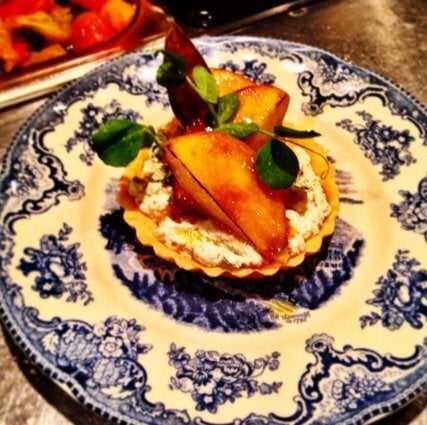 Top Canadian Restaurants 2014