Homage is being paid to one of the greatest goddesses of the past, in the mountains of Central Italy.
The Cybil or Cybele was the Magna Mater, the Mother of the Gods in the far east and then later in the Mediterranean according to Herodotus. Herodotus describes the sacking of the Cybele temple at Sardis in 498 B.C., which was apparently a magnificent structure 'formed of blocks of white marble of an enormous size' (Herodotus, Everyman's Library 1910:435).
The historian Domenico Francesconi (1982) relates that the Romans brought a statue of the Cybele from Pergamon to Rome in 205 B.C. and this focused popular attention to the idea of the Cybele or Sibyl in the Monti Sibillini.
In those times Cybeles were numerous. Varro, writing in the first century B.C., describes 10 Cybeles in various parts of the Mediterranean and further east.
The cave in the Sibillini Mountains where the Sibyl lived, was likely first used as a site for earth worshiping during the Bronze Age, according to hermit and historian, Padre Pietro, Lavini (1998).
Sibyls were famous for prophesying, yet these powerful women were also believed to be custodians of ancient traditions in their use of plants, knowledge of medicine, ancient customs and elucidating the mysteries of nature, as described by historian Erika Maderna (2012).
This month, Maria Sonia Baldoni, the main exponent of the Italian national programme, Case delle Erbe
https://www.huffingtonpost.ca/../../tamara-griffiths/a-new-year-and-a-new-life_b_13995194.html
held a workshop entitled "Encountering the Sybil".
Her aim was to reconnect women to traditional knowledge that we are loosing, with a focus on female archetypes and uses of wild plants.
Participants ranged in age and nationality, including a woman from Quebec, and one from Romania, and Israel, as well as north and south Italy.
I asked Erica from Northern Italy why she choose to participate. I learned she is a forager and preparer of wild foods as a profession. She explained:
"I was attracted to foraging because I wanted to find an alternative way of living, outside of the patriarchy, outside of society. As I followed this route I learned a lot. Here in this training I've learned how working with plants connects the micro to the macro. I mean, we are studying the form of a petal, and then that connects to a conversation with a global perspective.'
Gabriela from Romania, said:
"I've learned how to identify plants and people - people's psychology. The families of plants are like groups of personality types. I feel more relaxed and more confident."
Another participant, Lisa, who works as a counsellor in a large urban centre said:
"This training helped me to see the archetypes in nature, which is useful for my work. Maria Sonia has shown us how the sacred is part of daily gestures. This is an open type of spirituality that people from different religions can be part of. I often work with people who have suffered trauma from traditional religions, so this is interesting for me."
As well as learning traditional knowledge and earth honoring customs, Maria Sonia, who is a wild plant specialist, focused on practical knowledge regarding harvesting, drying and preparing wild plants for consumption. As she said to me: "This is information you don't find on the internet. It is knowledge you learn by doing."
As well as harvesting the right plants at the right time, they must be dried correctly, once dry one must know how many days before they can be used, and finally understand the proportions for mixing them for remedial impact.
Maria Sonia explained to the group:
"We are walking between two worlds now," she said. "On one hand there is the world of the pharmaceutical industry and on the other the world of ancient knowledge. We have to do our work to the highest standard to maintain credibility. We can't produce vast quantities like a pharmaceutical factory. But we can be organized and start co-operatives, and build a relationship of trust based on quality."
"I know the plants in the Laurentians better than I do here, but I really like participating in this. We are finding solutions for human needs based on ancient traditions. I'm interested in the role of the Cybele as a healer and in female health practitioners. I studied anthropology and I'm very interested in traditional knowledge."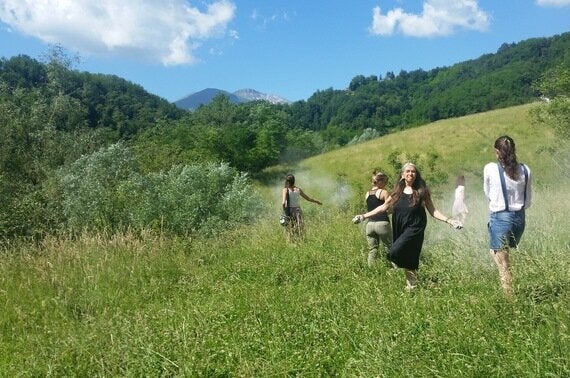 (Participants spread ashes of wood that was burnt during the workshop, to heighten intuition. Replacing the ashes back in nature completes the cycle and the workshop.)
Interestingly, four of the eleven participants were studying or had studied anthropology.
"I would like to spend every day like this," Serena continues. "Being outdoors, the health, the solidarity, and learning, it's fantastic. When I see the richness of nature all around me, like it is here, I stop fearing scarcity. I feel balanced."
Looking at this group of animated, vibrantly healthy and beautiful faces, one senses that although this is but a single drop in an ocean, it's a drop making a ripple of growing circumference.
Over the year workshops are being arranged in all of the locations in Italy where Cybeles historically resided.
For information and possibility of free translation French/ Italian, or English/ Italian for participants contact: fabriziacorradini@gmail.com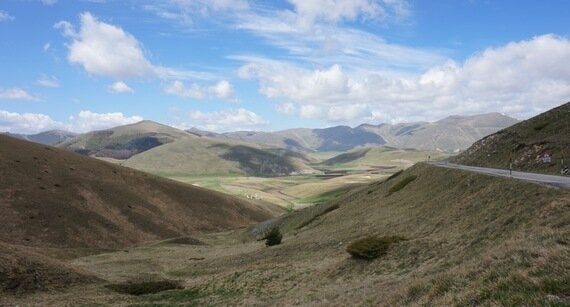 (View of Piano Grande in Monti Sibillini National Park)